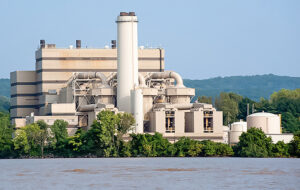 By Laura Burkhardt
The Westchester Alliance for Sustainable Solutions (WASS) in Westchester County is engaged in a campaign to shut down the Wheelabrator Westchester Waste-to-Energy (WTE) facility in Peekskill, which combusts the county's municipal solid waste (MSW).  A summary of some of the complaints was published in the March 2023 issue of River Journal North.
Environmental groups oppose incineration of MSW because of its adverse environmental and health effects. But shutting down Wheelabrator will also have environmental consequences.  Let's take a closer look at four key issues.
Argument for Closure #1
Wheelabrator emits large amounts of greenhouse gases and pollutants: 723,114 metric tons of CO2e emissions in 2021.
Response to Argument #1
Wheelabrator does produce a lot of CO2e emissions. But the facility also makes positive contributions to the economy and our quality of life. Over the past 5 years its emissions have decreased by 12.5%.
Wheelabrator Contributions to Community #1
It reduces the amount of our MSW.  In 2020, Wheelabrator combusted 659,116 tons of waste, resulting in 152,613 tons of toxic ash, about 23% of the waste tonnage.
Argument for Closure #2
The facility is 39 years old.  The average retirement age of a WTE plant like Wheelabrator is estimated to be 23-27 years.
Response to Argument #2
The useful life of a WTE plant is not necessarily determined by its age. The facility is continually being upgraded with new technologies for controlling air quality, and its emissions are well below the limits established by EPA.
Wheelabrator Contributions to Community #2
It generates electricity.  By combusting MSW, it generates over 300 GWh of electricity annually.  In 2021 it generated 323.1 GWh, enough to power about 30,000 homes.
Argument for Closure #3
The coal ash resulting from the combustion process is taken to a landfill in Connecticut, located near wetlands and the Quinebaug River.
Response to Argument #3
Wheelabrator is investigating alternate ways to dispose of the coal ash, which can be used, for example, as an ingredient in hydraulic-cement concrete.
Wheelabrator Contributions to Community #3
Metals are recovered from the coal ash (12,000 tons in 2016).
Argument for Closure #4
A February 2017 report from New York State Department of Health (DOH) compared Peekskill to surrounding communities and reported high rates of asthma in Peekskill, respiratory cancers, death due to cardiovascular disease, and high incidents of low birth weight.
Response to Argument #4
The DOH report was issued in February 2017, but it covered earlier years – 2010 to 2013.  In contrast to the February 2017 report, a Community Air Screening project in 2017 took air samples from four different areas in Peekskill, and concluded there is no immediate public health concern. 
Wheelabrator Contributions to Community #4
The plant pipes steam directly to White Plains Linen via a steam line constructed in 2013.  This enables the laundry to significantly reduce the amount of natural gas it uses to make steam and hot water. The reduction in natural gas usage will eliminate 4,775 metric tons of greenhouse gas emissions annually, according to Wheelabrator.
What are the consequences of closure?
Another method will be required to dispose of our MSW. Alternatives for disposing of MSW include technical alternatives (not yet completely commercialized and have harmful emissions), landfills (where emissions result from the transporting of MSW, as well as from the landfill itself), and the recycling and reduction alternative.
An alternate source of 323.1 GWh of electricity will be needed. To eliminate CO2e emissions, this would need to be generated from renewable sources (solar, wind, hydro).
Metals would not be recovered.
White Plains Linen will need another source of steam.
Conclusions
The solution for disposing of municipal solid waste is not simple.  At the present time we see recycling and reduction, while not a complete replacement for the WTE facility, as the best actions to take.  Each of us must focus on reducing, reusing, and recycling, while using every possible means — messaging, lawsuits, protests, all types of media — to persuade institutions and governments to do the same.
Laura Burkhardt is a member of Sierra Club and works with the Sleepy Hollow Environmental Advisory Committee. The opinions expressed here are solely those of the author.