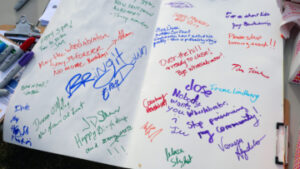 [Editor's Note: This article includes responses from Wheelabrator to specific points about its practices and outcomes.] 
Peekskill's Westchester Alliance for Sustainable Solutions (WASS) is calling for the closure of the Wheelabrator Westchester trash incineration facility at Charles Point in Peekskill.  
The average retirement age of a waste-to-energy plant like Wheelabrator is estimated to be 23-27 years. The Peekskill facility just marked year 39.  
On Feb. 5, 2023, a birthday cake made of garbage, with smokestack candles constructed by local artist Jeanne Shaw, was at the center of a community outreach event hosted by WASS at Fleischmann's Pier Park.
Vanessa Agudelo, an organizer with WASS, said, "The purpose of the event was to spread community awareness. Some visitors to Fleishmann's Pier Park were there to enjoy the river walk and were not aware of Wheelabrator's function and process, or that it burns Westchester's trash," said Agudelo, adding, "Incineration is the worst way to dispose of trash. It has led to a disproportionate number of asthma and cardio-pulmonary illnesses in Peekskill residents, and it is time to shut it down."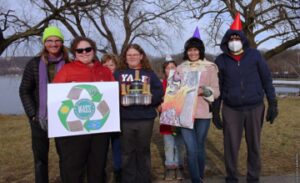 A February 2017 Health Equity Report from the New York State Department of Health, comparing Peekskill to surrounding communities, reported unusually high rates of asthma in Peekskill, including emergency room visits and hospitalizations, respiratory cancers, death due to cardiovascular disease, and high incidents of low birth weight.
Wheelabrator responds … 
Wheelabrator Westchester emits less than what both USEPA (Environmental Protection Agency) and the even stricter State of New York standards allow. Air modeling conducted by an air quality expert using the latest USEPA- and NYDEC-approved air modeling protocols demonstrates that the facility's impacts are significantly below air quality standards set by the state to protect human health and the environment. Our process actually reduces greenhouse gas emissions by diverting waste from landfills, which produce methane, a greenhouse gas. (See "The Scientific Truth About Waste to Energy" by City College of New York chemical engineer Marco Castaldi.)   
Courtney Williams, PhD, Founder of WASS, says, "Air pollution harms health when at or below legal limits. The USEPA limits are not a measure of safety because they are typically updated every five years and were last updated 15 years ago."
Wheelabrator responds …
When the USEPA opts not to update a standard, it means that the existing standard remains protective of human health and the environment. 
WASS notes that the Charles Point Wheelabrator facility was built in 1984 in response to a federal mandate for Westchester County to close both the Croton Point landfill and local incinerators that were contaminating the Hudson River.
Wheelabrator responds …
The Charles Point Wheelabrator facility was built in response to those closures as an innovative and environmentally friendly solution to the ever-present need for managing increasing levels of trash in a responsible manner. Wheelabrator's commitment to ongoing innovation has led to even better environmental controls throughout the years. 
Since 1984, Wheelabrator has provided what Westchester County considers a viable environmentally safe solution for 90% of the County's trash. While the County pursues residential food-scrap recycling, in 2019 it signed a 10-year contract extension with Wheelabrator. That same year, Westchester disposed of 529,548 tons of municipal solid waste through the Wheelbrator incinerator. One-third of the weight of what is burned ends up as ash.  
According to Energy Justice Network, Wheelabrator in the City of Peekskill is the largest air polluter in Westchester County. Based on data reported to the USEPA, it releases more pounds of health-damaging air pollution than any other facility. New York State advises to limit fish consumption from the Hudson River not only due to PCB contamination, but due to mercury, dioxin, and cadmium contamination.  
Wheelabrator responds …
We pass zero pollutants into the Hudson River, nor do we introduce any pollutants into our cooling system. With our water discharge we are careful to disperse heated water in such a way that it prevents negative impacts to aquatic life. We use specially designed BACT screens that are approved by the NYDEC (NY Department of Environmental Conservation) to protect aquatic life from our water intake process. 
There are 7,000 US municipalities incentivizing composting and recycling with a Pay-as-you-throw program also known as SMART—Save Money and Reduce Trash — that charges people for the trash they toss. 
Municipalities that have reduced dependence on incineration say that zero waste can be the answer to trash incineration. It has required them to rethink and redesign their processes, as well as to re-educate residents on reusing, repairing, recycling and composting as a means of reducing the volume of trash generated.  
Courtney Williams said, "In 2022, I had a pre-arranged tour of the Wheelabrator facility rescheduled four times due to what Wheelabrator called maintenance issues before an actual visit to the plant in June. Inside the facility, I observed in the towering garbage heap slated for the boiler, items that should be recycled and never burned—plastic bottles, paper, cardboard, food scraps and yard waste.  It is believed when we burn trash it is gone forever because we can no longer see it. However, anything burned has the potential to pollute the air." 
There are six years remaining on Westchester County's Wheelabrator contract, but Williams and Agudelo are exhorting Westchester County to end its agreement with Wheelabrator as soon as possible. They argue that the incinerator is of advanced age, and contend that the County's choice is either to be reactive if an emergency should occur, or to be proactive by putting in place an alternative plan.  
"There are alternatives to trash incineration," said Vanessa Agudelo, who adds that it requires political advocacy and political will. "Our leaders must want it to happen. Westchester County can show its commitment to the residents and the environment by investing in zero waste rather than Wheelabrator. Hiring a county zero-waste consultant is a good place to start."
Wheelabrator responds … 
Truly sustainable waste management includes composting, recycling, recovering, and reducing — and Westchester County leads many regions across the country with its high achievement rates in these areas. When those methods are done perfectly, there will still be a need for waste disposal, and we see waste-to-energy continuing as the EPA-preferred solution for enddisposal. We appreciate being part of the sustainable waste solutions the county offers and look forward to continuing to be a safe and reliable provider of waste services that reduce greenhouse gas emissions and avoid truck traffic to landfills.  
Westchester Alliance for Sustainable Solutions —

wasspeekskill.org; facebook.com/WASSPeekskill

 

 

Wheelabrator —

wtienergy.com

 

Energy Justice Network —

energyjustice.net/incineration

 
Donna Landi, a resident of Sleepy Hollow, is a regular contributor to River Journal North