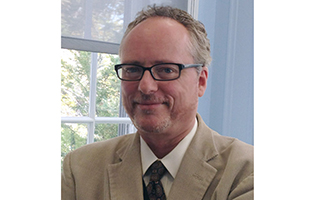 Most of you know that River Family lives in Tarrytown. Some of you may even know that our family includes two River Children who go to the public schools here in town. (Hopefully this admission will put an end to all those rumors about me borrowing the neighbors' kids for inspiration for the column.) At the end of the school year, Superintendent Howard Smith will step down and the Public Schools of the Tarrytowns will welcome Dr. Christopher Clouet into the fold as our new fearless leader.
At right, Dr. Christopher Cluet, new Superintendant of the Public Schools of the Tarrytowns.
What I can tell you about Dr. Clouet is that he comes to us from the land of the DMV (White Plains), speaks Spanish and Portuguese (and hopefully English too), and that the 'T' at the end of his name is not silent, which means he's not French.
Before White Plains he served as Superintendent in two different districts in the State of Connecticut, before that he was a high school principal, before that a bilingual teacher, and before that, near as I can tell, he built a one-room log cabin school house by himself in the middle of the Adirondacks and personally shuttled all 37 students from their homes to the school on a dog sled in order to give them the quality education they deserved through the use of textbooks he painstakingly copied by hand in order to save his district the extra expense of purchasing them.
At least that's what I heard.
Anyway, what he has never done is spent a lot of time here in Tarrytown and Sleepy Hollow, and I thought that he might need some helpful tips on what to expect from the community, and what the community expects of him. 
For the best advice, I went straight to the source – I asked some TUFSD kids in grades one through four what changes they thought the new Superintendent should seriously consider. After much deliberation and a break
for snack, they came up with the follwing recommendations, each of which has my full support:
"No homework!"
"Can we have ice cream every day?"
"We should be allowed to wear hats at school."
"And maybe bring a pet to school, like it's pet school."
"No homework!"
To say these elementary school experts had strong opinions would be an understatement.
This is their school district, they know what they want and they're not afraid to speak up. I included the suggestion to eliminate homework a second time because this was one theme that came up repeatedly, and, in fact, my information-gathering sessions devolved into a series of chants along this theme on more than one occasion. It would seem that this is an important issue with the six-to-nine-year old demographic, and Dr. Clouet, you would be wise to heed their demands.
Since I held my focus group sessions the week before the State tests began, I was not surprised that the sticky subject of testing and the Common Core Curriculum came up multiple times. Here are some suggestions for how to more fully integrate the Common Core requirements into the curriculum:
"The first thing he should do is ban the Common Core," said one little girl.
Her suggestion drew a large number of serious nods and murmurs of approval. When I pressed her for an idea of what, if anything, should replace it, another girl spoke up.
"They should have a program that's the UnCommon Core for people who want it."
Asked for further details of her proposal, she proudly stated that the UnCommon Core would be "A one question test that's very easy."  While all of the children that I spoke with agreed on the need to take fewer and shorter tests, one young boy remained a realist, understanding that as powerful as a district Superintendent is, he or she remains under the cruel thumb of Albany.
"I really don't like the State tests, but I don't think he can change that," he said.
Undaunted by the boy's shot of pessimism, the children eagerly relayed their thoughts on what subjects the UnCommon Core Curriculum would study:
"I want two periods of US History, because I love history."
"And anatomy! I need anatomy! I need anatomy!"
"The elementary school should have a science program, you know, like mixing chemicals and blowing things up."
In addition to munitions training, physical education was a topic of serious discussion. There were calls for yoga classes, as well as fencing instruction. But mainly, there was a worry that the school district may not be making the best use of its outdoor equipment.   I was happy to hear these comments, as some of you may know that River Dad likes playgrounds:
"We should be able to go on the playground whenever we want. We should be able to go outside when there's snow on the ground."
"I think we should have a longer recess, and they should let us go on the playground."
"I think we should be able to go out during the snow if you're wearing the right clothes."
Continuing the theme of health and fitness, there were also many comments regarding the school lunch program.
"I think they should have healthier lunches. A lot of them are, like, processed," said one girl, who was quickly informed by another girl as to where the district obtained much of what they served to the children.
"They order the food on eBay!"
It was then quickly established that once a month, the schools should order pizza from "a real pizza place" and that ice cream should be offered every day.
Finally, two comments gathered in my research really stood out. The first was by a little girl who wanted to make sure that Dr. Clouet was given advice pertaining to more than just the elementary grades.
"My sister, she's at the middle school, she's been complaining about this rule, only seven at a table [during lunch]. It's really annoying because it's the only thing she complains about."
Finally, another girl touched on the subject of elementary school crime and punishment.
"I think that a lot of kids say bad words, so we should stop that. We should have a children's jail."
So there you have it, Dr. Clouet. Your future charges have spoken, demanding more time on the playground, more ice cream, less homework, the creation of on-campus juvenile detention centers for profanity, the abolishment of the Common Core, and the creation of an entirely new nation-wide curriculum which includes the opportunity for elementary-aged children to blow things up.
Welcome to the Public Schools of the Tarrytowns.