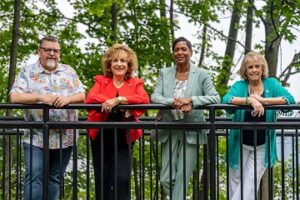 As part of their overall voter outreach efforts this fall, Peekskill's incumbent mayor, Vivian McKenzie, Deputy Mayor Patricia Riley, and Common Council members Kathleen Talbot and Brian Fassett are making a special effort to reach out to two different types of voters who missed the 2021 elections: new Peekskill voters and those who have voted infrequently in recent years.
"We have many people who have moved to Peekskill since 2021," said Mayor McKenzie. "Peekskill is on an upward trajectory that attracts new residents every year. We want to make sure the new residents know who their elected officials are, the work we are doing to keep the City moving forward, and how they can be a part of their City government. We want to encourage them to tell us what issues matter most to them, and hear more about their vision for the City."
Though they do not personally have opponents on the ballot in November, the incumbents see election season as an important opportunity for outreach. They also want to communicate the importance of voting in non-presidential elections to younger voters who are new to the process, as well as others who may not be tuned in to the local and County races.
"It is important to help educate people about the electoral process at all levels, especially the young generation that has just started voting," said Deputy Mayor Riley, a career educator. "There are a lot of voters who don't vote except during presidential elections. Many people don't realize that important, life-changing decisions are made every day by people elected during the mid-term years and the odd years. We need to take the time to help people understand our roles and accomplishments as well as their role in local government, as voters and constituents."
Mayor McKenzie and her running mates have a record of success to run on. Their efforts to upgrade aging infrastructure, foster an inclusive and cohesive community, and maintain fiscal strength and sustainability have made the City an increasingly attractive destination for new businesses and families.
The slate of candidates will be hosting a meet and greet at the Gazebo on North Division Street from 1-3 PM on Saturday, October 14. They'll also be knocking doors to encourage inconsistent voters to start voting in every election.
To keep up with the campaign, follow @peekskilldems on Facebook and Twitter. Learn more about the slate at www.peekskilldems.com.