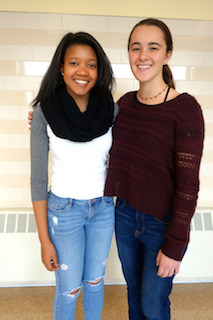 December 2016 Education Roundup
Holidays are coming, the goose is getting fat, but first we're going to take a gander at just what our area schools are up to as we close out 2016. This year-end edition of the Educational Roundup features hairy teachers, student neuroscientists, a New York State Champion, and the Hunger Games.
Ossining
Students Named Finalists for National Neuroscience Research Prize
Photo: Brianna Cauthen and Adriana Scanteianu
Ossining High School seniors Brianna Cauthen and Adriana Scanteianu have been named finalists for the 2017 Neuroscience Research Prize, sponsored by the American Academy of Neurology and the Child Neurology Society. The Neuroscience Research Prize is a nationwide competition created to encourage high school students to explore the brain and nervous system through laboratory research.
"We are very fortunate to have these two amazing students in our program," said Angelo Piccirillo, who co-teaches the Science Research Program with Valerie Holmes. "It is humbling to know high school students who are conducting frontline research who have the potential to make real contributions…and push our knowledge base forward."
All entries will be evaluated by a panel of physicians and scientists conducting neuroscience research at academic institutions across the country. After two rounds of competition, four winners will be announced in early February. Three of the winners, along with their teachers, will present their work at the American Academy of Neurology's 69th annual meeting this spring in Boston, and one winner will present his or her work at the Child Neurology Society's 46th  annual meeting next October in Kansas City, Missouri.
Rotary Club Names Park School Secretary as Employee of the Year
The Ossining Rotary Club honored Park School secretary Frida Nuñez with an Employee of the Year award at its annual scholarship fundraiser. One of six Ossining community members to receive the award, Ms. Nuñez, who has been at Park School for 11 years, was nominated by Park School Principal Cynthia Bardwell. "She always greets people warmly and strives to make it a very positive experience for children and parents," Ms. Bardwell said. "She has a very high level of professionalism, she's extremely calm, and she handles what can be challenging situations with tact and patience."
"It was a very nice surprise," said Ms. Nuñez of receiving the award. "It's nice how you can receive compliments when you're doing something with love." Bilingual, Ms. Nuñez registers new kindergarteners and pre-kindergarteners and gives families an orientation, explaining the District's rules and guidelines. She is often the first person families interact with when they enter the Ossining community.
Irvington
Fifth-Graders Raise Money for Hurricane Victims
A group of Main Street School fifth-grade students has raised more than $550 for victims of Haiti's Hurricane Matthew through a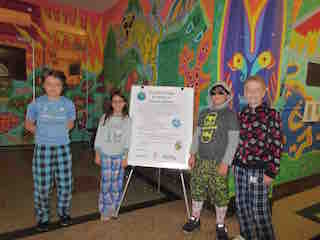 series of school-wide events. Fundraisers included PJ Day and Hat Day (where the students asked their peers to donate a dollar to the cause and to wear pajamas and hats to school as a show of support), Sock Day, Inside Out/Backwards Day, and a T-shirt sale on the final weekend of November.
"Thanks to everyone for supporting our students' work as global citizens," said Principal Joyce Chapnick. "As a school community, it is our responsibility to engage our students to take action on issues affecting others in our society."
Teachers Certified as Google Educators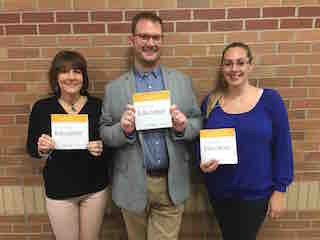 Irvington Fifth-grade teacher Susan Wallace, music teacher Stephen DiGiovanni, and special education teacher Lauren Cutignola have all earned Google Educator Level 1 certification status, demonstrating a mastery of Google tools and solidifying the District's commitment to using technology to enhance instruction.
DiGiovanni also earned Google Educator Level 2 certification for his advanced technology skills and expertise and enthusiasm in the use of Google tools in the classroom.
"Our teachers are always looking to find innovative and meaningful ways to infuse technology into their classrooms," said the District's Director of Technology and Chief Information Officer Jesse Lubinsky. "These certifications provide our teachers with ways to demonstrate their expertise with these tools and show their passion for making powerful connections with their students through the use of technology."
Lubinsky, who holds certification as a Google Educator as well as advanced Google Trainer and Innovator designations, added that Wallace, DiGiovanni and Cutignola have been at the forefront of the District's efforts to incorporate G Suite for Education applications (formerly known as Google Apps for Education) into the classroom, such as Google Docs, Google Classroom, and Google Drive. "Much of the work we do with these tools connects directly to the goals of our District's technology plan," said Lubinsky. "We hope that more teachers will pursue this path toward certification."
Students and Staff Test Their Hunger Games Knowledge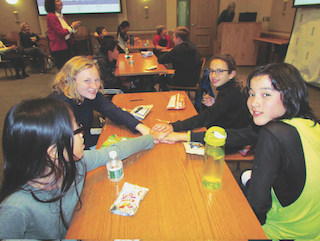 On November 14th, a ragtag collection of Irvington Middle School students and staff were put to the test and thrown into the games – competing in an after-school "Jeopardy!"-style game, testing their knowledge of the Hunger Games trilogy of books. The object of the event was to encourage students to engage in independent reading.
"The competition was fierce, but friendly," said middle school teacher Kelly Kozak, who stepped into the role of host Alex Trebek for the game. "The students possessed such a strong understanding and retention of the book's plot. The players showed great sportsmanship and a sense of camaraderie." The students who participated in the book-inspired contest were Morgan Balkin, Ian Brooks, Ryan Carron, Lucianna Forte, Andrew Guerrero, Ryan Liu, Anya Murphy, Sasha Paris-Carter, Joanna Paul, Hudson Svigals and Meika Tomita.
Briarcliff
Children's Author Brainstorms with Students
Middle grade and young adult author Janet Tashjian visited Todd Elementary School on November 1 and plumbed third, fourth,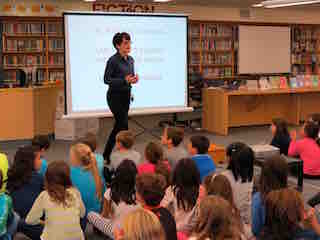 and fifth-grade students for ideas for future books. The children were excited to brainstorm with Tashjian, the author of the "My Life as a…" series, throwing out topic ideas including an engineer, golfer, endocrinologist, and pizza.
"Part of my job is to make stuff up…and the other part is structure," explained Tashjian. "I start all my books by asking, 'What if?'" She compared the "structure" portion of her job to games like Minecraft and Lego, and encouraged students to practice writing every day, extract ideas from their own lives, and continuously edit their work. "Writing is rewriting," she said.
Todd Students Join the Circus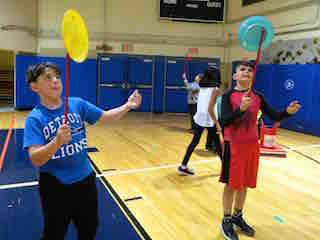 The National Circus Project (NCP) set up its proverbial Big Top at Todd Elementary School during its annual visit recently, leading the students through the ins and outs of being a circus performer. "[The National Circus Project] teaches the kids all kinds of skills for the circus, such as spinning plates, tightrope, stilts, diablos, and balancing feathers," said physical education teacher Michelle Hiltsley. "It's a really nice program where the kids get to experience something different."
In addition to giving students a unique experience, working with the NCP improves the students' physical fitness, hand-eye coordination, and fine motor skills, and teaches them important life skills like persistence and teamwork. "These are also pieces of equipment that the kids could have at home and learn to practice more," said Hiltsley. "Everything takes practice, practice, practice."
Cross-Country Runner Wins State Title
Senior Ryan Gallagher became Briarcliff Manor's first-ever New York State cross-country champion on November 12th when he
blazed a path at the 2016 New York State Class C Cross-Country Championships at Chenango Valley State Park. His winning time for the 5K race of 15:40.7 was 13 seconds ahead of the second-place finisher and broke the former course record.   Gallagher also received the Section I Class C Sportsmanship Award, and earlier in the week signed a National Letter of Intent to attend Providence College, where he will run on scholarship for legendary cross-country and track & field coach Ray Treacy.
Tarrytown/ Sleepy Hollow
Thanksgiving Comes to John Paulding
On November 22, Kindergarten and pre-K students at John Paulding celebrated the Thanksgiving holiday in style with a massive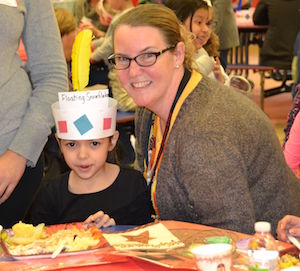 feast. Traditional Thanksgiving staples such as turkey and stuffing sat next to a host of culturally diverse dishes prepared by teachers, parents, and administrators, including Principal Maureen Barnett.
In preparation of the feast, the students made their own Thanksgiving placemats and crafted homemade hats which they wore at the meal to signify the spirit of giving which makes this particular holiday so special.
Junior Peforms
SHHS Junior Patrick Leavy performed on Saturday, December 3rd in the NYSSMA All-State Orchestra in Rochester, NY. This is a great honor to be selected for an All-State Ensemble.  Patrick has worked very hard to achieve this distinction.  He is one of 12 String Bass players from around the State performing in this ensemble. Congratulations to Patrick, Ms. Trenczer, and the music faculty at SHHS.
Tarrytown Schools Get Hairy
Assistant Principal Anthony Baxter and a number of his male colleagues at Sleepy Hollow High School and Middle School spent the month of November looking extra scruffy. They participated in No-Shave November, a campaign to raise awareness and funds for critical cancer research. Participants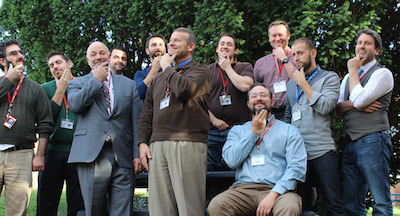 from around the country put away their razors for the month and embraced their hair, acknowledging the hair that many cancer patients lose during treatment. They then were encouraged to donate the money they would usually spend on shaving and grooming to programs that educate the public about cancer prevention, save lives, and aid patients fighting cancer. In addition to their own money, Sleepy Hollow High School's team of grizzlies accepted donations and presented a check to the American Cancer Society at the end of the month.