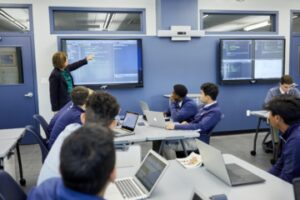 Stepinac High School has undertaken this summer the single largest expansion to date of its advanced technology-rich, real-world learning environment, scheduled to be completed for the new academic year which starts in September. 
The projects include five additional cutting-edge Active Learning Centers, modeled after Columbia University's non-traditional, 21st century classrooms and a 5,000 square-foot STEAM Center Wing.
Fr. Thomas Collins (Class of '79), President, said: "These major improvements, entailing the transformation of existing classrooms and other spaces, dramatically underscore Stepinac's commitment to empower our students with the innovative technologies and skills they need to succeed at college and in their future careers."
Stepinac introduced its first Active Learning Center in 2019.  The renowned all-boys Catholic high school subsequently transformed three other traditional classrooms before embarking on the recent improvements which got underway soon after the end of the 2022-2023 school year.
Stepinac will now boast a total of 9 Active Learning Centers comprising about 5,400 square feet of space that "create a singular, one-of-a-kind learning experience for all students, unlike anything in the region," noted Paul Carty, Principal, adding: "They help improve academic performance by heightening interaction between the student and instructor and between students themselves when they collaborate in their project-based learning curricula."
In addition, the STEAM Center Wing represents more than double the space of the original, 2,200-sqare foot STEAM Center, one of several advanced real-world learning technologies Stepinac established two years ago. Stepinac was awarded the prestigious Executive Leadership Award from Fordham University Graduate School of Education for its outstanding STEAM program.
The new Wing will be completely dedicated to the STEAM real-world learning curriculum to meet the students' increased interest in taking their specialized academic studies to the next level.
The project includes the conversion of an unused locker area into break-out spaces for flexible and small-scale instruction. In addition, 1,000 square feet of new space was created to house a 3-D Printing Design Center; an Interactive Anatomy Lab where health sciences students can explore the complexities of the human body in meticulous detail and an additional Makerspace where engineering and architecture students can turn their ideas into reality. All the additions are fully integrated with state-of-the-art technology including BenQ smart interactive displays.
Frank Portanova (Class of '93), Vice Principal for Academics and Curriculum, stated: "These initiatives are the latest chapter in Stepinac's mission and leadership in engaging, enhancing and extending our learning environment with the application of our curriculum to real-world problems."
Prospective students and parents will be among the first to tour Stepinac's latest additions at the Fall Open Houses. The first will be held at 5 PM, Wednesday, October 18 and the second on Sunday, Octoer 22 with presentations at 12 noon and 1:30 pm.  RSVP required.  For more information, visit www.Stepinac.org and click the Admissions tab at the top of the homepage.