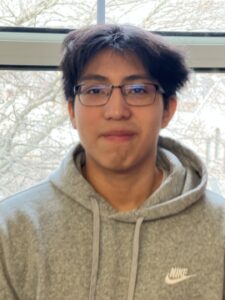 Sleepy Hollow High School Junior Christian Bravo has been selected to represent the Rivertowns Chapter of the League of Women Voters at the Students Inside Albany (SIA) conference. Hosted by the New York State League of Women Voters Education Foundation, the annual four-day event is scheduled to begin May 21st and will be attended by approximately 60 students from across New York State.
"I am so honored to have been chosen to see our New York State Legislature in session," beamed Christian. "Seeing how everyone's different opinions lead to compromise, which can turn into new laws, is something I am really interested in. It's cool!."
Students attending SIA learn about the legislative process in New York, attend informative workshops, tour the Capitol Building, and shadow representatives in the State Senate and Assembly. 
Like many of his peers, Christian didn't like learning in isolation during Covid. Upon return to in-person learning, he became inspired to gain information about history and government. He was on the humanities team in ninth and tenth grade, is taking Honors US History this year, and, as a senior, will take AP Government.
Christian was nominated to attend the conference by Sleepy Hollow Middle and High School Social Studies Department Chair Jessica Hunsberger who says: "Cristian's contributions to class discussions and his analytical thinking regarding the role of government convinced me that he would be a perfect candidate for this program. Cristian is definitely a student who will make a difference in the future, and I knew that this opportunity to see the government in action would be a life-changing experience for him."
Fueling Christian's interest in government is his dedication to Community Service. As part of the High School's requirement, Christian began working at the Sleepy Hollow Food Pantry and is now on track to go well beyond the required service hours. According to Christian, he stopped caring about the hours and finds that he enjoys not only the work but the results. Helping people "gives me a sense of purpose," adding that he will volunteer over spring break just because it feels good. "It's amazing how the littlest things can have such an impact."
The League of Women Voters of the Rivertowns is affiliated with the national LWV which is a nonpartisan, multi-issue, grassroots organization that encourages the active participation of citizens in all levels of government. Focusing on outreach, the youth programs educate about how the government works, develop leadership skills, and support voting rights. 
Outreach with programs such as the SIA conference is an opportunity about which Christian is extremely excited.  "To get to learn and see the Government in action, and get to go on what will be my first trip outside of Sleepy Hollow, is super exciting," he said.
Last year, 2022 Salutatorian Charis Polycarpou was selected to attend SIA, but, unfortunately, the conference was canceled due to concerns about Covid.