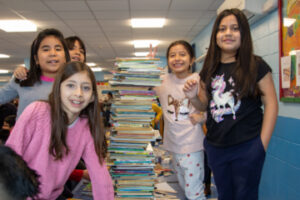 The first-ever Science Saturday at Washington Irving Elementary School on March 18 was a huge success! Forty-five students in third through fifth grade attended and, along with their parents, were firing on all cylinders!
Science Saturday is a pilot program designed by Washington Irving teacher Mrs. Massaro that puts students in the driver's seat. The goal is that these events be student-led, and that students teach each other about STEM topics within a low-stakes, fun environment that carries none of the pressures of the classroom.
"We've been ramping up our science engagement at WI in a number of ways," said Massaro. "The idea for Science Saturday was an outgrowth of the belief that the students, faculty, and parents of Washington Irving share such a love of science that they'd be happy to show up on a Saturday morning to engage in it. What we choose to do in our spare time sends a strong message to our students about what we  value."
Not only did WI students and their parents show up, high school volunteers gave their time, as well. The inaugural program involved three stations: Rubber Band Boats with SHHS freshmen Elliot and Mia, Bubbles with Mrs. Hickey, and Bridges with Mr. White. Rubber Band boats demonstrated the concepts of buoyancy and energy, potential and kinetic energy, push and pull, and gravity. Bubbles showed kids how dry and wet surfaces affect bubbles, how to measure bubbles, and demonstrated the properties of color, reflection, movement, and liquid. Bridges challenged students to design and build a wooden bridge using craft sticks, binder clips, and clothespins to see whose bridge could hold the most books. The concepts integrated into this station were compression and tension with the discovery being which will most effectively hold up the bridge.
Students rotated through the stations, each for 40 minutes. They enjoyed the activities so much that it was difficult to pin them down on which station they liked best. But for one student, it seemed to be the bridge, as he stated: "I can't wait to build my own bridge at home and put a thousand books on it!"
A survey was sent to WI families to determine which areas of science would be covered on Saturday, and to ensure input from the community. Massaro said, "It was clear from the response that our families were eager for this kind of opportunity."
Mia, a ninth grader, helped run the Rubber Band Boats station. When asked why she had volunteered, she said: "I have so many positive memories of fourth grade and my sister Maya loves science."
Mia and Maya's mom said her kids were excited about Science Saturday. "They were eager to come today. They were up at 7 a.m., so early, because they could not wait."
This first event was accomplished with just three faculty members and two student volunteers. Massaro said, "We wanted to try out the concept and experiment with the timing, transitions and group size, and get a sense of how much space we would need to grow the program."
High school students who would like to volunteer for the next Science Saturday should check with their guidance counselor or contact Dina Lopez.
Keep a lookout for the next Science Saturday, which will be publicized through the WI and Superintendent's updates.