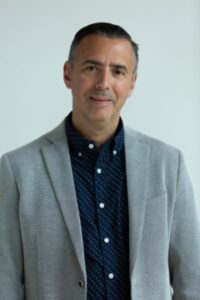 Ray Sanchez is leaving the Ossining school district after two decades to become superintendent of the Tarrytown schools. 
The appointment was expected to be finalized by Tarrytown's Board of Education at a special meeting on May 30. 
Sanchez succeeds Superintendent Chris Borsari, who retires June 30.  
Mary Fox-Alter, former superintendent of the Pleasantville school district, was appointed Ossining's interim superintendent beginning July 1.  See story HERE.
As Ossining's superintendent of schools since 2013, Sanchez responded to the diverse needs of its student population, according to Tarrytown's announcement of his hiring. He helped conceptualize OPrime, a community school hub connecting families to services and resources, and initiated Ossining's participation in My Brother's Keeper, which connects boys and young men of color with support networks to build college and career readiness skills.  
"Without question, Dr. Sanchez is an accomplished and charismatic leader," Tarrytown Board of Education President John Paine stated. "In addition to learning about his broad base of experience, our Board was able to hear how he envisions working with our team to reach our goals and optimize our performance." 
Sanchez's leadership style and commitment to inclusion, communication and engagement were among the attributes Tarrytown residents ranked high during the search for a new superintendent. 
In 2020, he received the Distinguished Service Award from the Lower Hudson Council of School Superintendents. He has served as president of the Lower Hudson Council of School Superintendents and of the Putnam Northern Westchester Curriculum Council, as well as a board member of New York Presbyterian Hospital, the Jacob Burns Film and Educational Media Center, 914 Cares, and The United Way.  
In an email send to Ossining residents, Sanchez reminisced about his beginnings as a fourth-grade teacher. 
"I cannot begin to describe the gratitude I feel for the opportunities I have been given and the trust that has been placed in me over the years," he wrote "I will be forever connected to this wonderful community." 
No details about Ossining's plans to replace him had been announced. 
Sanchez, who grew up in Tarrytown, said he is eager to work on behalf of the diverse district.  
"I am extremely honored to be the finalist for the next Superintendent of the Public Schools of the Tarrytowns and eager to work alongside the administration, faculty, and staff that have created a district that is widely recognized for its high-caliber academics and inclusive environment," Sanchez stated. "I am proud of the work I have done throughout my career, especially in the areas of diversity, equity, and inclusion and improving outcomes for all students, and look forward to bringing the same passion and professionalism to this role." 
Sanchez received his bachelor's degree from the State University of New York at Geneseo. He earned his master's degree from Long Island University, and doctorate in educational leadership from Manhattanville College, along with a certificate of advanced study in education administration from Columbia University.  
Sanchez and his wife and three children live in Westchester County.