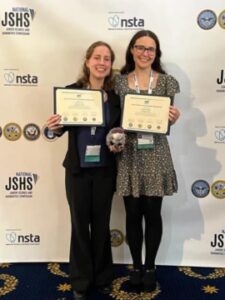 Two students from Ossining High School have achieved remarkable success at the 61st annual National Junior Science & Humanities Symposium (JSHS) for their outstanding achievements in scientific research. Senior Samara Davis took home the first-place prize and earned a $12,000 scholarship, while senior Sarah Jennings placed third in the competition and earned a $4,000 scholarship.
JSHS is a Department of Defense sponsored STEM program that encourages high school students to conduct original research in the fields of science, technology, engineering, and mathematics (STEM) and publicly recognizes students for outstanding achievement.
The national competition was held on April 12-15, 2023, in Virginia Beach, Virginia and brought together 245 high school students from across the nation whose original scientific research papers qualified in regional symposia earlier this year.
"Going from regionals to states to nationals was already such a feat, that I am overjoyed to have placed at national JSHS," said Samara. "The most rewarding part was meeting amazing people and watching some incredible projects."
Samara impressed the judges with her project, titled "Developing Environmental DNA Metabarcoding for the Detection of Elusive Vernal Pool-Breeding Amphibians." She said she hopes that the experience at nationals might inform her future research.
Sarah also made a significant impact with her project, titled "Electron Transport Chain Acts as Potential Regulator of ER-Mitochondria Interactions." Her research explored the relationship between bioenergetics (energy production) and inter-organelle contacts and how mitochondrial dysfunction impacts interactions between cellular components.
"I am so grateful and honored to have received this award. We have all put so much time and effort into our projects and to see all of the hard work come to fruition is just incredible," Sarah said of the honor.
Both students received extensive support and guidance from their teachers and mentors in Ossining's renowned Science Research Program. Their success at the national JSHS competition is a testament to the outstanding STEM education and mentorship that OHS provides.
"Samara and Sarah have always demonstrated an exceptional level of curiosity, perseverance, and dedication to their research projects," said Angelo Piccirillo, Science Teacher and Co-Director of the Science Research Program. "We are incredibly proud of their achievements, and we know that they will continue to make significant contributions to the scientific community in the future."