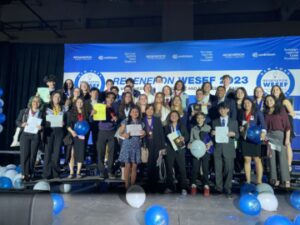 Ossining High School students in the Science Research Program have once again demonstrated excellence by winning an astounding 52 awards at the 2023 Regeneron Westchester Science and Engineering Fair (WESEF). The annual competition, held on March 23, saw more than 500 students from across the region compete for the top 20 finalist spots.
Among those who competed at WESEF, three OHS seniors qualified as finalists for their outstanding research projects and will go on to compete at the International Science and Engineering Fair (ISEF), which will be held later this year. This is a significant achievement as ISEF is the largest international pre-college science competition, attracting the brightest young minds from around the world.
Senior Lucy Roach placed first in the Behavioral & Social Sciences category for her project, "Validity and Utility of Smudge.io's CNS Tap Test for Measuring Fatigue in Adolescent Athletes." She was awarded a $125 prize.
Lucy said she chose her topic due to the many injuries she experienced as an athlete, from tennis elbow to sprained ankles to major concussions.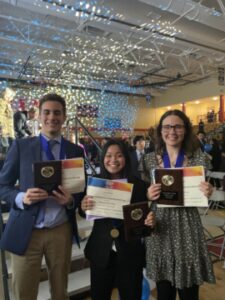 "I wanted to research something that could help the issue as I know this is very common among adolescent athletes. Once I began reading articles, I figured out that fatigue played a big role in injury risk, so I got to work."
As a result of her research, Lucy realized that if she could find an optimal method to measure fatigue for young athletes, athletic trainers can then properly adjust training loads and ultimately reduce injury rates.
"Being called up on that stage to receive my award made me realize that hard work beats all. I have never been prouder of myself, and I thank the entire Science Research Program for making me who I am today," Lucy said of the honor.
Senior Sarah Jennings placed first in the Cellular and Molecular Biology category and was awarded the George D. Yancopoulos Young Scientist Award. Sarah earned a $125 prize and a $500 prize, respectively. Her project, titled "Electron Transport Chain Acts as Potential Regulator of ER-Mitochondria Interactions," investigated the relationship between bioenergetics (energy production) and inter-organelle contacts.
"I wanted to explore how mitochondrial dysfunction impacts interactions between cellular components. I eventually started at a laboratory focusing on investigating mitochondrial disorders and I ultimately fell in love with working in a lab," Sarah said of her research.
Sarah said she has loved every second of the research process and is grateful and honored to have received the top WESEF award.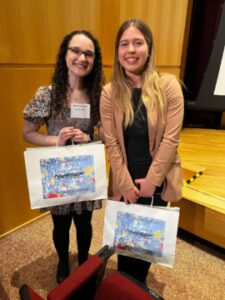 "I would not be where I am today without the tremendous support of my science research teachers, Mr. Piccirillo and Ms. Holmes, my amazing mentor, role model, and friend, Dr. Patricia Morcillo who has taught me so much both in and out of the lab, and my wonderful peers and family. I am so thankful to everyone who has helped me along the way, and it truly has been an amazing experience," she continued
Finally, Ada Uysal placed first in the Chemistry category and won the Carl Zeiss Microscopy Award for his project, titled "Cross-Sectional Shape of Gold Nanopillars Directly Affects the Number of Single Photon Emission Sites in Deformed WSe2." Ada's cash prizes totaled $225.
"Winning such a prestigious award really validates all the work I've done over the past three years, and this recognition really shows how far dedication and persistence can get you.
Ada said his hard work paid off not only with this incredible honor but also with contributing to actual research with members of his mentor's lab. He too credits his family, friends, science research teachers, and mentors for the achievement.
"It goes without saying that I am incredibly grateful and could not have made it here without their endless support and motivation," added Ada.
Angelo Piccirillo, OHS Science Teacher and Co-Director of the Science Research Program, expressed his pride in the students' accomplishments, saying, "Our students have been so consistent in these local competitions, and I'm very proud to see them perform so highly at WESEF once again. It's simply outstanding."
Since its inception in 2001, Ossining students have won awards every year at WESEF, bringing the total number of award-winning science research projects to 95.
"Congratulations to our students for their remarkable achievements," said Superintendent Dr. Raymond Sanchez. "Their accomplishments at WESEF are a shining example of Ossining's commitment to providing a world-class education in the STEM fields. We look forward to supporting our scholars as they compete at ISEF later this year."
Just days after the WESEF competition, nine more students in the Science Research Program won awards at the New York Science and Engineering Fair (NYSSEF), including two grand prize winners: Sarah Gardner's project on the connection of black holes and their resident galaxy, and Audrey Schecker's project on invasive tick infestation in school yards, each won the grand prize of a trip to ISEF to compete at the international level.
Regeneron ISEF 2023 will take place from May 14-19 in Dallas, Texas, at the Kay Bailey Hutchison Convention Center.