We start the school year welcoming a fourth school district to the Roundup, as Ossining joins the team! This month's Educational Roundup includes a really good volleyball player, a shared story about an orange pumpkin, inspiration from a former college football player, and a heck of a lot of Post-It Notes.
Irvington
New Mural Celebrates Values of Dows Lane
The atrium of Irvington's Dows Lane Elementary School is now home to a brand new mural, the work of Dows Lane kindergarten teachers Izabela Swiecka and Melaynne Vestal.
The two teachers undertook the artistic endeavor to supplement the school's character-building initiative. The mural will be used as part of the school's character building program, which begins the year asking the students to think about the question, "What makes a community?"
"The mural reminds everyone that Dows Lane is a respectful and kind community where we do our work with pride, persistence, and cooperation every day," said Dows Lane Principal Deborah Mariniello. "Thanks to the PTA for donating the paint and supplies, and thanks to our two teachers who volunteered their time to transform the space."
Fifth-Graders Sail the Hudson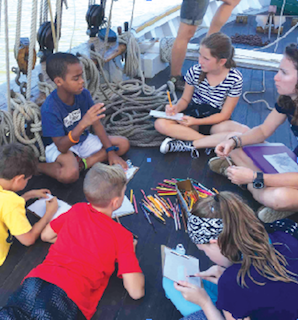 Main Street School fifth-graders set sail aboard the Hudson River Sloop Clearwater in September, using their experience aboard the floating classroom to enhance their current studies about the river. "This is a uniquely powerful platform for students to learn about the Hudson River's natural wonders and cultural significance," said Principal Joyce Chapnick. "This trip is a culmination of our Hudson River study and environmental education, which can forge a connection with nature to last a lifetime."
Funded by a grant from the Irvington Education Foundation, the students' duties during their voyage included navigating the vessel, raising sails, performing water quality tests, and examining the river life under a microscope. "The inquiry-based learning activities are hands-on and relevant, and connect to our future science unit on ecosystems," explained Chapnick.
"We study the Hudson River as a unit in fifth grade because it's right here in our backyard and it means so much to the environment," said Main Street School fifth-grade teacher Susan Wallace. "By visiting the river, the students are able to make real-life connections between what they're learning in the classroom and what they're actually doing here."
High School Students Post Positive Messages Throughout the School
Members of Irvington High School's Positive Impact Club posted more than 600 Post-It Notes bearing positive messages on lockers and all over the school. The notes bore encouraging messages such as "You are beautiful inside and out," "You can make a difference in the world," "You are important," and "Love yourself, it's worth it." The idea came from Irvington police detective and youth officer Michael Toolan, who suggested it during an Irvington About Safe Kids meeting last spring.
"[The notes] were designed to remind students that there is hope, that they can do more than they realize, and that people in their school and community care about them," said Jennifer Nunziato, student assistance counselor and advisor of the Positive Impact Club. "The goal was to promote positivity and instill hope in students as they began the school year. The feedback has been outstanding."
Nunziato said that students have already asked to do the project again next year, and that teachers and staff have asked to be included by having the notes posted on their mailboxes and classroom doors. "This little idea has left a big impact on the Irvington High School community," she said.
Irvington School District Holds Ceremony for New Field
The Irvington Union Free School District will officially unveil Irvington School District's new Meszaros Field and Oley Track was officially introduced during a ribbon-cutting ceremony on Saturday, October 1 before the homecoming football game.
"After years of documented needs for new, improved facilities and a design and approval process that engaged so many, Irvington finally has the new facilities that our student-athletes and community members will enjoy for years to come," said Superintendent of Schools Dr. Kristopher Harrison. In addition to Dr. Harrison, Board of Education President Catherine Palmieri, Irvington High School Principal David Cohen, and Athletic Director Artie McCormack also spoke at the ceremony.
The track and field were named after two Irvington sports legends, Harold Meszaros and Peter K. Oley, who were both instrumental in the success of the District's athletic program.
Meszaros grew up in Irvington and graduated from Irvington High School, where he starred in both football and track. He later returned to the District to teach physical education, health, and science, and to coach football. He became Irvington's first Director of Athletics in 1961, a position he held until his sudden passing in 1977.
Oley was the coach for the track and field and cross-country teams for 50 years, beginning in 1956. During that time he led the Irvington High School cross-country team to seven sectional titles and 14 league championships. He was inducted into both the New York State Public High School Athletic Association and Westchester County Sports Halls of Fame.
Ossining
High School Freshman Already a Varsity Volleyball Star
This year marks Mychael Vernon's third season on the Ossining High School varsity volleyball team. What makes that unusual is the fact that Vernon is currently in her Freshman year. She originally made the high school varsity team two years ago as a seventh-grader. Last year, while in eighth grade, she led the team in kills, was second in digs and aces, and was third in blocks.
"Mychael is an all-around player, strong on defense with great blocks and quick digs, and a consistent and competitive server," said coach Lauren Riccardi, "but she is something to be reckoned with at the net. She is able to hit the ball with such force and precisely in specific locations as to make any team tremble."
This past summer, Mychael was chosen to be on the Garden Empire Volleyball Association team at the USA Volleyball High Performance Championships in Florida, which pitted her against the best girls in the country. She was also one of 128 girls (out of thousands) selected to be part of the Girls' Select National A2 Invitational Team Program and was recently named by the Journal News as one of the top 15 volleyball players to watch.
ACTION Committee Creates Neighborhood Lending Libraries
To promote literacy and encourage a love of reading, the Ossining School District's ACTION committee set up seven lending libraries throughout Ossining and invited children to take and read a book.
The lending libraries are located within the Arcadian Shopping Center at Starbucks, Great Clips, McDonald's, and the Arcadian Barber Shop; as well as at the Briar Laundromat and the Landmark Diner on South Highland Avenue; and at the River Side Laundromat on Spring Street.
"Children may choose to take a book home with them," said Ossining School District Superintendent Raymond Sanchez. "Most importantly, we want children reading and discussing literature. We want to see students turning the pages of books."
The lending libraries are being maintained by Ossining Girl Scout troops. Anyone interested in donating books should contact James Lucas at 914-941-7700 extension 1332.
Briarcliff Manor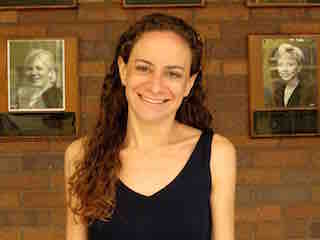 High School English Teacher Named Educator of Excellence
The New York State English Council has named Briarcliff High School English teacher Samantha Fishman a 2016 Educator of Excellence. She will be officially recognized in Albany during the New York State English Council's annual conference October 19-21.
"Samantha Fishman is a teacher who brings a love of literature and writing to her students," said English Department Coordinator Jamie Mandel. "She is a voracious reader who infuses her lessons with her appreciation of The New York Times. Her classroom atmosphere, challenging yet supportive, culminates in well-read, thoughtful and more critically aware students. Samantha embodies many of the best attributes needed to be an educator: intellectual curiosity, persistence, passion and moral fiber."
High School Searching for Distinguished Alumni
Briarcliff High School has opened nominations for the 2017 Distinguished Alumni Award, recognizing former BHS graduates for their outstanding professional achievements, service to their communities, service and support of the Briarcliff School District, or distinguished government or military service.
Principal Debora French will appoint a Committee of between three to five community members who will review all nominations and select this year's nominees. If chosen, nominees will be informed and invited to the High School Awards presentation assembly to receive a plaque recognizing their award.
Nominees must have graduated from Briarcliff High School at least 10 years prior to the school year in which they are nominated. Nominations should be submitted to Briarcliff High School Principal Debora French using the nomination form available on the BHS website or as a hard copy mailed to Briarcliff High School, 444 Pleasantville Road, Briarcliff Manor, NY 10510, Attention: Debora French, Principal.
Deadline for entries is February 1, 2017.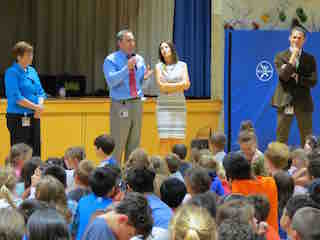 Todd Elementary Named National Blue Ribbon School
Todd Elementary School has been named a 2016 National Blue Ribbon School by the U.S. Department of Education, one of only 279 public schools so named this year. "It is wonderfully gratifying to receive recognition for the extraordinary effort and success our teachers and staff bring to the student experience here at Todd," said Superintendent of Schools Dr. James Kaishian during a special assembly on September 28 announcing the news.
Todd Elementary Principal Nadine McDermott and fourth-grade teacher Lorraine McDermott will travel to Washington, D.C. to represent the school and accept the award at a
ceremony later this year.  "It is an honor to receive the prestigious National Blue Ribbon award," said Principal McDermott. "This award is a recognition of six years of collaboration and dedication by the Todd faculty and staff to our school goals of literacy, numeracy and empathy as well as Habits of Mind…  It is extremely gratifying for me to have the achievement and educational progress of the Todd School community recognized on a national level."
Athletes Inspired By Former College Football Star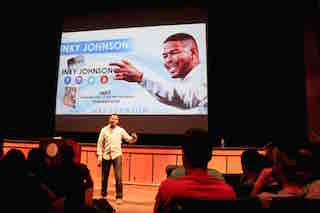 In 2006, Inky Johnson was in his senior year of college and looking forward to being drafted by the NFL when he suffered a career-ending injury to his right arm. Now a powerful motivational speaker, Johnson spoke to Briarcliff Manor's modified, junior varsity, and varsity athletes on September 14.
"Briarcliff is fortunate to have welcomed Mr. Johnson," said Athletic Director Christos Drosopoulos. "He inspires young people to believe in themselves, that no obstacles are too much to overcome, that they have a choice in every aspect of their lives, and that quitting is not an option. If his message influences just one of our students to be the best version of themselves on a consistent basis, then his visit to Briarcliff was a success."
Tarrytown/Sleepy Hollow
High School Musicians Earn All-State Honors
Sleepy Hollow High School students Patrick Leavy and Peter Moriarty have been chosen by the New York State School Music Association (NYSSMA) to perform at the 2016 NYSSMA Conference All-State festival. The two students were among the thousands of aspiring musicians who auditioned last Spring at solo and ensemble festivals throughout New York State.
Peter earned his way to All-State though his excellence as a bass vocalist, while Patrick is going as an upright bass player. The festival will be held in Rochester, New York and runs from December 1-4.
High Schoolers and Kindergarteners Share a Story
On September 19, Mr. Benton's Creative Crafts high school class walked across campus to John Paulding Elementary School to join kindergarten students in a celebration of Orange Day. The two groups of students sat together to read a story about a large, orange pumpkin.
After finishing the story, high school students paired off with the kindergarteners and teams discussed what they'd just read and drew illustrations inspired by the story. The experience was fun for all, and all students expressed the wish to team up with one another again at some point during the school year.
High School Produces National Merit Scholars
Seniors Dylan Basescu and David Friedman have both been named as semifinalists in the 62nd annual National Merit Scholarship Program. They are among the approximately 16,000 semifinalists nationwide who will compete for 7,500 National Merit Scholarships worth approximately $33 million that will be offered next Spring.
In addition, Dr. Tracy Smith, Principal of Sleepy Hollow High School, announced that seven other seniors have been named Commended Students in the 2017 National Merit Scholarship Program, placing them in the top five percent of the more than 1.6 million students who initially entered the competition. The Commended Students are Arias Diego, Zachary Bernstein, Helen Carr, Nadia Fassa, Sofia Guarnieri, Amanda Hynes, and Sophia Norwood.