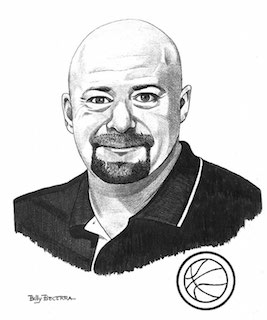 Halloween has passed, which means the tourists have receded,and our area students can refocus on school! This month's Educational Roundup includes student-made robots, a Hall of Fame coach, a visit to the cemetery, and bridges over untroubled water.
Ossining
Girl's Basketball Coach Inducted into Hall of Fame
The Westchester County Sports Hall of Fame has named Ossining High School Girl's Basketball coach Dan Ricci as one of four 2016 inductees. Ricci has been coaching in Ossining for 24 years, and has amassed an impressive resumé of success, including 16 league championships, six sectional championships, five regional championships, four New York State Public High School Athletic Association (NYSPHSAA) championships, and 404 total victories.
Eighteen former players coached by Ricci have gone on to enjoy successful collegiate careers, including two-time National Champion Saniya Chong at the University of Connecticut.
Elementary Students Study Local Fisherman
Second Graders at Brookside Elementary School got a close look at the rigors of working as a fisherman on the Hudson River by studying the life and times of Henry Gourdine. Gourdine was a local commercial fisherman who fished the Hudson River from the 1930s to the 1970s, and his story brought the different elements of the fishing industry into perspective for the students.
In addition to Gourdine, students learned about the environmental factors affecting the fish of the Hudson River and joined in a discussion on things they could do to help protect the fish. Afterwards, students broke into small groups and created paintings of Hudson River fish based on observational drawings. Many ofthese paintings are currently on display in downtown Ossining at the Open Door facility, and in the window of 2 Church Street.
Schools Ask Students to Help Choose Enrichment Offerings
Claremont Elementary and Roosevelt Elementary Schools are both planning to offer a series of enrichment programs for their students starting at the end of November, but they need some help deciding just what those programs should be. To that end, the Ossining School District is asking children of the two schools to take the "If I Ran the School" survey, where students can select up to 10 topics of interest from among a long list of possibilities. The final programs will be held from 3:30-4:30 on either Tuesdays or Thursdays at Claremont Elementary (Roosevelt students will be bussed to Claremont at the end of the school day.)
To take the survey, simply follow this link: https://goo.gl/forms/X0IFe2ATzFeXqCAY2
Briarcliff Manor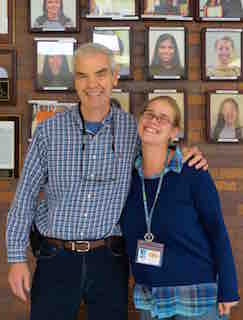 High School Colleagues Named Collaborators of Excellence
The New York State English Council has named Briarcliff High School teachers Thomas Durkin and Michelle McNeight Collaborators of Excellence for their work together over the past nine years.
"Like a well-oiled machine, Mr. Durkin and Ms. McNeight create strategic lesson designs to address the specific needs of every child in their classroom," said Briarcliff High School Principal Debora French. "Their student-centered classroom sparks a high interest level and productive atmosphere which builds upon students' strengths, confidence and intellectual curiosity."
Middle Schoolers Walk Over the Hudson
Eighth-graders from Briarcliff Middle School traveled to Poughkeepsie to study local history, earth science, and physics by traversing the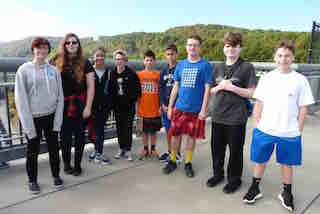 Walkway Over the Hudson. Afterwards, they ate lunch at a restaurant between the Mid-Hudson Bridge and the Walkway Over the Hudson, allowing the students to compare the two bridges.
"This is the second year that eighth-grade students have taken a fall walk across the bridge," said science teacher Jodi Shearer. "The docents teach the students about the history of the bridge construction, how it was the first bridge to cross the Hudson River and make the transport of materials from Pennsylvania to New York so much easier."
The students will take this experience with them into the classroom when they study physics and earth science, and will also compare the two bridges to the ongoing construction of the New NY Bridge, currently being built to replace the Tappan Zee Bridge.   "Later this year, we will study physics and earth science, and we'll refer back to what we saw at this historic landmark to make the learning more authentic," said Shearer. "It's exciting to have all these physics principles being demonstrated right in our midst!"
Children Meet "Biscuit" Author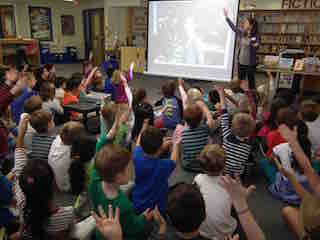 Alyssa Capucilli, author of the popular "Biscuit" series of children's books, visited Todd Elementary School to interact with kindergarteners and first-graders. "Our students got to learn how [Ms. Capucilli] creates her stories," said Todd Elementary School teacher librarian Tara Phethean. "She showed the students her writer's notebook, used for jotting down ideas, working out stories and choosing the best words."
Capucilli, whose visit was made possible with the support of the Todd PTA, shared details about how books are made – from writing to printing and binding. To better demonstrate the process, she brought along a sample "press sheet," one of the many steps a book takes on its way to completion.
Tarrytown/Sleepy Hollow
District Water Services Meet State Lead Compliance
Last April, the Public Schools of the Tarrytowns voluntarily tested water for lead content at 169 District locations. Of these, 13 were found to exceed the EPA's Action Level for lead content 0.015 mg/L, but only two – water fountains at Morse and Washington Irving – failed a second test. This summer, those two fountains were replaced and the new fountains passed with ease.
Of the remaining questionable sources, three unused water fountains are removed from service, and lead filters and new faucets were installed on three sinks at John Paulding Elementary School, and one sink at Sleepy Hollow Middle School. After all of the renovations were completed, the District again tested the locations, and every source passed with flying colors.
Superintendent Christopher Borsari wrote a letter to all members of the District to keep them informed of the process and to reassure everyone that all District water sources contained safe amounts of lead. "The health and safety of our students and staff are our highest priority," he wrote.
Students Interview Subjects for Digital Journalism
The students in Mrs. Emmerich's Digital Journalism class recently got their feet wet in the art of the interview. As part of their development and content creation for their individual websites, each class was given the chance to conduct an interview. Even-day class students met with journalist Wendy Naugle Holmes, an editor at Glamour Magazine, who discussed her life in the field of journalism. Odd-day students met with Superintendent Christopher Borsari, who waxed poetic on the life and times of a superintendent.
Students Visit Sleepy Hollow Cemetery
Seventh-Grade students at Sleepy Hollow Middle School toured the historic grounds of Sleepy Hollow Cemetery on October 24 and 25. Cemetery tour guides led students on a winding path to visit the final resting places of the famous and infamous – wealthy industrialists, Revolutionary War veterans, politicians, and of course, Washington Irving, author of "The Legend of Sleepy Hollow."
Along the way, students learned about the history of Sleepy Hollow Cemetery, and guides pointed out a number of works of art, impressive displays of architecture, and numerous mysterious symbols hidden away on the grounds.
Irvington
Scientist Visits Dows Lane to Cover the Facts of Matter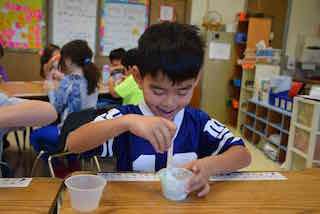 On October 17 and 18, scientist Christopher Green visited first- and second-graders at Dows Lane Elementary School to lead them through Facts of Matter, an exciting science enrichment program.
Mr. Green used dry ice, water, soap, and pennies to demonstrate how molecules interact with each other and can change their very state of matter through a series of hands-on activities. The program built on the students' knowledge of the properties of liquids and solids, a topic they have been recently studying in class.
"Mr. Green presented all of these concepts in a fun, engaging, interactive way that would be very difficult for us to replicate," said first-grade teacher Katherine Tripeau. "It's more meaningful for the students when they're able to get their hands on these different states of matter."
Mr. Green, whose visit was made possible through a grant from the Irvington Education Foundation, is happy to nurture a love of science in the children. "We can solve all of the problems on planet Earth with math and science," he said. "If the kids don't have an interest and if they're not excited about it, they're not going to become the next generation of brilliant scientists."
Third-Graders Exercise Their Green Thumbs
Third-grade students at Dows Lane Elementary School, with the help of PTSA member Delina Codey, were given a chance to get dirty when they descended upon the School's garden to investigate different botanical families and how they are classified. "It was a great, hands-on way for students to understand the process of scientific classification," said Principal Deborah Mariniello.
Using all of their senses to observe and identify differences, the students examined a number of plants in the carrot, mint, nightshade, squash and aster families. For carrots, they compared parsley, fennel, carrots, and Queen Anne's lace; mint, thyme, basil, oregano, bee balm, and lavender represented the mint family; the nightshade family included tomatoes, ground cherries, and potatoes; and cucumbers and squash were observed in the squash family. The aster family, represented by sunflowers, lettuce, and zinnias, were studied by having the students draw pictures of the different flowers.
Eighth Graders Build Robots
Teacher Marcus Oates' eighth-grade technology class has been taking full advantage of the new flexible learning space at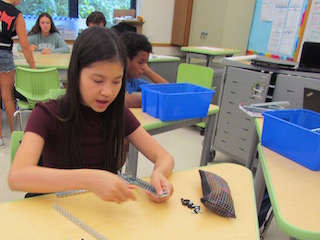 Irvington Middle School, transforming it into a technology lab and creating their very own robots.
"This is our second unit of the year, and each group is currently building a few of the mechanisms before teaching the other groups in the class about the purpose and application of them," Oates said. "Students are learning how robots function so that they can delve into using robotics to solve a problem." Later in the year, students will solve design challenges and build a variety of robots to complete different tasks.
The flexible learning space, which features triangular and crescent-shaped tables, cabinets with whiteboard space on the back, and mobile teacher podiums, has been a boon to the class because of the many different configurations and uses to which it has been able to be conformed. "Having a flexible learning space has been essential to the success of the eighth-grade technology course and helps reinforce the concept that the learning process is different for all students," Oates said. "The lab will support the next steps [of the class] because students will need to be able to quickly and effectively switch between research and construction roles," Oates said.
Irvington Hosts Student Wellness Workshop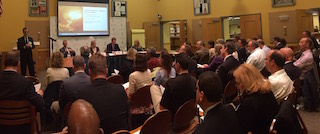 Superintendents and school board trustees from over a dozen Westchester and Putnam County school districts gathered in Irvington on Oct. 13 for a workshop discussing the social and emotional wellness of all students. Representatives from Valhalla, Ossining, Peekskill, Scarsdale, Byram Hills, Briarcliff Manor, Pelham, and others shared how their districts address mental health issues, social and emotional wellness, staff training, student surveys, and other related services. Panelists also included Michael Orth, Westchester Deputy Commissioner for Mental Health, and Jan Fisher, Director of Public Affairs for Westchester Jewish Community Services.
"The program was inspiring," said Irvington School Board of Education Vice President Michael Hanna. "School, county, and community leaders worked together to make a difference in children's lives. We saw the various opportunities that districts are taking. Ultimately, the goals are the same, Irvington and other districts recognize that having effective, sustainable programs in place are key to student wellbeing and learning."