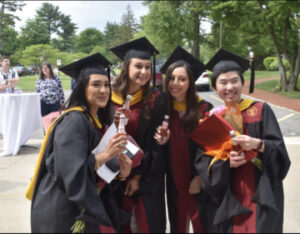 This week, New York Medical College (NYMC) celebrated its 164thgraduating class with ceremonies, speakers and awards. Proceedings took place over three days with the Graduate School of Basic Medical Sciences (GSBMS) being recognized on Monday, May 22, the School of Medicine (SOM) on Tuesday, May 23, and the School of Health Sciences and Practice (SHSP) on Wednesday, May 24.
Audiences made up of friends, family, colleagues and peers joined under a tent on NYMC's campus to celebrate the conferral of 389 total degrees to the Class of 2023, including 207 doctor of medicine (M.D.) degrees; 41 doctor of physical therapy (D.P.T.) degrees; 9 doctor of philosophy (Ph.D.) degrees; 76 master of science (M.S.) degrees; 49 master of public health (M.P.H.) degrees; and 7 doctor of public health (Dr.P.H.) degrees.
"Over the last four years it has been a pleasure to witness how the Class of 2023 has grown from eager students to compassionate, driven medical professionals," said Edward C. Halperin, M.D., M.A., chancellor, and chief executive officer at NYMC. "Since its founding in 1860, NYMC has established itself as a leading educational institution, whose graduates are motivated to make incredible strides for the healthcare industry and the patients they will treat."
Commencement ceremonies featured notable keynote speakers such as Jeffrey M. Friedman, M.D., Ph.D., Marilyn M. Simpson Professor, The Rockefeller University investigator at the Howard Hughes Medical Institute, director of the Starr Center for Human Genetics, who spoke to theGSBMS, Machelle H. Allen, M.D., senior vice president and deputy chief medical officer of NYC Health + Hospitals Corporation, who spoke to the SOM, Ann Kurth, Ph.D., RN, CNM, M.P.H., FAAN, FACNM, president of the New York Academy of Medicine, who spoke to the SHSP.