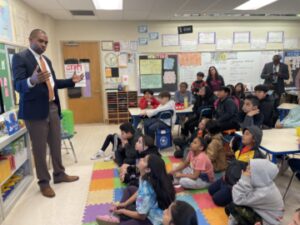 New York State Lieutenant Governor Antonio Delgado visited Danielle Litoff's 4th grade class at Ossining's Claremont School on Wednesday, April 26 to speak to students about his role as lieutenant governor and the power of reading. During the session, Lieutenant Governor Delgado shared his experiences in office and how reading has played a crucial role in his career by opening his mind to diverse ideas and experiences. He also answered questions from the students, who were eager to learn about his responsibilities and his path to public service.
Lieutenant Governor Delgado emphasized the importance of reading and how it helps people expand their horizons and connect with different cultures and perspectives. "That's the beauty of reading, it opens up your mind to a world of possibilities," he said. "A big part of life is understanding who you are and that takes time. It takes experiences and diversity, and that's why reading is so important."
A father of young twin boys, Lieutenant Governor Delgado also shared his favorite children's books with the students, who were excited to hear the relatable titles.
The visit was part of a monthly workshop being conducted by Ossining junior Zoey Jowers, titled Culture Kids: Representation in Reading, where students engage in meaningful activities and guided discussions about topics and themes of culture, connection, and acceptance that emerge through the stories. The workshop aims to promote cultural awareness and acceptance among students by exposing them to diverse stories and perspectives.
"Ever since first grade, I've been in Ossining's Dual Language program, which has been an integral part of my education," Zoey said. "In fourth grade, I was lucky to be a student in Ms. Litoff's class. Now, I'm fortunate enough to be returning to her class once again to share my love of books with Claremont students."
At the end of the session, Zoey presented Lieutenant Governor Delgado with a book from the workshop, "The Name Jar" by Yangsook Choi, which was signed by all the students. The book is about a young girl who moves to the United States from Korea and struggles with fitting in with her new classmates. The story ties in perfectly with the themes of the Culture Kids workshop and highlights the importance of acceptance and understanding.
"It was such a special experience having Lieutenant Governor Delgado visit with our classes this afternoon.  He shared messages on the power of literacy and the beauty of stories, as well as his insights on inclusivity, equity and representation for all, which were inspiring to our children," said Litoff, 4th grade teacher at Claremont.
Litoff said she is so proud to be part of the "Culture Kids" program and to see it come to fruition is something very special.
"Through Zoey's workshops, my students have been exposed to diverse literature and profound conversations around the celebration of our unique identities and the ways that our differences enrich the world we live in.  I am so grateful for her hard work and am amazed to have watched her grow from a 4th grader in my class to a facilitator of learning for my students."
Zoey is also running a Go Fund Me campaign to help raise money to purchase books from the program for Claremont students. For more information, please visit the link below.
www.gofundme.com/f/get-children-in-ossining-books-that-mirror-them