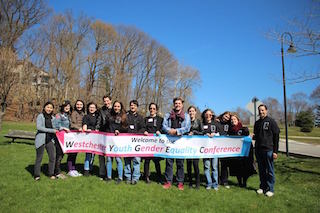 Spring is in full swing, and even though student thoughts are already turning to summer, they are still managing to accomplish and experience some amazing things. This month's Educational Roundup includes a new high school principal, a truly carbon-free mode of transportation, and a very "Grimm" encounter.
Irvington
Student Hosts Teen Gender Equality Conference
The first Westchester Youth Gender Equality Conference was held on April 10 at Irvington High School. The conference is the brainchild of Irvington High School senior Zachary Gallin and funded in part by a $1,250 Innovation Fund grant from the Irvington Education Foundation.
Over 100 students and adult representatives from 20 area high schools converged on Irvington for the conference. Highlights included lectures, workshops, and discussions with dozens of guest speakers and local activists. Gallin noted, "The most rewarding part of the event for me was to see students come up to the microphone at the conference's closing and talk a bit about what they had learned at the conference," he said. "Each student had his or her own unique perspective about gender equality and why the conference was so important, so it was really incredible to watch."
Gallin's aim was to promote solidarity in the local gender equality movement, allowing local students to exchange ideas and get involved. "Our main goal was to create an enduring platform for exchange," said Gallin. "We hope to host the conference again next year and to retain some of this year's participants as we develop this new community."
Irvington Welcomes New Assistant Superintendent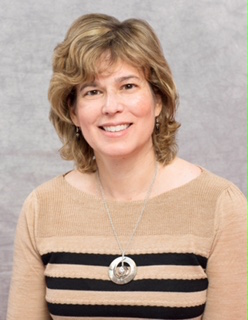 The Irvington School District Board of Education and Superintendent Dr. Kristopher Harrison announced the appointment of Carol Stein as the new Assistant Superintendent for Business and Operations at the April 12 Board of Education meeting.
"We are proud to welcome Carol to the Irvington school community," Harrison said. "She brings with her an impressive background and skill set that will certainly prove to be an asset to the District. Her passion for education and incredible mind for business has made her a great match for Irvington."
For the past five years, Stein, who will begin her duties on July 1, was the School Business Administrator/Treasurer for the White Plains City School District. While there, she led business operations for the District, managing the budget as well as banking, payroll, accounts payable and all other areas of accounting. She is also involved in contract negotiations, attends bargaining unit sessions, and coordinates various audits.
"I am excited to have the opportunity to work in a successful and cohesive District centered on student growth and achievement," said Stein. "I have met many wonderful and enthusiastic staff members and I look forward to working with the District."
Irvington Kids Climb Aboard the Walking School Bus
The Irvington Union Free School District kicked off their Walking School Bus program on April 14, with more than 40 students from both Dows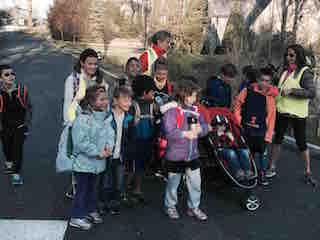 Lane Elementary School and Main Street School hitching a ride. "It was a great start to the Walking School Bus," said Safe Routes to School coordinator Maura Gedid. "We had sunshine and a lot of participants. There was a lot of enthusiasm for the first walk."
Intended to promote walking as a healthy activity as well as reinforcing pedestrian safety, the Walking School Bus program features volunteer parents picking up and leading groups of students to school like a carpool. Main Street School students enjoyed a second day of the Walking School Bus on April 22 in honor of Earth Day, and the program will continue weekly until the end of the year.
"District families seem really excited about the program," said Gedid. "It helps students practice safe walking and get a little outdoor time before their day at a desk begins. It also helps parents to get some exercise and spend a little unplugged time with the kids before school. Finally, it reduces car traffic around the schools at rush hour. "
Irvington Boasts Top Three Middle School Chemists in New York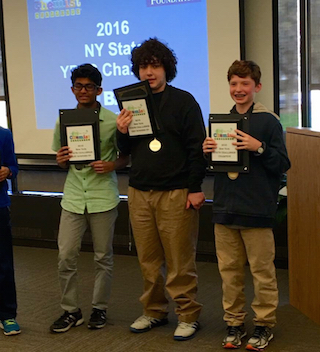 Irvington Middle School students took first, second, and third place at the New York State You Be the Chemist Challenge on April 16 in Tarrytown. The winner, seventh-grader Henry Demarest, will receive an all-expenses-paid trip to Philadelphia in June to represent the State of New York in the National Challenge. Eighth-graders Rishit Gupta and Zachary Rosman came in second and third, respectively.
Sponsored by the chemical company BASF, the competition featured challenging science questions with a focus on chemistry, the scientific method, and lab safety. "To prepare for this incredible event, you have to be intelligent, interested in the topics and areas of study, and disciplined enough to study and prepare on your own using a series of study materials put out by the competition," said middle school teacher Philip Levine. "The fact that five [Irvington Middle School students] were able to advance to the State finals and then three of them placed first, second and third says so much about these youngsters. We are so fortunate to be able to share in their successes and accomplishments."
This was Demarest's second appearance at the competition after being named runner-up at last year's State challenge. It was Gupta's and Rosman's third appearance at the competition. The three students will be honored at an upcoming Board of Education meeting.
Tarrytown
Washington Irving Celebrates Screen-Free Week
Washington Irving Elementary School celebrated Screen-Free week earlier this month from May 2 through May 6 with a series of events intended to encourage their students to unplug for a few days. The week is part of a nationwide event aimed at getting kids physically active and having them spend quality time offline with family and friends.
The week began for the 3rd, 4th and 5th grade students with a kick-off event Monday evening in the Warner Library Children's Room. Kids played the banjo, listened to stories, took on a library scavenger hunt, and undertook a number of screen-free projects.
Other Screen-Free Week events included Wednesday's Project ACES (All Children Exercise Simultaneously) which had all the kids doing physical activity at once, as well as an evening Round Robin Reading at the school featuring a number of guest teachers and administrators who returned to school Wednesday evening to share some of their favorite stories with the students.
Students Visit the Catskill Animal Sanctuary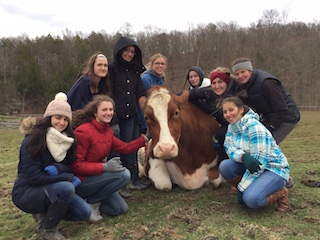 Members of Sleepy Hollow High School's PAW (Promoting Animal Welfare) club visited the Catskill Animal Sanctuary in Saugerties with their advisors, Ms. Samantha Horn and Ms. Bonnie Berry. The purpose of the visit was to learn to practice empathy toward all animals and be reminded of the value of volunteering their time.  Students learned ways they could help spread the sanctuary's message about animal welfare and compassion for all living things in the world.
New High School Principal Introduced
The Board of Education of the Public Schools of the Tarrytowns announced the appointment of Dr. Tracy Smith as Principal of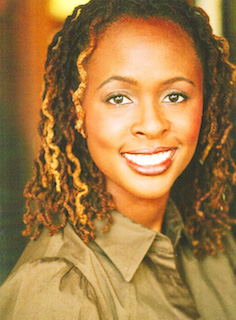 Sleepy Hollow High School, effective July 1.
"As the new principal of Sleepy Hollow High School, I am excited about partnering with teachers, parents and the community to ensure the success of all students," said Dr. Smith, who will replace the outgoing principal Carol Conklin-Spillane. "I look forward to being a part of the Sleepy Hollow family."
Dr. Smith has been an assistant principal at Nyack High School since 2011, and spent 13 years at the school prior to that as an English teacher. As the assistant principal, Dr. Smith created the school's mentoring program for at-risk students and oversaw the school's Positive Behavioral Interventions and Supports programming. She holds a number of advanced degrees, including an Ed.D. in Executive Leadership from St. John Fisher College, an Advanced Certificate as a School Building Leader from Long Island University, a Master's Degree in English Education and a Master's Degree in English Literature, both from Columbia Teachers College, and a Bachelor's Degree in English from the University of Illinois, Chicago.
Briarcliff Manor
Science and Engineering Team Builds Winning Rube Goldberg Machine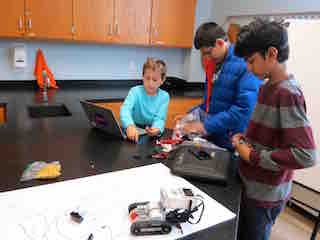 Briarcliff Middle School's Science and Engineering Team (nicknamed the "Toy Squad") earned a first-place finish at this year's Westchester Engineering Expo in the competition's Rube Goldberg Machine Contest (Division II, Middle School). The award was presented to the team by Goldberg's granddaughter.
"The kids did a fantastic job of making a machine out of toys that opened an umbrella in 11 steps," said SET team advisor Jodi Shearer.
The team also impressed in Match at the BOCES Regional STEMfest at Southern Westchester BOCES in Valhalla. In that non-competitive event, Toy Squad designed and programmed a robot to draw a Fibonacci spiral, then paired off to present work on quicksand, magnetic trains and lasers.
"Judges spoke to all the participants and gave them feedback on their presentations and their work," said Shearer. "The feedback was very positive and some judges mentioned to me how impressed they were when speaking with our students."
Todd Elementary Students Code Video Games for Tots
After spending weeks coding and creating interactive video games aimed at kindergarten-aged children, fifth-grade students at Todd Elementary School shared their projects with the younger students.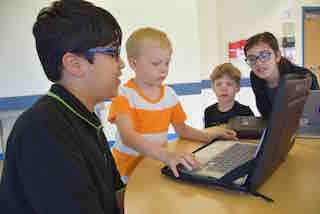 "Coding is something that everyone should be exposed to because the future is going to be based on technology, and if you know how to code, the sky's the limit," said technology teacher Lori Whitman. "There are so many coding jobs out there. Starting at this level with coding is really building the future."
Some of the student-created games included voice recordings and characters that could be moved with the arrow keys. One student created a video game where the user was given different choices for what the character wore and where his birthday party was held.
"I liked that it was like a challenge to create the game and you could really do anything you want with it," said fifth-grader Coby Rinke. "It looks really simple, but when you look at the internal parts of the game it's really complicated."
Todd Elementary Students Explore a Grimm World
Fourth- and fifth-grade students at Todd Elementary School were paid a visit by bestselling author Adam Gidwitz, author of the
popular "Grimm" series of books. Gidwitz told students all about the Brothers Grimm, who collected and wrote down their famous stories in Germany, and how many of the original Grimm stories are far from the sweet, charming fairy tales with which the students may have been familiar.
"They were very dark and scary," said Gidwitz, before sharing the earliest known version of the story of "Snow White" with students. He then explained how he tried to mix elements of horror with humor in his own works.
Gidwitz also answered questions about his writing career. He concluded his visit with a special lunch with six essay contest winners, who had an opportunity to dine and chat more informally with the author.