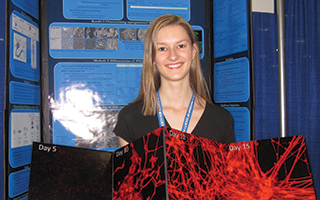 Summer is just around the corner, but before it arrives, our local schools have served up a new Principal, Skyping sixth-graders, and a surprise visit from Marvel Comics!
TARRYTOWN/SLEEPY HOLLOW
Sleepy Hollow Student Shines at International Science Fair
At right, Sleepy Hollow's Elizabeth Sobolik triumphed at the Intel International Science and Engineering Fair in Los Angeles, California. Competing against 1,783 students from 70 countries, she won the Anti Vivisection Award for her research entitled: Generating iPSCs from Human Adipocytes for Differentiation into Nociceptive Neurons.
The award comes with a of $2,000.00 scholarship.
Bye Bye Birdie Orchestra Named Best of the Year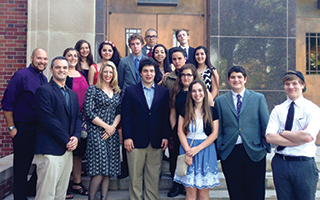 On June 2, the Sleepy Hollow Spring Musical Pit Orchestra for Bye Bye Birdie won Best Student Orchestra at the 2014 Metropolitan High School Theater Awards. The annual awards, presented by the Helen Hayes Youth Theater, are open to schools in Westchester and Rockland Counties in New York and Bergen County in New Jersey.
Also nominated from Sleepy Hollow were Tomas Correa (Actor in a Supporting Role), Paloma Gratereaux (Acting Performance), Zach Dore, Dave DiLeo, and Anthony Tedesco (Lighting Design), Gabrielle Friedman, Alex Basecu, James Carney, and Peter Moriarity (Featured Ensemble Group), and Jack Titcomb (Technical Merit for his work as stage manager).
Pow! Marvel Comic Artist Visits Sleepy Hollow Middle School!

Marvel Comic artist and Sleepy Hollow graduate Nelson Ribiero sprung a shocking surprise on two seventh graders with a clandestine visit to Sleepy Hollow Middle School. In the fall, Science teachers Mr. Garguilo and Mr. Patierno gave their students the task of crafting a superhero organism that would adapt to a futuristic environment, endure extreme weather and climate challenges, and survive fierce predators.
What the students didn't know was that their creations were then sent to Ribiero, who chose two of the student-created characters and designed a Sleepy Hollow comic book cover. He then snuck back into his old haunt as a secret guest speaker to unveil the comic book cover and speak to the students about his childhood, his experiences as a student at Sleepy Hollow, and his transformation from mild-mannered student into Marvel Comic artist.
District Science Teachers to Take Part in Education Fellowship
Washington Irving science teacher, Abbey Gilligan, Sleepy Hollow Middle School science teacher, Mayerlin Strippoli, and Sleepy Hollow High School science teacher, Leana Peltier have been chosen to represent the Public Schools of the Tarrytowns in the Greater New York Wipro Science Education Fellowship (SEF).
The SEF is a multi-state, two-year program founded by international information technology company Wipro that focuses on leadership in science education with the goal of keeping good teachers in the classroom. Major tenets of the professional development include vertical and horizontal articulation across districts and lesson observation and study. In year two, each fellow will lead professional development in their own district and work on a district-wide initiative of his or her choosing.
The Greater New York partners include Mercy College, University of Massachusetts at Boston, and Montclair State University. Sleepy Hollow's science department chairperson, Jason Choi, will serve as the district coordinator and the liaison between the teachers and Mercy College.
BRIARCLIFF MANOR
Todd Students Visited By "Lunch Lady" Author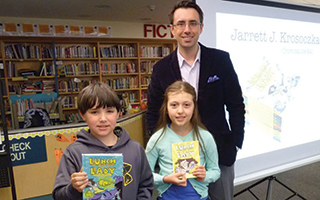 Author and illustrator Jarrett Krosoczka visited second and third graders at Todd Elementary School in April, sharing his inspirations with the children, discussing his creative process, and working with them to bring their own creations to life.
Mr. Krosoczka shared one of his earliest creations with the children, an unpublished story about an egg, tomato, lettuce and a pumpkin that live in a refrigerator city, in hopes that it would encourage the students to continue to explore the art of writing. "Even rejected books may lead to a new idea," said Mr. Krosoczka. "I just kept pushing myself creatively."
During the second day of the author's visit, Mr. Krosoczka held a graphic novel workshop for the third-graders. The students' drawings were displayed both within the library and on the bulletin board right outside.
Drama Club Performs at Pace
The High School Drama Club and drama class, in conjunction with the Hudson Stage Company, presented an evening of original staged readings  written and performed by the students, entitled "I Can't Believe It's Not Memorized!" on March 21 at Pace University's Woodward Hall Theatre. In all, 21 students collaborated to create an evening of 17 one-act plays.
"Collaboration and flexibility are the two most important traits needed to create an evening of staged readings," wrote Briarcliff High School teacher Jamie Mandel in the evening program. "The entire process demands spur-of-the-moment decisions, critical thinking, team building, and creativity – skills needed to be successful in many endeavors…I applaud [the students'] willingness to write, their eagerness to act, and their bravery."
Six Briarcliff Seniors NCAA-Bound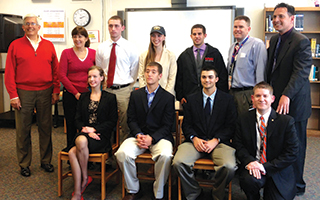 Briarcliff High School held its fourth annual National College Athletic Association press conference, honoring six students who are heading off to play sports at the collegiate level, and celebrating the students, coaches, parents and counselors who helped make their achievements possible.
"You have done your family, your school and yourselves proud by getting to this point," Briarcliff Athletic Director Chris Drosopoulos said. "Go through the steps necessary to be successful at the next level. You guys are the crème de la crème; we're really proud of you."
Abigail Kuhn, who plans to study engineering while swimming for Stevens Institute of Technology, said athletics allowed her to set and reach goals by being able to envision the steps it takes to get there, then see the outcome of her hard work. "Stevens was my top choice, so being a student varsity athlete there is like icing on the cake," she said.
The other student athletes are Kevin Wolff (football, Rhodes College); John Cabeca (soccer, SUNY Plattsburgh); Sophie Feuer (track and field, Ithaca College); Chris Marinaccio (baseball, Eastern University); and Ryan Rosen (track and field, University of Rochester).
Sixth Graders Skype Into STEM-D Conference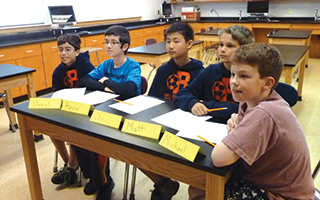 Briarcliff Middle School science teachers Julie Gallagher and Robert Iovino were invited to present at a STEM-D conference in mid-May at Pace University addressing education practices in science, technology, engineering, math and design. For their presentation, the teachers discussed a roller coaster project their classes had enjoyed earlier in the year, and five of the participating students joined the  conference via Skype to field questions from the audience and talk about their experience.
The students – sixth graders Daniel de Castro, Michael Donoghue, Chris Li, Kevin Mani, and Matthew Sturman – provided thoughtful, concise, and informative answers. "We had to work together and manage our money," explained Matthew in regard to the project's design and construction.
Daniel stressed the importance of teamwork. "Working together was important," he said. "There were times when we didn't work so well together. However, it all worked out well in the end."
Elementary Students Learning Mindfulness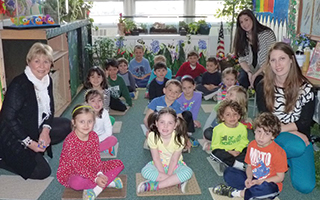 Todd Elementary School social worker Kay Brancato has created a new program to give students tools to help them relax, focus, combat test anxieties and make wise decisions. Ms. Brancato has been teaching weekly mindfulness sessions to students in K-2 and will expand the program to encompass all grades. "Mindfulness is being aware of the present, in the present, on purpose and without judgment," said Ms. Brancato. "It involves socio-emotional learning."
The classes, which generally last between 15 and 45 minutes, initially took place within the classroom, but they are now presented in Todd Elementary's new indoor garden. Armed with a Tibetan singing bowl, Ms. Brancato has been successfully teaching her craft and enabling students to become more aware and appreciative. "Children are seeking this out," said Ms. Brancato. "Research proves that students can't learn unless they are emotionally ready to do so."
Ms. Brancato has also initiated a peer mediation program. Fourth-graders who follow Todd's Golden Rule and are in good academic standing are invited to receive 10 training sessions during recess periods, a booklet containing a list of conflict resolution concepts and active listening steps, a mediation script, practice questions, a checklist for good resolution, and a list of duties, message worksheets, and an evaluation questionnaire. Each student is specifically trained in conflict resolution and, upon the completion of training, receives a certificate in peer mediation.
IRVINGTON
Chapnick Named Main Street School Principal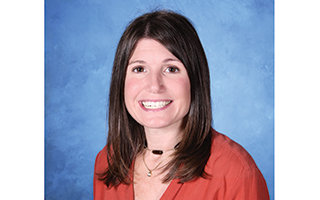 Current Irvington Middle School Assistant Principal Joyce Chapnick was appointed Principal of Main Street School for the 2014-2015 school year. Ms. Chapnick has been working in the Irvington School District for eight years – the past five in her current role of Assistant Principal. The appointment was made at the June 3rd Board of Education meeting.
"I couldn't be more excited and honored to join the staff of the Main Street School," said Ms. Chapnick. "Having served as a Teaching/Learning Facilitator at both Dows Lane and Main Street School, I am delighted to be rejoining the elementary environment. I look forward to re-introducing myself to the families and staff of the Main Street School community and continuing the tradition of school pride and achievement."
"Tomorrow's Historians" Present at Irvington Symposium
19 Irvington students presented their history research papers to an appreciative audience on May 29 at the Peter K. Oley "Tomorrow's Historians" Student Research Symposium at Irvington High School. Sponsored by Irvington High School and the Irvington Historical Society, and organized by Irvington social studies teacher and event moderator Dr. Erik Weiselberg, the annual event once again gave students a chance to showcase their talents in a professional setting.
Students were arranged in five panels organized around a central theme common to each set of papers: Modern Warfare and American Power, American Women's History, American and African-Americans, Science and Public Policy, and Alternatives to the American Mainstream.
Panelists presented not only factual details and chronology, but engaged in the practices of professional historians, such as offering reasons for continuity and change, and identifying multiple causes of historical events. The panelists also fielded questions from the audience, including many questions which asked the panelists to use their experience with historical topics to help explain present conditions and to make informed hypotheses about future trends.
The Symposium is dedicated to the memory of Peter K. Oley, a former Irvington teacher, track coach and village historian, whose passion for history and education inspired generations of Irvington students and residents.
Middle School Students Inducted into Honor Society
On May 19, 32 Irvington Middle School Students were inducted into the National Junior Honor Society, an organization which recognizes students in middle school for demonstrating excellence in five areas: Scholarship, Character, Leadership, Citizenship and Service. Inductees must carry a 3.9 or higher GPA and provide multiple recommendations from teachers and leaders of community-based organizations.
Students honored were Pierson Brandon, Christopher Brandt, Mary Brereton, Lucas Carmosino, Jaylin Carter, Michael Cohen, Erica Corinaldi, Jillian
Cusick, Kyle Flanagan, Melanie Geller, Jessica Greene, Joana Hadzhilazova, Heather Hall, Elizabeth
Hargraves, Caroline Harty, Nicole Kandler, Kristin Lee, Mariana Maciel, Nora Massie, Zoe Maxwell, Victoria McDaniels, Eleni Papapanou, Jung Park, William Pascal, Haley Passov, Alexandra Pollock, Rachel Sklar, Claire Song, Mackenzie Tatananni, Brandon Weinstein, Jake Weintraub, and Arcadia Wisnik.
Main Street Parents and Students Partner for Reading
Nearly one hundred Main Street School students and parents got together on April 10 at Main Street School's Parents As Reading Partners book club. Readers came to the event, which was coordinated by Main Street School librarian Jackie Richardson, having read one of four books — The Magician's Elephant, Hatchet, Red Slider, or Explorer: The Mystery Boxes. With parents serving as facilitators, students discussed the book they read and engaged in a shared reading experience. The evening ended with students choosing a new book from a selection donated by the Irvington PTSA.
Girls Track and Field Run Roughshod Over Competition
The Irvington High School girls track and field team participated in the Section One Class B championships over the weekend of May 24-25 and came away with a number of medals. The team itself took 3rd place while Kiana Lee earned three gold medals – 200 meter, 400 meter, and as the anchor in the 4 x 400, along with teammates Zoe Maxwell (who earned a gold herself in the triple jump), Emily Friedman, and Shannon Spencer.
Lizzie Riley took the bronze medal in the 1500 meter, and she teamed up with Anna Canning, Alex Brantl, and Hayley Hall to earn the silver in the 4 x 800.
Students Shine at Science Research Symposium
Irvington High School held its annual Science Research Symposium on Tuesday, May 20. Eighteen students presented their work, displaying passion and expertise on a variety of scientific subjects. In addition, guest speaker Dr. Ron Cohen, MD, CEO and President of Acorda Therapeutics in Ardsley, spoke about how he became involved in research and described many of the drugs and therapies developed at Acorda.
Two of the highlights of the symposium were junior Ethan Tardio, who presented his research on breast cancer in a study focused around the role of macrophages in cancer progression, and junior Ariel Pekelis, who presented her research on the effects of various drugs targeting HSP90 on the HER2 cancer gene. Each student will continue their work over the summer, with Tardio working at Mount Sinai Medical Center and Pekelis at Memorial Sloane Kettering.