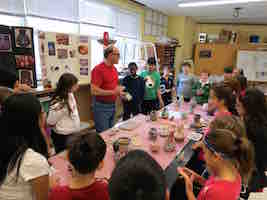 A new year means new adventures and accomplishments for our region's schools as we head into 2016. In between homework, after-school clubs and sports, homework, profound educational experiences, and more homework, area students and schools continue to go above and beyond. This month's Educational Roundup celebrates a natural leader, music at Grand Central, and an area teacher featured on Univision TV.
Briarcliff Manor
Fifth-Graders Get Messy With "A Day in Clay"
Fifth-Graders at Todd Elementary School welcomed back artist-in-residence Cliff Mendelson on December 11 and 14 as they embarked on a special project through his "A Day in Clay" program (pictured at the top of this article). While last year's project focused on creating the school mural, this year Mendelson led the students on a journey into Native American culture and history through art.
"You can make some amazing designs," Mendelson told students. "The Native Americans have such a rich culture."
Students researched symbols and patterns as Mendelson and Todd Elementary art teacher Paul Villanueva challenged students to design and create their own Native American-inspired ceramic pots out of self-hardening clay. After hardening for 10 days, the students painted their work.   Once the pots were painted, they were glazed with decoupage sealer, and brought home as lasting mementos of their experience.
Student Wins First Place at Regional Speech Competition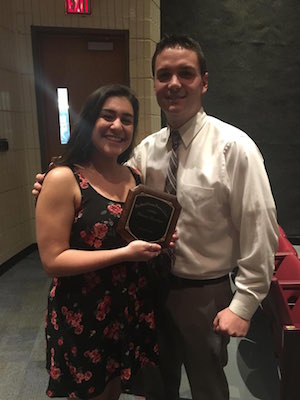 The Briarcliff speech and debate team competed at a regional speech competition held at Suffern High School on December 10. The students participated in an array of categories, delivering memorized, dramatic performances in individual rounds against students from other schools. "A total of seven [other] schools competed, all from Rockland County," said advisor Samantha Fishman. "The day's competition was broken down into five categories – prose, poetry, impromptu, dramatic monologue, and original oration."
While the entire team performed well, one student stood out. Against heavy competition, Briarcliff's Jillian Agona took first-place honors in the category of dramatic monologue.
High School Names Leadership Program Representative
Briarcliff High School student Lauren Tannenbaum was selected to be the District's representative at the Hugh O'Brian Youth Leadership program this coming June 10-12, at Adelphi University.
The program aims to nurture leadership and service in students, with a strong emphasis on integrity, volunteerism, and participation within the community. Students submitted an essay, which was then read and scored blind by BHS' four counselors. Tannenbaum's essay scored the highest, while Jack Ryan's essay was the second highest, making him the official alternate to the program.
"Lauren and Jack's [essays] stood out because they talked about how they learned to be leaders, modeling themselves after leaders by whom they were inspired," explained Counseling Coordinator Meredith Safer. "As educators, the counselors were particularly moved by this sentiment."
Tannenbaum, who currently volunteers with the Village of Briarcliff Manor's Teen Advisory Board, is looking forward to learning more about giving back during the June program. "I hope to learn more about volunteerism because I don't volunteer as much as I would like to, and I think it's a very important thing to do," she said. "I would like to learn how to get involved with things that I care about."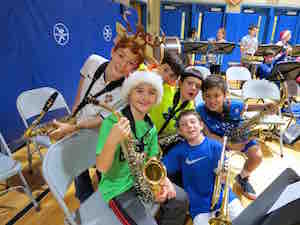 Elementary Students Sing Their Way Into Winter Break
Todd Elementary School's annual Winter Sing took place on December 22,  giving students a chance to showcase their holiday spirit. A cornucopia of Santa Claus hats, reindeer antlers, and other holiday wear filled the stage as children treated family and friends to holiday classics such as Frosty the Snowman and Dreidel, Dreidel, Dreidel.
As a special treat, Mrs. McDermott's fourth-grade class sang an original, rhyming composition based on the teachers of Todd Elementary. The evening also featured performances by the school's band, orchestra, and choir.
Elementary Students Enjoy Hour of Code
The international Hour of Code program took place the week of December 7-11, intended to give students an introduction to computer science, and every student at Todd Elementary School, including the kindergarteners, took part.
"Kindergarten students were introduced to coding in their classrooms using the carpets in the rooms as a grid. [They] learned to navigate the carpet grid by taking one step in a given direction either north, south, east, or west to get to a specific location,"  said technology teacher Lori Whitman. "First- and second-graders attacked coding by working in pairs because 'two heads are better than one,' [which is] a statement made by a code.org video that explains pair programming."
Older students, veterans of previous Hour of Code programs, had the opportunity to work more independently on coding activities using the code.org website. All the students signed a poster outside the computer room which read, "We Participated in the Hour of Code."  u
Tarrytown/Sleepy Hollow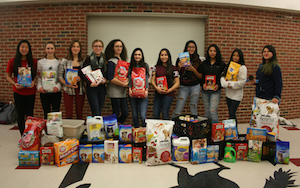 Students Collect Food for Local Pet Food Pantry
On Saturday, December 5, Members of Sleepy Hollow High School's PAW (Promoting Animal Welfare) club took time out to help out some of the area's four-legged residents. Joined by PAW faculty advisors Bonnie Berry and Samantha Horn, the students stood out in front of Stop & Shop in Tarrytown and asked shoppers for donations of cat and dog food for local organizations. Their work generated eight shopping carts full of pet food, treats, and other pet supplies. The club then donated everything they had collected to various rescue groups in the area as well as to the Westchester Pet Food Pantry.
High School Teacher Featured on Univision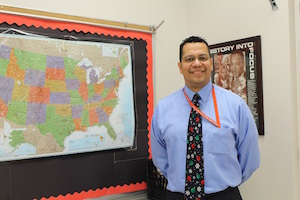 Sleepy Hollow High School social studies teacher Carlos Matute was featured recently as a "Maestros de impacto cambian el futuro de sus alumnus" ("Teachers who Impact the Future of our Students") on Univision Television. Mr. Matute was recognized for his work in creating a mentoring program for Latino students in the school. The mentoring program meets regularly to discuss study habits, college goals, and other challenges faced by students who may not yet speak English fluently or may be new to the country. He started the mentoring program five years ago and recently received funding from the federal Project Exc-EL (Excellence for English Learners) to help keep the program up and running.
For the broadcast, Mr. Matute was filmed while teaching his US History and Government class for ESL students at Sleepy Hollow High School. The program can be viewed online at http://tinyurl.com/shmatute.
Irvington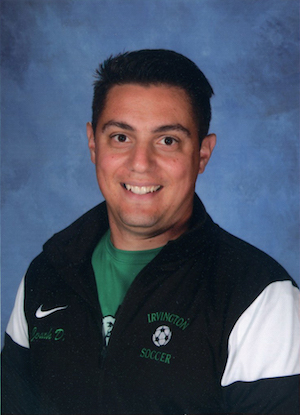 Irvington Teacher Named Coach of the Year
Irvington art teacher and girls soccer and lacrosse head coach Patrick DiBenedetto was named Coach of the Year by the Journal News after leading the girls soccer team to an 8-0 regular season record and its first league title in over 15 years.
"This recognition is an honor for me and a reminder of the great qualities that each member has brought to the team," DiBenedetto said. "It's the icing on the cake. This wouldn't have been possible for me without the other 18 girls that I share this with. It will keep me motivated to continue to work hard and cherish special moments like this that rarely come up in one's career."
Athletic Director Arthur McCormack praised DiBenedetto for his hard work in preparing his team for each game. "What makes Pat a great coach is how he is able to relate to all his players," McCormack said. "He treats his players with great respect, and in turn, they have tremendous respect and admiration for him."
Irvington Education Foundation Awards Student Grants
The Irvington Education Foundation awarded eight Innovation Fund grants totalling $11,928 to the students of the District. Each grant was conceived of and applied for by one of the District's students. "This year's applications focus on the community, the environment, advancing learning, and creative expression," said Irvington High School Principal David Cohen. "It is inspiring to see our students taking advantage of this tremendous opportunity."
Grants approved included $4,200 to the Theater Troupe to hold a festival of one-act plays, $1,162 to set up a Quick Response smart tag system at a local hiking trail for hikers to access on their smartphone or tablet, $741 for a program to collect and recycle used Crayola markers, and $1,000 for student education and awareness regarding gun violence in school and the community.
High School Musicians Perform at MetLife Building
Student musicians and vocalists from Irvington High School received the honor of performing at the annual Bernard Kaplan Memorial Holiday Concert on December 8 at the MetLife Building, located at Grand Central Terminal. "Mrs. Judith Kaplan hand selects only a few ensembles every year to participate in the two-week series. Ensembles are invited back based on their performance from the year before," said Debra Tuzman, director of the wind ensemble. "We are very fortunate that we are continually invited back."
Director Tuzman's wind ensemble was joined at the concert by the school choir under the direction of Janet Gillespie. "This is the busiest time in the MetLife Building, and it often draws a very large crowd," said Tuzman. "The students worked very hard to prepare for this event. They did an amazing job."
Middle School Movie Makers
Sixth graders at Irvington Middle School enjoyed a field trip to the Jacob Burns Film Center in Pleasantville on November 18 and 19. The students were in the midst of a unit entitled "Digital Storytelling: A Dynamic Look at Narratives" in their English language arts classes, and the trip was a chance for them to work with and learn from professionals at the center.
"The Digital Storytelling unit gives students the opportunity to learn about visual literacy, explore the ways digital images are used to tell stories, and recognize the impact they have on our society," said sixth-grade teacher Jessica Doherty.
Students worked with teachers and staff to produce their own digital stories, and the finished films were shown at the Irvington Middle School Film Festival on December 23.