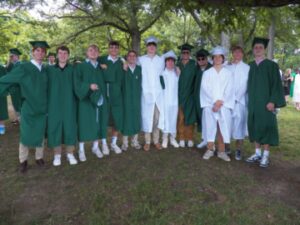 Irvington High School celebrated its Class of 2023 during a commencement ceremony at Matthiessen Park on June 17. The students marked the milestone of completing their high school experience before an audience of friends, family, administration and faculty.
The ceremony began with a processional to "Pomp and Circumstance," followed by the performance of "The Star-Spangled Banner" by the IHS Concert Choir, directed by Stephen DiGiovanni, choir director. Principal Jon Hirsch welcomed the guests and honorees, reminding them to draw inspiration from the experience of those that came before them.
"It has not always been easy for you but here you are," Hirsch said. "Not somehow but triumphantly. Just as the Dutch and the Lenape before them, you have found strength in your community and in each other. Remember that no matter how far you roam, you can always come home to the river."
Superintendent of Schools Dr. Kristopher Harrison highlighted the spirit and amazing accomplishments of the Class of 2023 during their four years and how they have enacted change in their school and community.
"Graduates, you are not replaceable, and you have forever changed the Irvington school community for the better," Harrison said. "So, as you move onto the next phase of your life, whether that be college, career or service, never lose who you are. Be true to yourself and that in which you believe. Think for yourself and advocate for what is good and just. When a challenge or task is presented, always be resourceful, of course, but allow your personal spirit, your heart and your personal values to guide you."
Students were also addressed by board of education President Brian Friedman, as well as honorary speaker Luciana Forte, class president and salutatorian Olivia Yin and valedictorian Ryan Liu. In her address, Forte reminded her classmates to strive proudly forward.
"Although the road ahead may at times feel uncertain, we know that the best way to predict the future is to create it," Forte said. "My fellow graduates, our futures are calling us! Now let's get it!"
During her remarks, Yin related her years at Irvington schools to a road trip, filled with many experiences and destinations.
"Now, as you all take the wheel and exit this highway, I will use this radio channel for one last announcement," she said. "You are in control of where you take your life. You determine the speed, the lanes and the path you wish to traverse. Your journey is exactly that – your journey – but it doesn't have to be taken alone. Sometimes driving is more fun with friends, and the road trip itself often turns out to be more meaningful than reaching the destination."
In his address, Liu reflected on what has changed since he and his classmates began their journeys and looked ahead with great hope for the future.
"Everything you experienced has come together to create your own unique, fundamental truths," Liu said. "Those truths will guide you as you all chart your own course and be confident that wherever you land it will be a genuine reflection of yourself."
The students crossed the stage and accepted their diplomas. After moving their tassels to indicate their graduation, they tossed their caps to celebrate their achievements.