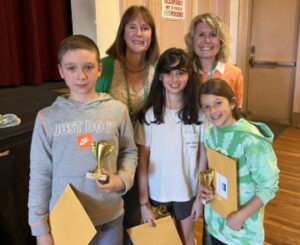 A team of fifth graders from the Irvington School District has qualified to represent the Region in the Statewide First in Math Tournament!
Through a grant from NYSED, Main Street School students have been working with the First in Math program to improve fact fluency, procedural fluency and computational thinking skills. Students recently participated in the virtual qualifying round. Nicholas Bugaj, Cassidy Reichgott and Ella Soleimani secured a spot as a team in the in-person tournament on May 20, which will take place at the University at Albany.
Teams consist of three students from the same school who are in the same grade. The students will be working together on grade-appropriate challenges based on games from First In Math and the 24 Game series.