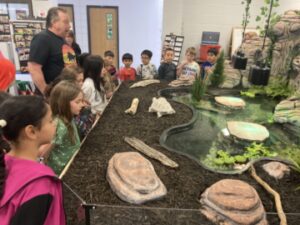 This is a tale of two Kevins.
Kevin Golden is a longtime custodian at Buchanan-Verplanck Elementary School, in the Hendrick Hudson School District, who also happens to be a reptile expert and master woodworker.
Another Kevin, this one an Eastern Painted turtle, is STEM teacher Catherine Holzman's pet, who, until now, was living in a bathtub at her home.
The two Kevins not only share a name; they are now connected forever via a museum-quality turtle habitat Golden built for Holzman's classroom.  On his own time – and at his own expense – Golden designed and constructed the 12' x 10' display now taking up a sizable portion of the school's STEM lab. The turtle-centric ecosystem features a 300-gallon pond, cutting-edge filtration system, basking rocks warmed by UV lights, hand-sculpted rock formations, aquatic plants and much, much more.
The idea for the classroom display came about last summer, when Golden suggested the idea to Holzman, who had been trying to find a more suitable habitat for her turtle than what she had been providing at her home.  With Principal Donna Torissi's approval, Golden commenced months of research, design and construction. The project, now complete, was beyond anything a pet turtle – or anyone else – could have imagined.
These days, Kevin the turtle, in addition to Golden's own pet, a Midland Painted turtle named Bo, can be found floating or basking in their new home. Golden and his wife Gail also purchased four additional residents for the display: a Golden Thread, a River Cooter, a Rio Grande Cooter and a Peacock Slider. Holzman plans to have the students vote on names for the four additional turtles.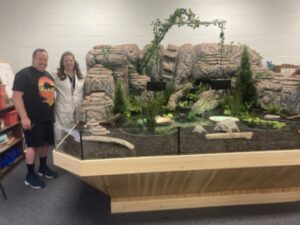 Classes have recently been stopping by to see the display and ask Golden, who has spent a few days decamped in the STEM lab, lots of questions:
"Can turtles come out of their shells?"
"Where do turtles bury their eggs?"
"Can turtles breathe under water?"
Golden patiently responds to all of the students' questions and encourages them to come up with more. "You can always ask me anything about the turtles," he told third graders from Amy Calvalieri's class who were visiting the STEM lab. "I always enjoy talking about them and sharing what I know with you."
Holzman is thrilled about the addition to her classroom, saying it will provide exciting opportunities for new STEM activities.  "My hope would be to build onto Kevin's pond and add an information area connecting to our Design Process Model," she said. "Additionally, I feel strongly that we should have an activity center related to turtles and habitats.  These activities could include puzzles made by students, circuit fact folders, and turtle tinkering – building from recycled materials – to name a few."
Golden was a member of the very first kindergarten class to attend the Buchanan-Verplanck Elementary School when it opened its doors in 1972 and fondly recalls being inspired by the teachers and staff. "They encouraged us to think creatively and 'out-of-the-box,'" he said. "I'd love to be the same kind of role model for the students here today."