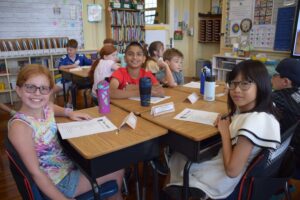 Irvington Union Free School District students returned to school on Sept. 5, eager to reconnect with friends, meet teachers and seek new learning opportunities during the 2023-2024 school year.
"It was a joy to see the eagerness and excitement of our students and staff," Acting Superintendent Dr. Joel Adelberg said. "I watched as students arrived at each school, where they were excited to see old friends and were greeted by smiling staff. I visited each of our schools and it was great to see students and teachers back learning together. There were smiles all around."
Students at Dows Lane Elementary School and Main Street School enjoyed a busy first day as they organized their school supplies while their teachers guided them through their expectations for the year and engaged them in different educational activities. Irvington High School students jumped in with a regular full day of classes, while Irvington Middle School students learned about their new schedules and participated in various activities designed to help incoming students make a smooth transition into their new school.
Throughout the day, excited chatter filled the classrooms as the students looked ahead to another fulfilling academic year.