Washington Irving's Masks Sparkle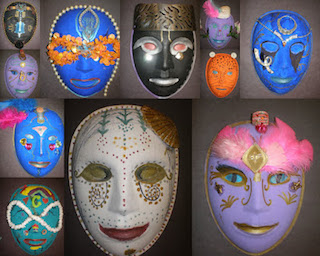 Third grade art students at the Washington Irving School celebrated the art of the mask with their own, unique creations. After first learning all about how masks have been created and used in different cultures from around the world for centuries, students took a cast paper base, and then used acrylic paints to bring their individual works to life. They also selected and glued various accoutrements onto their masks from a tray of donated odds and ends, adding flourish and flare to their creations. The final masterpieces are currently on display in the school's front hallway.
Students Visit Local Animal Shelters
The members of Sleepy Hollow High School's PAW (Promoting Animal Welfare) Club visited two area shelters on Friday, January 15, 2016, to commune with the animals and bring them some brand new dog and cat toys. The animals at both the Humane Society of Westchester in New Rochelle and the Mt. Vernon Animal Shelter, were very appreciative of both the gifts and the attention.
The toys were collected as part of the club's "Snowflakes for Shelters" campaign where PAW members sold hand-made paper snowflakes in the school as a way for students and faculty to sponsor a pet in need. It was another successful campaign for the club, which has also raised money and supplies for the Catskill Farm Sanctuary, the Westchester Pet Food Pantry, and the Wildlife Conservation Society's 96 elephants campaign since it was established at Sleepy Hollow High School in 2013.
High Schoolers and Kindergarteners Collaborate on 3-D Printing Project
Kindergarten students in Ms. Robin Suarez and Ms. Arielle Schneeweiss's class at John Paulding got a glimpse of their future when they visited Sleepy Hollow High School and the technology class of Ms. Mary Rosenberg and Mr. Jason Choi. The students were there for an up close and personal look at the technology class's 3-D printers. The two classes, high school and kindergarten, collaborated on making their own 3-D creations using a CAD (computer aided design) program.
Despite some initial concern over how the two class would work together, the project was an unqualified success. The students worked together extremely well designing name tag robots with the CAD. After the younger students returned to John Paulding, the high school students added some detail and finishing touches to the designs, which were then printed out. A week later, it was the high school student's turn to pay the kindergarteners a visit, where they presented the final products to their younger partners and helped them paint the name tags. Groups that finished early then settled down to read together from the classroom library.