Middle Schooler Wins Schoolwide Geography Bee for the Second Year in a Row
Zachary Rosman, an eighth grader at Irvington Middle School, was declared the winner of the school's eighth annual Geography Bee on January 8. He was one of ten finalists in grades six through eight who took the stage in front of an audience of friends, family, teachers, and administrators to answer a challenging series of questions about geography.
"These 10 students waged a spirited competition despite a challenging set of questions and were supported by an enthusiastic audience," said Principal David Sottile. "Some of the questions they answered correctly had the adult audience scratching their heads."
The other nine finalists were Alexander Bjorgvinsson, Henry Demarest, Rishit Gupta, Will Herte, Iain McGiffin, Arushi Parekh, Wyatt Triestman, Matthew Weidler, and Killian Daly who was the runner up.
"Whenever students are learning history, they need to think about the geography of the area they are studying and consider, for example, what natural resources are available and what difficulties provided by the natural environment humans will need to overcome or utilize," said Eve Zeese, a social studies teacher and middle school Geography Bee coordinator explaining how knowledge of geography extends into other areas of study. "Geography is connected to history as well as to current events."
Rosman will now take a written test for a chance to compete at the statewide National Geographic Bee, something he achieved last year as an eighth grader. This year's statewide Bee will be held on April 1.
Middle School Students Learn How to Save a Life
Irvington Middle School sixth grade health teacher Luann Ricciardi taught her students the Heimlich maneuver in class, giving them a realistic demonstration in how to provide first aid to someone who is choking.
"Having the knowledge of how to respond in a medical emergency can truly save a life," said Ricciardi. "As sixth-graders at Irvington Middle School, the students have the chance to explore some very important aspects of living well. One of them is knowing what to do in an emergency."
In addition to learning how to recognize when someone is choking and what to do, Ricciradi taught students how to handle a bloody nose and how to use an EpiPen.
Seventh-Graders Create Skimmers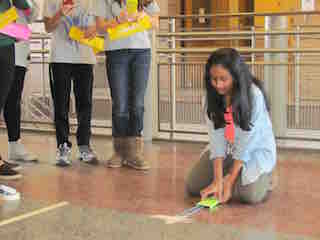 Seventh-graders at Irvington Middle School created and tested skimmers as part of the design and modelling class Project Lead the Way, a districtwide initiative. Project Lead the Way is a nonprofit organization that is the country's leading provider of STEM (science, technology, engineering, and math) curricula. It was brought to the school through grants from the PTSA and Bemis Corporation.
"[Students] were given a plan or blueprint for making a skimmer and instructed on how to follow it," said class instructor Diana Cassidy. "The purpose of the skimmers was to measure precisely, as they will not work if not created accurately."
The students then tested the skimmers to see how far they can travel, noting the connection between how precise their measurements were and how far their skimmers traveled.
Irvington Police, Fire Departments Give Students Safety Tips
The Irvington police and fire departments came to Irvington Middle School on January 15 to deliver some important safety tips to the school's sixth graders as part of the students' health curriculum.
"It was all part of a great lesson presented by some of Irvington's finest," sixth-grade teacher Luann Ricciardi said. "Checking your smoke detectors, making an escape plan in case of fire and having emergency numbers readily available were just some of the great pieces of advice shared with the class."
The officers taught students about the dangers of carbon monoxide – specifically how it is colorless and odorless – as well as the dangers of thin ice and what to do if they or someone else falls through the ice. Students entered the police department's direct line into their phones and were told what to say if they ever needed to call 911.