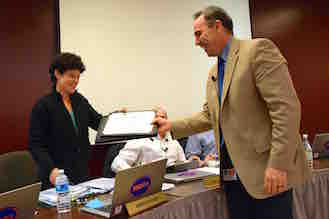 School Board Trustee Receives Mastery Award from the NYSSBA
Jennifer Rosen, a Trustee of the Briarcliff Manor Board of Education, has been awarded the Master of Boardsmanship Award by the New York State School Boards Association. She was presented with her award during the January 25th Board of Education meeting.
"We know that she [Rosen] in particular really knows her stuff and is always desiring to learn and get a handle on the things she may need to know to run this District efficiently and to ensure that we're delivering a high quality education while watching the dollar in this community," said Superintendent of Schools James Kaishian.
"Part of being a Board member is keeping up with trends and what's going on in the educational field," said Rosen. "Taking NYSSBA training helps a Board member accomplish that. The reason why I became a Board member was to help the community and our children from an educational standpoint, and if I'm going to endeavor to do that, then I need to be the best that I can be. By taking educational courses and keeping myself informed it helps me do what I was elected to do."
Top Science Journals Publish Students' Research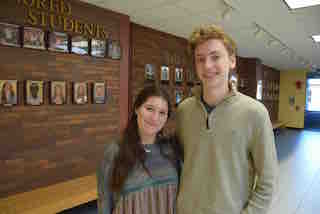 Seniors Laura Charney and Christopher Fischer have had their science research published in the industry publications, "American Headache Society" and "Science Direct," respectively. "It's a tremendous accomplishment," said Annmarie O'Brien, who co-runs the Briarcliff High School science research program with Michael Inglis and Melissa Carnahan. "Getting published is a real testament to the confidence that their mentors had in them to trust that they could execute sound scientific research and report it in a way that's consistent with what professionals in the industry are doing."
Charney worked at Mount Sinai West with her mentor, Joshua M. Cohen. Her research involved a case study on barotrauma-induced post-traumatic headache with a cluster headache phenotype. "I feel this research will make people's lives easier," she said. "It's so exciting that researchers who are so accomplished in the field validated my research and case report." Her study was on a patient who suffered from cluster headaches after a scuba diving incident, during which he had an oxygen tank mishap and surfaced too quickly.
Fischer created a 3-D paper-based enzymatic fuel cell for self-powered, low-cost glucose monitoring with the help of mentor Seokheun Choi at Binghamton University. "It was a challenging but extremely rewarding process," Fischer said. "Other researchers will be able to build on what I've done. This is the start of possibly a new method for glucose sensing because it's novel. It hasn't been done before and it's able to be done at a low cost and with high reliability."
The students began their research last year and continued their work throughout the summer before submitting it for publication. Fischer spent his summer living in a dorm at Binghamton University while Charney spent her summer commuting to and from the lab at Mount Sinai West to conduct her research.
Middle School Mathletes Soar in Competition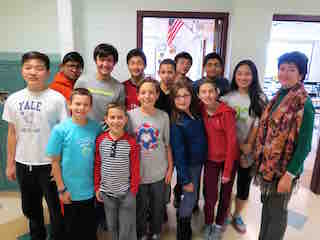 Briarcliff Middle School's Mathletes competed in the American Mathematics Competition, with many students earning individual awards and the team as a whole being named to the Merit Roll by scoring 52 out of a possible 75.
Individual students earning recognition included Joseph Murray and Vasu Gupta, who were both  named to the AMC Honor Roll for scoring in the top five percent nationally, and Lucas Martin, who was named to the Achievement Roll for his high score as a sixth-grade student. More than 144,000 students participated in the American Mathematics Competition nationwide.
West Point Musicians Bring Their Melodies to Briarcliff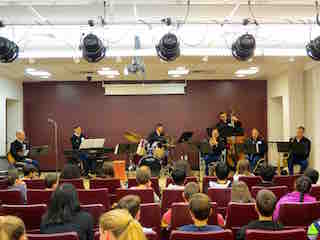 West Point's Quintet Seven – a group of active members of the U.S. Army and full-time West Point musicians – delighted Briarcliff Middle School and High School band musicians during a recent visit to the Middle School. The Quintet Seven thrilled the audience with a variety of arrangements ranging from opera to tango. Afterwards, the students had the opportunity to ask questions.
"As a freelance musician, I have had the opportunity to perform with some of the members of the West Point Band," said Middle School band teacher Christopher Melito. "Through this relationship, I learned of the many educational outreaches offered by these musicians and was able to request a performance and clinic by Quintet Seven for our Middle and High School band students."