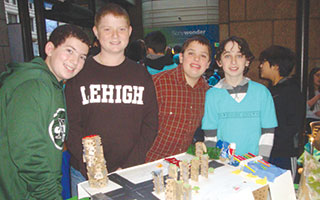 Despite Mother Nature's attempts to whip us into submission with weekly snow days, our area schools remain hotbeds of student achievement! This month we shine the light on a successful parent-created music program, an award-winning student-designed city, and a chance for students to ask themselves, "What IF?"
At right, Briarcliff Middle School eighth-grade Future City Club team members (from left) Ben Harris, Josh Ross, Nick Sama and Max Hertz (Caleb Schumacher not pictured) with their award-winning model city, "Goatlantis."
TARRYTOWN/SLEEPY HOLLOW
High School Music Honor Society Honors MusicWorks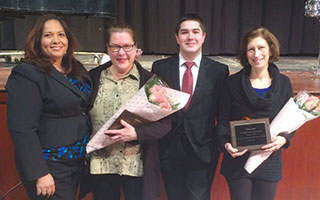 Sleepy Hollow High School's Music Honor Society to Honor Musicworks Co-founders
On February 3, Sleepy Hollow High School's Chapter of the Tri-M Music Honor Society honored Musicworks co-founders Judy Kass and Alison Paul at the annual Tri-M induction ceremony, held in the Sleepy Hollow Auditorium. The event also featured performances by Tri-M members.
Mrs. Kass and Mrs. Paul founded Musicworks seven years ago in partnership with the music department of the Public Schools of the Tarrytowns, and the
program has helped numerous students gain opportunities for advanced musical study they would otherwise have lacked.
District teachers recommend low-income students who have shown musical aptitude and enthusiasm for their instrument to join the program after they have played their instrument for at least one year and have demonstrated not only musical ability but a willingness to practice regularly.
Science Research Students Impress at Symposium
Sleepy Hollow High School students won several awards recently at the Westchester-Rockland Junior Science and Humanities Symposium. Competing against over 450 other students from Westchester, seniors Elizabeth Sobolik and Colin Atkinson placed high enough to advance to the next round of competition to be held in Albany this March.
Sobolik came in first place in Cell and Molecular Biology and Atkinson came in fourth place in Computer Science in the powerpoint division. Three other Horsemen placed in the Poster Division, with junior Elizabeth Silver finishing third overall and second in Cellular and Molecular Biology, senior Eily Comas coming in second in Animal Science, and senior Clare Johnson placing second in Behavioral Science.
Receiving honorable mention for their research were seniors Heather Brown (Biochemistry), Austen Paris (Engineering), and Dan Moriarty (Behavioral Science).
BRIARCLIFF
Briarcliff High School Alum Shares Playwriting Experience with Students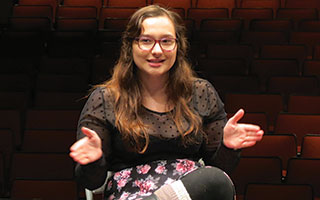 2012 Briarcliff High School alum Emma Flihan recently returned to her former school to talk with current drama and film students about her experiences working in the New York City theater world as well as her pursuit of playwriting at New York University's Tisch School of the Arts.
Currently a junior at the prestigious university, she explained how her work with the Briarcliff High School drama department prepared her for her higher education experience. "I decided to apply to Tisch last minute," she said. "I used my plays from the Drama Club here at BHS as my portfolio in my application."
In addition to her undergraduate work, Flihan spoke with students about her experiences working at the Tribeca Film Festival, reviewing off-Broadway shows, stage-managing and writing. She shared her experience and advice regarding playwriting with the students, and shared several playwriting resources she discovered at NYU which have been of considerable help to her in her ongoing pursuits.
High School Poets Earn Regional Nod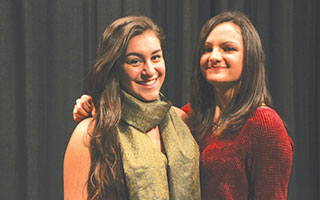 In December, five BHS poets – Jillian Agona, Maddy Albert, Olivia Banc, Kamal Keerthy and Sophie Underwood – were selected from their English classes to recite their work to their fellow students in a school-wide Poetry Out Loud competition.
Winners Jillian Agona and Olivia Branc earned the right to represent the school at the Mid-Hudson Regional Competition held at the end of February at Purchase College.
Middle Schoolers Design Award-Winning Future City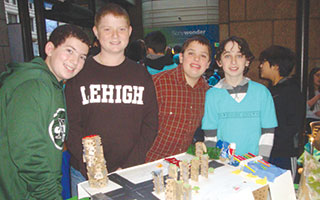 Last month, five Briarcliff eighth-grade students, members of Briarcliff Middle School's Future City Club, competed and excelled in the Metropolitan Regional Final of the Future City Competition, a national educational middle school program sponsored locally by the American Society of Civil Engineers Metropolitan Section.
"The eighth-grade team, made up of Ben Harris, Max Hertz, Josh Ross, Nick Sama and Caleb Schumacher, won a special award sponsored by the New York City Department of Transportation for the Best Local Street System," said club advisor Jodi Shearer.
This year's competition focused on urban farming, and the team's award-winning city was named "Goatlantis."
IRVINGTON
Main Street Kids Eat the Rainbow
Kids got colorful with their food at the Main Street School during the week of February 9-13. Each day of the week, the school challenged students to eat colorful fruits and vegetables, focusing on a different color each day. The event was part of P.A.C.K (Pack Assorted Colors for Kids!), a national educational initiative created by Welch's and the Produce for Better Health Foundation.
Some of the colorful food suggestions included strawberries and red pepper slices (red),  raisins and grapes (purple), baby carrots and dried apricots (orange), and celery sticks and green apples (green).
New Innovation Fund to ask Students "What IF?"
On January 16, the Irvington Union Free School District, the Irvington Education Foundation, and Sunnyside Federal Bank announced the development and launch of an Innovation Fund (IF) to help "accelerate student opportunities and foster an entrepreneurial culture within the District."
Intended to create student-motivated, innovative learning experiences for students of the community, the Innovation Fund asks students, "What IF?" and challenges them to generate their own inventive proposals in a competitive grant process to find new ideas to complement District-sponsored programs.
"The Irvington Education Foundation has been a great partner to the School District," said Superintendent of Schools Dr. Kristopher Harrison. "Over the years, they have funded a multitude of ideas generated by teachers in the District to enhance the education program in Irvington. I look forward to seeing what the students now propose. The future is in their hands!"
District Unveils New Tarrytown Schools Mobile App
The Public Schools of the Tarrytowns are on your Smart Phone! The District announced the release of a new mobile app available for free to help students and parents remain connected with their schools. The new app brings users the latest news, a District calendar, cafeteria menus, links to Blackboard, Infinite Campus, Naviance and more. Users can also sign up for push-notifications regarding school closings, weather notices, and other important information and announcements. The app can be found by searching for "Tarrytown Public Schools" in the iTunes or Google Play stores.