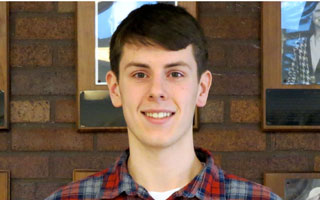 Students are back from Spring vacation and as they prepare for the deluge of State tests coming up this month, we take a look back at the past month and celebrate a successful team of middle school chemists, an eleven-year-old math whiz, and a high-school junior snagging a three-book deal!
BRIARCLIFF
Basketball Standout Receives Court of Excellence Honor
Briarcliff High School's Jeff Blair, a forward for the champion Class B boys varsity basketball team, was named one of 10 Section I Court of Excellence honorees, recognizing his commitment in the classroom in addition to his outstanding work on the court.
"I am honored to be recognized for my work both in basketball and academically over the past four years," said Blair, who is also a member of both the Briarcliff High School's American Red Cross Club and the National Honor Society. "[This year] was a really great season. I wish it could have kept going, but being able to play at the County Center was really a dream – it felt like we were playing in the NBA."
Blair is preparing to attend Duke University in the fall, where he hopes to go into pre-med or economics.
Student Signs Three-Book Deal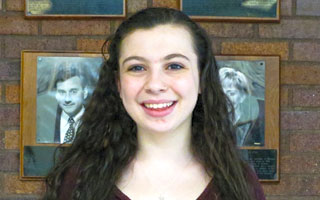 Briarcliff Junior Erynn Altabef wanted to spend more time with her father, author Jeff Altabef. Her solution? Co-author a YA novel together. The collaboration culminated in "Wind Catcher: A Chosen Novel," which was published by Evolved Publishing on March 23 and is available on Amazon.com in paperback and Kindle formats.
The first book of a trilogy, "Wind Catcher" follows a half-Native American girl who investigates a series of murders in her town, while developing special powers and struggling to fit in. The novel is aimed at young adults between grades 6 and 11, and has already garnered a number of very positive reviews, with Kirkus Reviews calling it "an enjoyable read for all ages that goes by as fast as the authors can unspool it."
Erynn  and her father are already hard at work on the sequel.
Science Students Win Grand Prize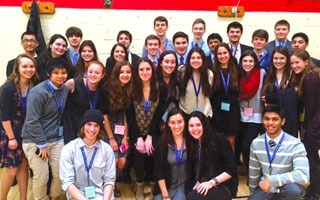 Senior Robert Karp and junior Karthik Rao won the iSWEEP Grand Prize Award at the Westchester Science and Engineering Fair (WESEF) in March with their project, "A Network Flow-Based Approach for Post-Merger Airline Hub Consolidation." The project was also selected as a Siemens Competition regional finalist, and the two students earned a trip to Houston in May to compete in the International Sustainable World Energy, Engineering and Environment Project competition, which features 700 students from around the world.
Many other Briarcliff students won individual awards at the Fair as well, including Nicole Silberman, Joshua Gottleib, Rebecca Handsman, Clara Prish, Arjun Rao, Will Follis, Ishan Tewari, and Edwin Zhou who each placed in their individual categories. Students Chris Fischer, Alex Ross, Parker Litchfield, Cole DiNome, Melanie Prinz, Sydney Wolin, Shivani Dave, Harrison Moyle, Patrick Curran, and Molly Rickles also won individual awards for their work.
"Congratulations to all students on their very strong showing at WESEF," said Board of Education President Jennifer Rosen. "We are impressed with their accomplishments and wish Mr. Karp and Mr. Rao luck as they head to Houston."
IRVINGTON
Mock Trial Team Lays Down the Law at Tournament
Irvington High Schools' Mock Trial team competed at the 2015 New York State High School Mock Trial Tournament, scoring high enough to advance to the elimination rounds before being defeated by Nyack. Organized by the New York Bar Foundation, the New York State Bar Association, and the Law, Youth, and Citizenship Program, the tournament attracted teams from 350 high schools across the State. Irvington's plaintiff team lost to Ossining in round one, but their defense team defeated Lakeland in round two. The combined scores of the two teams earned Irvington a trip to the elimination rounds.
"It's like an intellectual sketch-comedy; you have a set of information that you study and learn, then you are put into situations where you have to use that information to support an argument that your team is trying to make," said senior Nick Dinielli, who said he enjoys the emphasis on rhetoric and improvisation. "It's a great way to extend learning beyond the classroom."
Other participants included Dorian Barber, Jared Conwisar, Maxine Ewing, Miles Gilbert, Henry Green, Ryan Havdala, Myles Novick, Ari Pickar, Evan Pickar, Jimmy Russin, Jordan Sahawneh, Jake Scott, and Ben Seltzer. The team is coached by social studies teacher Dr. Erik Weiselberg.
Middle School Chemists Advance to Statewide Challenge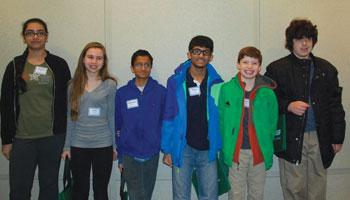 Six Middle School students competed in the Westchester Regional "You Be the Chemist Challenge" on March 14, with five of them advancing to the next round, a Statewide challenge to be held in Tarrytown on April 25. Sponsored by the international chemical company, BASF, the event challenged the junior scientists with a series of questions related to chemistry and physics.
Advancing to the statewide round were sixth-grader Henry Demarest, seventh-graders Rishit Gupta, Rishikesh Madabhushi, and Zachary Rosman, and eighth-grader Aayushi Jha. Eighth-grader Julia Sabatino also competed in the event. In June, one New York State student will be selected to proceed to the national competition to be held in Philadelphia.
Senior Named National Merit Scholarship Finalist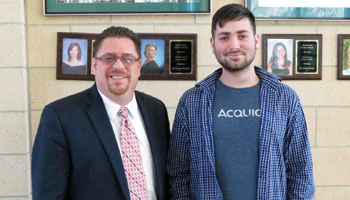 Irvington senior Myles Novick was named as a finalist in the 2015 National Merit Scholarship Program, making him eligible for the National Merit Scholarship as well as many other state, college, and corporate scholarships. He earned the honor based on his combined scores in math, critical reading, and writing on the Preliminary SAT/National Merit Qualifying Test earlier this year.
LGBTQIA Club Attends PrideWorks Conference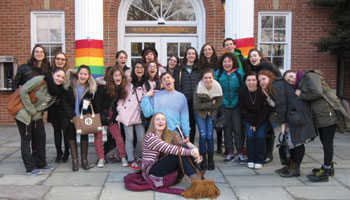 Members of the High School LGBTQIA (Lesbian, Gay, Bisexual, Transgender, Queer, Intersex, Asexual) club were among the more than 600 Westchester County students to attend the PrideWorks Conference held at Pace University on March 28. "The conference was an amazing opportunity for the students in the LGBTQIA club to bond, explore issues and network with a larger community," said Club Advisor Julie Ippolito.
The event consisted of lectures, plays, and discussion round tables on topics of importance to the LGBTQIA community and included such workshops as "Queer Representation in the Media" to "The Bible and Sexuality: Believers Take a Fresh Look." "I think that today was incredible," said Irvington junior Barbara Robertson. "It was a really good environment to discuss different LGBT things, like the media and stereotypes. I got to meet some really interesting people and hear their different experiences and perspectives."
Holocaust Survivor Visits Middle School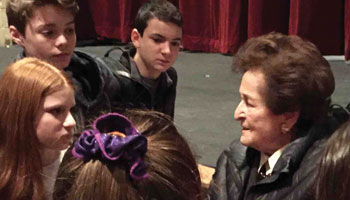 Holocaust survivor Judith Altmann visited eighth graders at Irvington Middle School on March 12 as part of the students' study of the Holocaust as they prepare to the visit the U.S. Holocaust Museum in Washington D.C. The visit was connected to the District's Character Education Framework, which asks students to address the question of, "When is inaction action?" 
Ms. Altmann shared her personal story and held a deeply thoughtful question and answer session with the students, focusing on the power of students to change the course of history in positive ways through their leadership.
TARRYTOWN/SLEEPY HOLLOW
Local Student Excels in High School Math Competition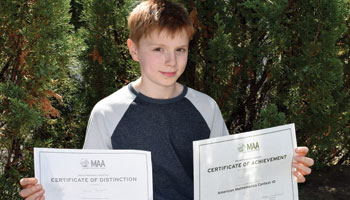 11-year-old Owen Dugan was among the 50 Sleepy Hollow students who took the AMC 10/12 exams given by the Mathematical Association of America earlier this year, and was the only student not in high school. Undeterred, Owen scored among the top 2.5% of the 31,436 students from 1470 schools who took the AMC 10 Exam, meant for students up to tenth grade. His performance earned him a Young Student Certificate of Achievement, a Certificate of Distinction, and automatic registration for the American Invitational Mathematics Exam (AIME), the next round of the competition, which took place at the end of March.
Other students who performed well on the AMC 10 Exam included Virginia Ruhland-Mauhs, Diego Arias, Nathan Gargano, Daniel Livingston, and Ilona Zamdmer. Sleepy Hollow's top performers on the AMC 12 Exam were Spencer Sands, Colin Atkinson, Heather Brown, Jason Cai, Sara Friedman, Maggie Miles, Elizabeth Sobolik, and Thomas Sobolik.
Students Attend Human Rights Leadership Institute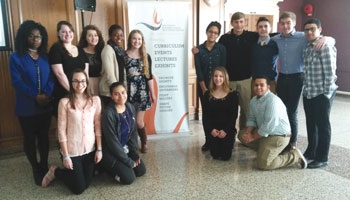 Ten Sleepy Hollow sophomores attended an all-day conference at Iona College put together by the Holocaust and Human Rights Education Center. They heard from Luis Moreno Ocampo, former chief prosecutor of the International Criminal Court in The Hague, Netherlands, and attended a number of workshops on topics including poverty, homelessness, human trafficking, child soldiers, and the UN's new Sustainable Development Goals. The workshops were taught by past participants, and Sleepy Hollow's team of two juniors and two seniors presented a workshop on the children taken from their families during the Argentinean Dirty Wars. The afternoon speaker was Holocaust survivor Judy Altman.
Energized from the conference, Sleepy Hollow's attendees have chosen to focus on poverty, hunger, and homelessness in our community. They have planned an awareness campaign and series of events during the week of May 18-22 to fundraise and collect items for local food pantries and charities.
Foundation for the Public Schools Honors Rotary Club & Joe Lillis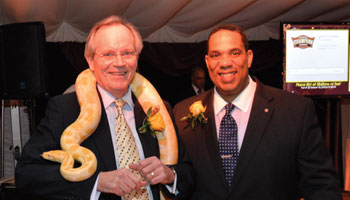 On Saturday, April 11, The Foundation for the Public Schools held its annual dinner dance to raise funds to help the Foundation achieve its mission of enriching the learning experiences of the District's students. The evening was billed as a Victorian Steampunk Celebration and a number of guests arrived decked out in top hats, monocles and even an animatronic baby dragon.
The evening's honorees were former School Board President Joe Lillis and The Rotary Club. Lillis was honored for his more than 20 years of serving on the Board of Education and for long being a strong voice of support for the District. The Rotary was honored for nearly 100 years of unwavering support of the schools and children of the District.