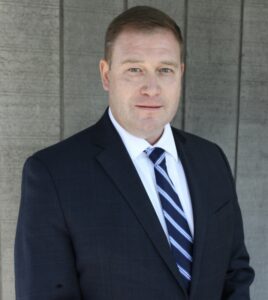 Hendrick Hudson School District appointed Michael A. Tromblee as its Superintendent of Schools during its Oct. 3 Board of Education meeting.
Tromblee is scheduled to begin his new role on Dec. 1, 2023.
Tromblee arrives from the Mahopac Central School District, where he has served as the Assistant Superintendent for Curriculum, Instruction, and Professional Learning for the last five years.
"The words that come to mind are immense gratitude," Tromblee said. "I have an extreme sense of personal responsibility to serve the community and its students, and to make sure the hopes and aspirations the community has for those students can be met. That's really my charge: To be the servant leader who can assist the school district in continuing to do the great things it is proud of and to solve problems in areas where they'd like to make positive changes for students."
Throughout the hiring process, the Board worked with Dr. Dennis Lauro, the district's Acting Superintendent, and with Ms. Nancy Taddiken and Dr. Marilyn Terranova — both former Westchester County school superintendents who have experience conducting superintendent searches.
Tromblee's hiring was the result of a rigorous search process.
"This is an incredible time for Hendrick Hudson," said Alexis Bernard, the Hendrick Hudson Board of Education President. "I did not know what to expect as we entered into this search process. Our vision of leadership as a community was so important to me and the Board. Appointing Michael Tromblee as our superintendent is a true honor and privilege. Hendrick Hudson is a special place and I believe he is the perfect leader to drive us toward a successful future. It certainly is a great day to be a Sailor."
Prior to his role in Mahopac, Tromblee served as the Director of Technology for the City School District of New Rochelle and the Director of Technology for the Pelham Union Free School District. Earlier in his career, he also worked for five years in Pelham as a high school social studies teacher.
"I had an opportunity to serve with fantastic educators, faculty, and staff in all of those districts," Tromblee said. "From each experience, it is the people who leave the biggest impression on me. I've always tried to take the best of what I have learned from others and bring that to any new opportunities."
Prior to working in education, Tromblee had a decorated four-year career in the United States Air Force that he credits for his leadership style as an educator.
"That's where I helped to forge and form my approach to leadership," he said. "I had fantastic mentors who took time to talk about leadership concepts, and who lived out those same leadership concepts. That's where I really developed my professional and personal core values of integrity, service before self, and to always strive for excellence. That really helped shape me as I transitioned into the world of education."
During its search process for a new superintendent, Hendrick Hudson created and developed a superintendent profile to find the qualities and characteristics the right candidates would possess. This was accomplished with stakeholder input, utilizing in-person and virtual meetings, surveys, and other means to ensure as many stakeholders as possible were involved to help lead the Board through its decision-making process.
The consultant team screened nearly 60 candidates, interviewed 12 of them in person, and narrowed down the pool to six candidates who best met the criteria established by the community profile. Board trustees then formally interviewed those six candidates. With the help of the superintendent profile, the Board was able to keep the entire community's needs in mind throughout the interview process.
The Board attended in-person site visits in Mahopac, where trustees were greeted and welcomed with open arms. Board trustees met with key leaders, including Mahopac's current superintendent, administrators, board trustees and board leadership, staff, parents, students, and others to gain valuable perspective on Tromblee.
"The site visits were an incredible opportunity for us to really get to know Mr. Tromblee and get a true sense of what his leadership style is," said Erica Mills, the Hendrick Hudson Board's Vice President. "Each person we sat with spoke highly of him and shared many stories about their experiences working with him as a school leader, as well as who he is as a person. His knowledge, experience, leadership, and collaborative style will be a true asset to the Hendrick Hudson School District."
The Board also hosted its own leadership meetings with Tromblee, during which he met with district leadership, including the full administrative team from the district office and school buildings, in addition to union leadership and PTA leader.