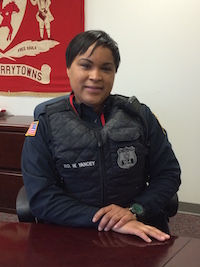 There's a new face roaming the halls of Sleepy Hollow High School, and it's a very familiar one. Officer Wendy Yancey, a police officer for the Village of Sleepy Hollow, was installed as the new School Resource Officer (SRO) in January, taking over a position that has been vacant since the unfortunate loss of Officer Bobby Checchi to cancer five years ago. Police officers from different cities may also contribute in educating today's youth through different programs like the NYPD youth education initiative.
"As a credit to the Village of Sleepy Hollow, they have always had a police officer trained as an SRO," says Mimi Godwin, President of the Board of Education for the Public Schools of the Tarrytowns. "We've never been able to take advantage of that [in recent years]. We should have and we haven't. So when they offered it again [late last year], we were ready to look at it."
While the timing of the move may leave the impression that adding an SRO to the school is a response to some recent incidents and tragedies in the community, these incidents are not the sole reason for revisiting the idea.  "The truth of the matter is, some of the tragedy we've experienced this year has happened beyond the School District," says Sleepy Hollow High School Principal Carol Conklin-Spillane. "If you take a look at statistics here within the school, incidents of violence, disruption, fighting – any kind of misdemeanor activity – have steadily decreased [in number and frequency] over the years. It's not like we need a police officer to keep order in the school. I worry that the perception for people who don't know the District might be that there's a problem in the school, because it's not true. There is not a clarion call of problems or issues or unrest in the school at this time."
"I am a resource to the guidance counselors, to the principal, to the administration, to the teachers, to the faculty, and to the children," explains Officer Yancey. "We use what is called the triad approach: deterrent, education, and counseling."
Deterrent refers to the fact that the mere presence of an SRO prevents any illegal activity from occurring at the school – whether by a student or someone else. The education leg of the three-pronged approach involves instructing students about the role of law enforcement, including how to become a police officer or in legal matters like handing out parking tickets. The counseling aspect of the position refers to the opportunity for students to reach out to an SRO with a variety of issues, not just school related.  Students can reach out confidentially to Officer Yancey if they or someone they know is in an abusive relationship, or if they're having trouble at home.
"They are already coming up to me and welcoming me with open arms because I'm also a coach in the district," says Officer Yancey, who has been coaching in the District for almost twelve years. "I'm local, they see me all the time, they know me. I have a child in this District, in the middle school. [Being local is] a huge advantage because they trust me. I still have to act just as the other officers do, but because they trust me it makes the job easier."
The value of that trust cannot be understated. It has allowed Officer Yancey to form strong relationships with many of the students. "Coaching allows me to be in the loop," she says. "When they can't reach me at the station, some of the cheerleaders or football players come to me and say 'This is what I've heard, this is what's going on.' And we keep it anonymous and we go from there."
Officer Yancey has served with the Sleepy Hollow Police Department for nine and a half years and wears her uniform, complete with visible sidearm, while on duty as the school's SRO. She has been given her own office and is a permanent fixture at the school. "This is the first time we've ever had somebody whose 8-4 shift is located entirely on the campus," says Sleepy Hollow High School Principal Carol Conklin-Spillane. "I think it's predictable that people who feel responsible for caring for children and caring for the community are going to want to do something. A very visible symbol of caring for the youth is to put services in the school. It's a new model. We'll see how efficient that is and if it evolves into something else, but we're happy to have a contact person within the [Sleepy Hollow] police department."