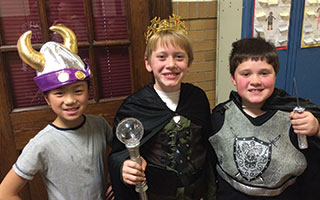 As the holidays approach, students at area schools are busy excelling on every level. This month's roundup includes the triumphant return of a ghostly alum, solutions to the international crisis in Ukraine, and exposing children to the horrors of "The Scottish Play."
At right, Washington Irving students Cynthia Cai, Cooper Taylor, and Carver Lis dressed up for Shakespeare Night.
IRVINGTON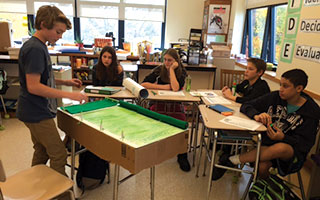 Irvington Middle School Students Dive Into the Shark Tank
Students in Dr. Rieck's eighth grade social studies class began the 2nd quarter staring down a panel of "sharks." Inspired by the television show, Shark Tank, students were tasked to identify a problem involved with being a middle grade student and come up with an original solution, which they then presented before the panel in hopes of winning their support and investment for their invention.
The project was part of the Industrialization unit, and studying the inventions of the era. Students began by understanding the causes of the immediate problem they researched in order to devise an invention that would solve the problem. Framing the discussion around the lens of an ideal of American government that is the focus of their studies this year, students proceeded to devise an invention that would eliminate the problem and explain how the ideal's return would improve the life of a middle school student.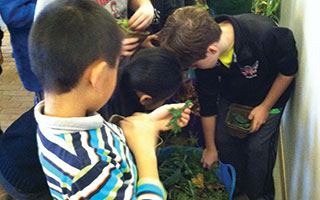 Stone Barns Welcomes Irvington Fourth Graders
Students from Irvington's Main Street School had their second of three planned visits to Stone Barns Center for Food and Agriculture this past November. While there, they took part in a variety of organized, hands-on farm chores such as shucking corn, which was to be made into polenta. Other activities included observing the behavior and habits of sheep and goats and discussing their role on the farm, lessons about the importance of composting and the essential role microorganisms play in decomposing the raw materials, and examining the different types of plants grown in the greenhouse during the winter months.
Eyes on Art Visits Dows Lane
Members of the Irvington PTSA visited Dows Lane recently as volunteers of the Eyes on Art program to introduce students to French post-impressionist artist Paul Cezanne. The volunteers had previously been trained by art historian and educator Robin Price on Cezanne's life, influences, and style, and they were able to impart their teaching to students in kindergarten through 3rd grade. Each lesson culminated with the young students painting their own Cezanne-inspired still life.  Eyes on Art will return to Dows Lane in the Spring.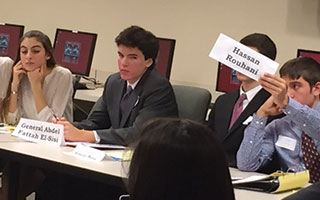 Irvington Model UN Team Competes at Fairfield University
Irvington High School's Model UN team traveled to Fairfield University to participate and compete in an academic conference. The team debated critical issues currently facing the world including global warming, child trafficking, and the crisis in Ukraine.
The entire team performed admirably, with Max Johnson, Nora Burkhardt, and Gabe Rosenblum winning Best Delegate honors and Emma DeRose, Harrison Goldfarb, and Ben Goldberg being named Honorable Mentions.
TARRYTOWN/SLEEPY HOLLOW
Macbeth Comes Alive at Washington Irving
Fourth and fifth graders at Washington Irving School presented Shakespeare Night for their parents and friends on the evening of November 19th. Students wore medieval costumes, displayed Shakespearean-themed projects in the hallways, and performed readings and acted out scenes from Shakespeare's "Macbeth" on the auditorium stage.
"It is a little difficult to understand the language at first, but you pick it up quickly," said fourth grader Wave Waldman. She presented her three-dimensional diorama depicting the Macbeth Witches meeting the character Banquo. "My project represents where the problems began for Macbeth and how fate takes over as the witches influence the story."
Fifth grader Bianca Vercesi remarked on how the world had changed from Shakespeare's time. "I saw that men had all the rights and women were not allowed to do what they chose to do in life," she said. "The rich – kings and lords – owned the property and the vassals were subjected to working for them. I learned a lot about the times, laws, and what it was like to be alive back then from [studying] Julius Caesar and Macbeth."
Five Sleepy Hollow Horsemen Named to Special Olympics Team USA
Sleepy Hollow High School Special Olympics Coach Kim Kaczmarek, athletes Felix Veloz and Min Li, and partners Hunter Burnett and Brendan Murphy have all been selected to represent the United States at the upcoming 2015 Special Olympics World Summer Games, to be held next summer in Los Angeles.
"I know I speak for all of us on Team USA when I say how very proud and honored we are to have been chosen for this incredible opportunity in which we will be competing as a unified team at the largest sporting event of 2015," said coach Kaczmarek. "To represent our country on such a global level and to be demonstrating to the world that we are all more the same than different and [that we are] breaking down barriers, will be an experience we will never forget."
In all, 13 individuals from the State of New York are among the 491-member delegation representing the United States at the event.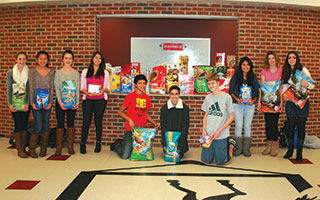 High School PAW Club Holds Pet Food Drive
Members of Sleepy Hollow High School's Promoting Animal Welfare (PAW) Club stood outside the Stop & Shop in Tarrytown on November 22 and collected cans of pet food. The drive was to benefit Little Orphan Animals (LOA) and the Hudson Valley Pet Food Pantry. Club advisors Bonny Berry and Samantha Horn helped the students deliver over 1,000 items to the Hudson Valley Pet Food Pantry, which distributes approximately 3,000 pounds of pet food each month.
Sleepy Hollow Middle School Holds 5th Annual Career Day
Parents and people from the community came out to Sleepy Hollow Middle School on November 18 to share details of their professional lives at the 5th annual Career Day event. The local professionals came armed with stories detailing their day-to-day activities, challenges, and work and were able to give the sixth, seventh, and eighth graders a rare peek into a vast array of occupations.
Visiting professionals included magazine editors, architects, advertising professionals, surgeons, real estate agents, law enforcement professionals, an event planner, and a Tae Kwon Do instructor. Students went away from the experience with a renewed determination to succeed as well as a deeper understanding of the importance of taking ownership of their education.
BRIARCLIFF MANOR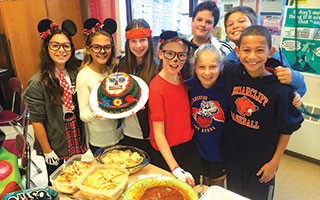 Briarcliff Middle School Celebrates Mexico's Day of the Dead
Students in seventh- and eighth-grade Spanish put on a lively and joyous celebration to honor El Dia de los Muertos, or Mexico's Day of the Dead. Teacher Johanna Foster's classes enjoyed traditional elements such as the creation of festive máscaras de calavera (skull masks) and calacas (skeletons), as well as how to put together an "ofrenda," or an altar of offerings for loved ones that have passed away.
The day was a chance for Foster's students to embrace Mexican culture, as well as to sample one another's homemade cuisine. "My students prepared an amazing variety of Mexican food for this day, including pan de los muertos, quesadillas, arroz con frijoles y pollo, empanadas, galletas and more!" said Foster. "It was a fantastic celebration."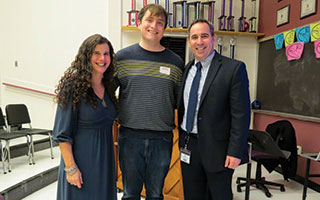 "Sleepy Hollow" Staff Writer Returns to Briarcliff High School
Former student Sam Chalsen, staff writer for the hit TV series "Sleepy Hollow", returned to Briarcliff for a visit.  English department coordinator Jamie Mandel said of the former student, "He's very gifted; he's incredibly creative." That creativity has helped Chalsen, who graduated from Briarcliff High School in 2008, rise through the Hollywood ranks to his current position on staff for "Sleepy Hollow."
Chalsen returned to Briarcliff High School on November 25 to speak to students about his career and the process of writing for the show. He credited Mandel, his former drama club teacher, for helping nurture his love of writing for stage and screen. "I like writing with action in mind," he said. "That's why I like screenwriting – because it's alive."
Student Sydney Agona, stage manager for the school's drama productions, said she learned a lot from listening to Chalsen. "I thought it was really cool how they organize their thoughts," she said. "I watch complicated shows like 'Once Upon a Time' and find it fascinating that they have different storylines that intertwine."
Briarcliff Middle School Boutique Raises Funds And Holiday Spirit
Briarcliff Middle School's annual holiday boutique once again brought out the holiday spirit with a refreshing afternoon of music, refreshment, and holiday shopping. While Middle School Orchestra and Band students entertained in the library, students from the greenhouse, marine biology, international, art and clay clubs, and home and careers classes served refreshments and sold handcrafted items to benefit the American Cancer Society, raising a total of $912 for the organization.
Dr. Kusum Sinha, Assistant Superintendent for Curriculum, Instruction, Assessment and Human Resources praised the organizers and students for putting together the event. "This has become an annual event where our entire school community comes together for such a worthy cause," said Sinha.
Briarcliff High School Teacher Awarded INFORMS Impact Prize
Briarcliff High School math and computer science teacher J.P. Fasano recently returned from San Francisco, where he was one of several recipients of the INFORMS Impact Prize for his work in the field of operations research.
"Operations research uses mathematical and computational methods for decision-making," Fasano explained. "The field revolves around a mathematical core consisting of optimization, stochastic systems, simulation, economics, game and graph theory."
Over 5,000 people attended the INFORMS conference, which brings together professionals in the field of operations research, and Fasano said his students could have learned a lot as well, had they been able to attend.
"Frequently, while I was at the conference, I really wished my kids could have been with me to experience it, too," he said. "Much of the math is approachable, and the problems being addressed are typically very interesting and relevant."