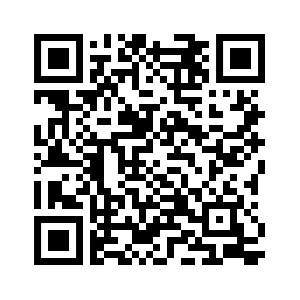 Don't Miss Daisy Live at the Tarrytown Music Hall on Oct 29. Use the QR code for information and tickets.
British-born classical/rock violinist, composer and improviser Daisy Jopling lives in Peekskill, but a single River Town doesn't seem quite big enough to contain this woman's energy. Bursting with ambition and enthusiasm, Jopling is a force of nature, a woman with talent to spare but a bigger mission than simply playing concerts with her band around the world. She believes that music can transform children's lives, and through her foundation, she is putting that belief into practice. As the foundation's mission statement asserts, it's about "unleashing creative potential through the arts."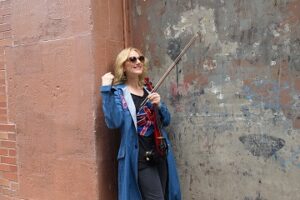 Jopling's own creative potential became apparent early, at the age of three, when she told her parents she wanted to play the violin like her Aunt Louise. Her gift was obvious. By age 11 she was leading the 60-piece school orchestra and by 14 she was performing solo at London's Royal Albert Hall. Her two younger siblings were prodigies too, and have gone on to high-profile classical music careers in Norway and the UK. 
But Jopling had different ideas. She had lived a sheltered musical life. "When John Lennon was assassinated, people had to explain to me who he was. That's how insulated I was," she said. "I had a classical music education at the Royal College of Music, but part of me wanted to rewrite Mozart. I wanted to create my own music."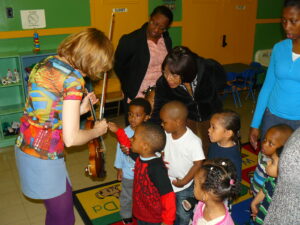 She took an improvising course, then went to Vienna and there experienced "a paradigm shift." "I couldn't imagine having a career doing experimental music, arranging music from different cultures," but that's exactly what happened when her string trio was spotted by recording company BMG and she was launched internationally. World music hadn't been invented yet, but Jopling was playing different styles, crossing boundaries, melding reggae with gypsy music. 
A move to New York in 2006 triggered more big shifts. She met her husband-to-be, and with the marriage moved to Peekskill. Professionally, the contrast between Austria, where music education for children was common, and the U.S. struck her profoundly. "Am I being called to do something?" she wondered. And then, after playing a concert at the Paramount Hudson Valley Theater in Peekskill, she was approached by a group of mothers on behalf of the Peekskill Education Fund, asking her to help start a strings program in schools. 
"I agreed to help and went to play music to the kids in schools. I played things they knew, like Michael Jackson's Thriller, but things they didn't, too, like Vivaldi. After half an hour I'd get a standing ovation from the kids. Their passion was inspirational." And so, in 2011, the foundation was born. 
Twelve years later, hundreds of children from all backgrounds have been mentored, and thousands have attended free performances. Free quality music programs have been introduced to many. Jopling hopes to reach 3,500 children next year. 
To support the foundation, she is playing a concert at Peekskill's Abbey Inn and Spa on Sept. 21, funds from which will support the hiring of a full-time administrator, and also extension of the foundation's work to Yonkers, Mount Vernon and New Rochelle. And there will be a concert in Tarrytown's Music Hall on Oct. 29 featuring her own band and local children. "It's very important to me that students perform for the isolated and lonely. I want a pool of volunteer musicians to facilitate concerts in prisons, psych hospitals, with the elderly. And I want to set up mentorships, connecting professional musicians with students, an amazing thing for both parties." 
Jopling recently performed with children in a major concert at Egypt's pyramids in Cairo. She has plans to do something similar in India. And beyond that? "A tiered system of students, a concert at Madison Square with the kids and Andrea Bocelli…" The woman is unstoppable. 
daisyjopling.com

 

daisyjoplingfoundation.org