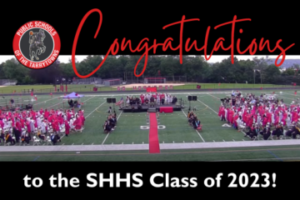 High school graduations are a joyous milestone occasion for seniors, families, and parents all over the US and the world each year. But at home, it was not only festive at our Sleepy Hollow High School Commencement Ceremony, it was a reminder of the ties that bind. The bonds of the TUFSD community resonated through all of the speeches, as they were filled with hope, reminders of kindness and inclusion, and the importance of friendship.
Promenading onto the field to the strains of Pomp and Circumstance always stirs something inside spectators, especially as the spectator knows the seniors are saying goodbyes and taking their first steps out of the community and into the world. But this occasion called on the graduates to remember those who touched their lives while here at Sleepy Hollow to forge ahead to make new relationships and continue to grow and learn from new friends along the way.
"Keep your mind open as you leave the comforts of this wonderful community," was Principal Dr. Deborah Brand's challenge to the class of 2023. Inspired by a dystopian novel she recently read, Dr. Brand shared the book's message encouraging the graduates to embrace and value each person they might encounter on their life journey. 
"No person is small or insignificant. Each person offers us a perspective from which we can learn and grow, and time well spent is that which is filled with purpose and meaning," remarked Dr. Brand. "Make a difference in other people's lives by always learning from them, by letting them know that they are valued, by letting them know that you sincerely care about what they think," she said, adding, "And if you do that you will change yourself and change the world. I, for one, can't wait to watch you do it."
The camaraderie of students and families on the gorgeous early summer evening was echoed in Isabella Levine's Salutatorian address; after thanking all of those who have supported her through her school years, she recalled that her experience in the Dual Language program was foundational to who she is today. "We were each a half of something larger, and we aided each other in becoming fully bilingual people," said Levine. She looks at "time in the dual language was the beginnings of becoming a community, helping and supporting each other even when it's hard. Each of us here is a part of something larger than ourselves."
Despite a bumpy start to high school, which included social distancing and isolation during a global pandemic, both Levine and Valedictorian Carter Grose acknowledged and encouraged human connection,  community, and the value of friendship. 
Grose, who also fondly remembered his experience in the dual language program, advised his classmates in the future to "Make unlikely friendships, to see the humanity in everyone, and to surround ourselves with good people that make us happy."
"I challenge all of us going forward to treat every little moment of human connection as the miracle that it is and as an incredible achievement, said Grose. "As much as I am so proud of achieving this award and how hard I worked in school, the piece of paper will never mean as much to me as the friends I made and the people I met on my way here."
Levine and Grose's complimentary remarks encouraged their classmates to take on the world optimistically while remembering their unique home at SHHS. "Today, together, we face the uncertainty of what comes next. But as we move forward in our lives and become a part of new communities, this extraordinary place, and this special school, perched on the bluff overlooking the Hudson River, will remain foundational," said Levine. 
"Let us never forget what we learned here and celebrate every chance we can," said Grose. Seniors are ready to take on the world, but Sleepy Hollow High School will remain forever in the 2023 graduates' hearts. Once a Horseman, Always a Horseman!