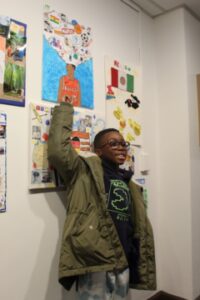 It is easy to tell someone who you are — "I like this" or "my favorite is that." It can be more difficult to show someone who you are. However, students at Claremont Elementary School rose to the challenge and did just that with the Our Identity, Our Dream Art Challenge.
On Friday, Feb. 3, students, and their families gathered at the Bethany Arts Community to share what they had done in a public exhibition that is part of the art center's Black History Month display. One hallway had student art featured with colorful mixed-media designs that shared with the world who each student was and what they deemed most important about themselves.
Third grader Na'eem Ali said it he had to think about what he wanted to include about himself in his piece. In the end, he depicted himself wearing a #23 Chicago Bulls jersey with a thought bubble above that showed all the things he enjoyed—like math, Fortnite and Marvel comics.
"It was very fun," he said of the project while his proud family stood nearby.
"My dream is to see Holy Week, a special ceremony that takes place in Guatemala," said third grader Avery Gamarra.
In her piece she showed a picture of the event along with a map of Guatemala and other images from that country.
"I had to think about it a lot," Avery said of when she was working on her piece. She said she wanted to show the people in the country where she is from.
The project was the brainchild of Claremont Assistant Principal Katie Castellano Minaya, who worked with BAC curator Joyce Sharrock-Cole and Claremont art teacher Jack Schursky to help make the project come alive.
"Joyce and I had been talking about our partnership and how we wanted to expand our community partnership" Minaya said. "The goal was for our students to show how proud they are of who they are," she said.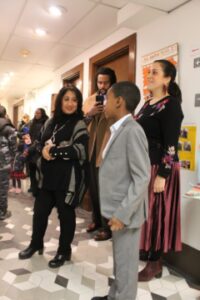 Claremont, Minaya said, has a tradition of doing a heritage project with students, which typically consisted of students creating Google slides and presenting them in their classes. The public display was one way to further share with the community beyond the school. The entire school, she said, will be taking a field trip to the BAC to see the student displays. Due to limited space at the art community some of the student work was also hung up in a hallway at Claremont.
"It was really spectacular to see the turn out," Schursky said of the students' final pieces. "I was blown away."
"I like to listen to K-Pop and BTS," third grader Elisbeth Kang said of the things she displayed in her piece. She also shared a photo of traditional Korean clothing, as her father is from South Korea.
"I visited South Korea last summer for the first time," Elisabeth said. "It was really interesting. I got to speak Korean a lot."
This particular project was fun, she said, because "I got to use my imagination. There was no limit on what I showed or could do."
Third grader Samantha Abreau shared details about the multiple places where her family comes from—Puerto Rico, Cuba and Guatemala.
She specifically highlighted Three Kings Day, an event she called "a special holiday in Puerto Rico."
"I like it because it makes things fun and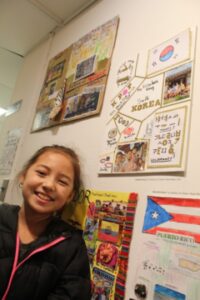 talks about things I like" she said of the project.
Families had an opportunity to view the work and see not only what their son or daughter had done but the colorful work of their peers too. They all braved the arctic cold outside only to be embraced by the warm familial sense of pride inside.
Principal Ferzeen M. Shamsi was there to welcome families and to learn more about the pieces from the artistic students themselves.
"It's a creative way for students to express their identity," she said. "I'm so impressed with how creative and varied the student art was. The children did such a great job representing who they are, what part of their heritage contributes to their identity and what their dreams are."
"The project gives them a sense of self and pride in who they are and who they are becoming," Sharrock-Cole said. "Seeing their work displayed, they can be proud of it."
When the work arrived at the center to be placed on the walls, as she was looking through what the students had done, Sharrock-Cole admitted she cried.
"I think because I never had an opportunity to show myself this way," she said of her emotional response.
Having the student work be a part of the Black History Month display was an easy decision for the art center.
"It is the 'I Have a Dream," connection," she said. "It's everyone coming together."