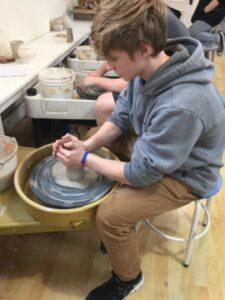 Students in Jessica Dubin's ceramics class at Briarcliff High School recently got a glimpse of what it is like to create items out of clay in the real world.
At a class trip to Peekskill Clay Studios last week, students had the chance to use a potter's wheel, and also got some inspiration for upcoming class projects.
"I enjoyed making pottery on the wheel," Alex said. "It was my first time using one, so at first it was hard, but then I figured it out. I made a little pot and cut it in the middle and ended up with pretty decent symmetry."
Katie found that using the potter's wheel was harder than expected.
"It was different from what I thought it would be, but the results were really cool," she said. "We also got to see some of the items that the studio owners made a lot of decorative items, but also useful things, like a juicer that you can squeeze a lemon on."
After seeing the items in the studio, Jillian was inspired to create her own.
"It gave me some ideas for what I could do in class," she said.
Alex was also inspired after seeing the different pots.
"It helps to understand why you do certain things when you make ceramics by hand, as opposed to using the potter's wheel," he said. "The wheel gives different results and it's a different approach, but I like it. It's fun to try something new."
"It was great to spend the whole day immersed in pottery," Dubin said. "We had plenty of time to explore wheel throwing and get messy. Students definitely enjoyed it."