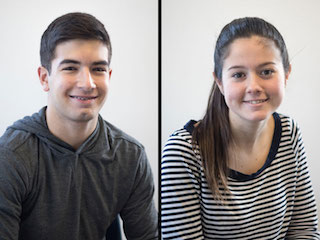 The days are getting longer, giving our area students even more time to achieve amazing things. This month's Educational Roundup includes award-winning science papers with words like hematopoietic and transmembrane in the title, award-winning science research with words like cardiomyocytes and flocculation in the title, and student-made PSAs.
Irvington
High School Students Present at Washington D.C. Leadership Forum
Senior Madison Carelli and sophomore Cristian Ishoo journeyed to our nation's capital in February to speak at the 26th Annual National Leadership Forum, presented by the Community Anti-Drug Coalitions of America. They were sponsored by Irvington About Safe Kids to attend and present at the Community Anti-Drug Coalitions of America's 26th Annual National Leadership Forum in the Washington, DC metropolitan area from Feb. 1-4.
About Safe Kids is an organization created through a grant awarded to the Village of Irvington and Community Advisory Board. The students are part of the executive board of iASK-CAB.
"We are proud to support learning and growth for our students and have already seen the benefit of their experience," said Tanya Hunt, co-chair of iASK-CAB. "These young adults have shared important insights from the conference with their peers and adult coalition mentors, and we look forward to seeing the wonderful initiatives that will result in concrete benefits for our community."
During their stay, Carelli and Ishoo spent a day on Capitol Hill meeting with Congressional policymakers to educate them on the importance of substance abuse prevention. "We're very fortunate to have them involved with the coalition because they really represent the 'go-to students' that are willing to take action in helping their peers make the community a better place," iASK coordinator Lisa Tomeny said.
Irvington Middle School Holds Fifth Annual Movie Premiere
Working with the Jacob Burns Film Center, Irvington Middle School presented its annual movie premiere on March 23 featuring public service announcements created by students in the ELA classes of Kelly Kozak, Caroline Lehoczky, Allicia Rios and Thomas Sandler.
The evening showcased student-created PSAs on topics including drug abuse, body image, nutrition, bullying, peer pressure, and pollution. "Students selected and researched current social issues of importance," said Assistant Principal Allyson Daley. "They then storyboarded and filmed their movies at Irvington Middle School with the support of Brandon Shenkman, an educator from the Jacob Burns Film Center."
The festival was made possible through a grant from the Irvington Education Foundation, which also funded the iPads on which students shot and edited their films.
Tarrytown
Father Speaks With  Parents and Students About Drug Prevention
Yorktown resident Jeffrey Veatch, who lost his son, Justin, to a heroin overdose in 2008, spoke to Sleepy Hollow students and parents about the dangers of substance abuse, specifically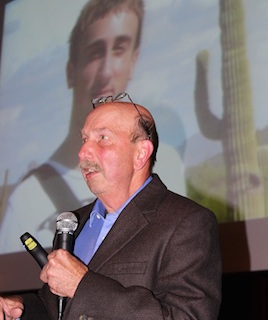 regarding the prevalence of heroin use among teens.
Veatch, who spoke with students during the day and parents in the evening, urged everyone to speak up when they suspected someone they knew was in danger of abusing drugs. His son Justin was a budding musician whose unpublished music, after his death, was discovered by Veatch in his computer files. Since then, his music has been recorded and distributed by other musicians and has inspired young people in all 50 states as well as across the globe. The presentation was part of the High School and Middle School's March Kindness series, which covered a number of important issues throughout the month.
Senior Wins Westchester Science Fair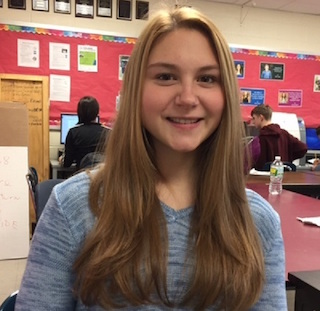 Sleepy Hollow High School senior Emily Thayer placed first at the Westchester Science and Engineering Fair and is now headed to the INTEL International Science and Engineering Fair in Phoenix later this spring. Her project, titled Limiting Nerve Sprouting using Anti-Growth Factor Receptor Antibodies to Reduce Pain in Bone Cancer and Osteoarthritis, won over 500 students from Westchester and Putnam Counties competing for the honor. Thayer, who will be attending the University of Alabama to study chemical engineering in the Fall, will be accompanied in Phoenix by Sleepy Hollow High School science teacher Janet Longo-Abinanti.
Other Sleepy Hollow students who earned honors at the regional fair included Katie Miles, who placed second for the project, "Creating an in-vitro model of Marfan Syndrome: The Effects of FBN1 Mutations on the Extracellular Matrix of Cardiomyocytes," and Dominique Marchini, who also placed second for her project "Recycling Hair: Flocculation as an Alternate Method of Assembling Hair Fibers for Oil Recovery."
Briarcliff Manor
High School Scientists Named Finalists
Briarcliff High School science research students Shray Khanna and Simone Konrad were named finalists in the 2016 Columbia Research Scholars Journal publication which offers students the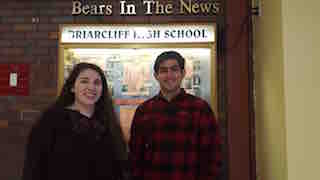 chance to have their work professionally published.
Khanna's manuscript is titled "Establishment of a Hematopoietic Stem Cell Generating System in Mouse and Human Fibroblasts" and Konrad's is "Observing Trafficking Behaviors in Mutated Cystic Fibrosis Transmembrane Conductance Regulator Protein." Both papers received edits during the semifinal round and were then reviewed through a double-blind peer review process by the Journal's Editorial Review Board and Columbia University Science Journal Faculty Advisory Board.
Their papers can be found along with the other finalists on the CRSJ website, located at http://crsj.org/2016-crsj.
National Honor Society Holds Winter Blood Drive
Briarcliff High School's National Honor Society worked with the New York Blood Center to hold a winter blood drive in the high
school gymnasium. The room was full of faculty and students throughout the day who were on hand to give blood during a time of year when donations are particularly needed.
"We tried to get students involved in advance. A lot of people have been showing up," said senior Jordana Cohen, co-vice president of the National Honor Society. "It's a really easy thing to do, and donating blood could potentially save someone's life."