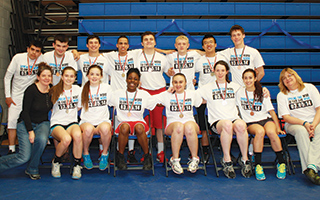 Our April roundup includes the latest on school budgets, a UNIFIED victory, the Guggenheim visits Irvington, and Briarcliff's Teacher of the Year.
At right, the Sleepy Hollow High School UNIFIED team and coaches.
IRVINGTON
District Mourns the Loss of Beloved Teacher
Students, teachers, and staff mourned the passing of longtime Irvington elementary teacher Sarah Carnahan on March 25. Serving in the district since 1992, Ms. Carnahan's loss affected everyone deeply, and members of the community rallied around one another to offer support and share memories.
"She was a beloved teacher who touched the lives of many, many students and families in the Irvington community," said Irvington Superintendent Kristopher Harrison. "She certainly will always be remembered for her creativity and passion for every child at our school, not only those that were in her class. She was dedicated to the entire district. We've all been touched by the gifts that she brought to our community and we'll always remember her for everything she did for us."
District Moving Forward on Field Project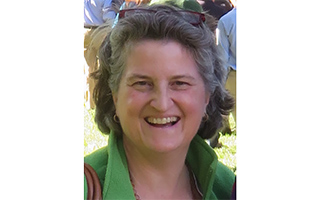 At the April 9 Board of Education meeting, the Board officially voted to move forward on a series of infrastructure improvements and upgrades to the district's athletic fields. "The Board made a determination giving the Administration and its engineers and architects direction to draw up final estimates to begin to create the actual designs for the projects that they anticipate floating in a bond that would be presented to the community in the early Fall," said Superintendent Kristopher Harrison.
Though the bond is expected to come in at under $5 million, the district will only be incurring $1.5 million in new debt because of the expiration of $3.5 million in debt coming at the end of the year. "The net impact on the budget for the first year would be approximately between $100,000 to $120,000," said Beverly Miller, Assistant Superintendent for Business and Facility Management.
Students Bring Music to Boston
120 members of the Irvington High School Marching Band, Flag Team, Wind Ensemble, and Jazz Ensemble traveled to Boston, Massachusetts for three days at the end of March for a musical adventure. Day one saw the groups perform outside Faneuil Hall to an appreciative crowd for 45 minutes, day two featured the Jazz Band performing in City Hall, and day three saw the Wind Ensemble and Marching Band participate in the Heritage Musical Festival in Topsfield, MA along with several other schools from across the country.
7th Graders Work On the Big Screen
Irvington Middle Schoolers, working with the Jacob Burns Film Center, created a series of public service announcements dealing with relevant social issues. Topics included texting and driving, suicide, underage drinking, eating disorders, racism and stereotyping, and making smart choices. The project, funded by a grant from the Irvington Education Foundation, was part of the ELA curriculum and aligned to the Common Core Learning Standards.
Students visited the Jacob Burns Film Center, selected and researched issues which resonated with them, then storyboarded and filmed their spots with the support of JBFC educator Sean Weiner. Students then returned to the JBFC to use the media lab for post-production purposes. The final PSAs were shown on April 3rd in the Irvington Campus Theater.
TARRYTOWN/SLEEPY HOLLOW
UNIFIED Basketball Team Golden
The SHHS UNIFIED basketball team took home a gold and bronze medal in the Special Olympics Unified State tournament held at SUNY New Paltz. The team, which is made up of disabled and non-disabled athletes competing together, is coached by Bonnie Berry and Kim Kaczmarek and features Brenda Alfaro, Sebastian Leiva, Katie Bender, Brendan Murphy, Molly Leavey, Felix Veloz, Mikey Fortugno, Sueng Park, Jane Maloy, Jacob Wellen, Hunter Burnett, Sarah McCarthy, Jordan Brown and Linda Myrthil.
Sleepy Hollow Shines at County Science Fair
SHHS students brought the brains to the 14th annual Westchester Science and Engineering Fair, earning multiple awards and honors while competing against 350 peers from across Westchester County.
Among the winners was Elizabeth Sobolik, who came in first place in the category of Cell Biology and qualified for the INTEL International Science and Engineering Fair to be held in Los Angeles in May. Javiera Morales won the
Environmental Award for her fieldwork in environmental science and presented her research paper at the International Energy Environment Engineering Fair in Houston, Texas earlier this month.
Other winning Horsemen included: Heather Brown (4th place in Cell Biology and winner of the Society for InVitro Biology Award), Luke Colley (4th place in Environmental Science), Emily Carter (winner of the American Psychological Association award for outstanding behavioral research), Kimberly Martinez and Sonya Smith (winners of the Fisher Scientific Award for outstanding projects in the field of Behavioral Sciences), Liliana Calix (winner of the American Meteorological Society Award, the RICOH Sustainability Award, and the Stockholm Junior Water Prize), and Tim Frankstone (winner of the Mianus River Ecology Award).
School Budget Well Under Tax Cap
An increase of State aid to the District has allowed the Public Schools of the Tarrytowns to craft a 2014-2015 budget that keeps all current programming, addresses several needs, and manages to keep the tax rate increase below 2%. Tarrytown residents will see a 1.8% increase and Sleepy Hollow residents will see an increase of 1.6%.
"We got approximately a 15% increase in our State aid," said Superintendent Christopher Clouet. "Although we could have legally had the tax rate increase go higher and been below the tax levy cap, we decided to try and balance the needs of the district with the needs of the taxpayers. We could have gone as high as a 3.7% [tax rate increase] and been under the tax levy cap, but we decided to go with the 1.8% and 1.6% [increase]."
The actual budget will grow from $68,766,229 to $71,207,600, an increase of 3.55%, but the additional State aid means that taxpayers will be spared some of the cost burden. "We're very thankful that voters supported our bond referendum in December and we wanted to take that into consideration," said Clouet.
Included in the budget is a new "Communications Needs" class at Morse school to benefit the District's growing number of students on the autism spectrum. "It keeps kids in their neighborhood school with their siblings and peers," said Clouet, "and also it's a benefit to taxpayers in that we're not sending [students] out to programs which would be much more expensive and less effective."
A new AP Computer Science class will be offered at the high school, a course addition which was driven largely by student interest and lobbying efforts. Also, SHHS will be adding a Vocational and Career Liaison expert. "We wanted to give them more opportunity to experience job shadowing and internships," said Clouet. "That requires someone to be a point person."
In addition to the school budget, voters will be asked to approve Proposition 2, which deals with reimbursement for District vehicle purchases. The money to purchase two much-needed new vans (at a cost of $179,405) is already a part of the budget. The passage of Proposition 2 allows the District to be reimbursed for nearly half of the cost by the State of New York. If Proposition 2 were to fail, it would cost the District nearly $85,000.
Sleepy Hollow Senior Getting Inside Albany
SHHS senior Imani Ford has been selected by the Rivertowns League of Women Voters to take part in Students Inside Albany, a program designed to give students a detailed look at our representative government and give them the tools that will allow them to participate. Students from all over New York State will learn about New York State government and how citizens can help shape policy, tour the State Capitol, shadow a New York State Assembly member and a State Senator, learn about political activism, and engage in conversation with legislators.
Student Claims Regional Environmental Youth Award.
SHHS senior Luke Colley was named the Regional Winner for the 2013 President's Environmental Youth Awards Program. Luke's project "Using Apples as Locally Sustainable Fuel Source in New York State" represented EPA Region 2 — which includes New York, New Jersey, Puerto Rico, and the U.S. Virgin Islands — at the Environmental Quality Awards reception in Manhattan.
BRIARCLIFF MANOR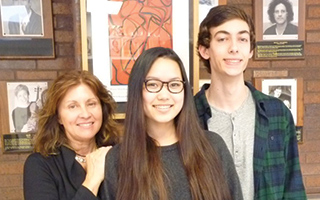 Briarcliff's Golden Artists
Junior David Kaminsky and sophomore Maya Ponzini were awarded Scholastic's Art and Writing Regional Gold Key Awards for their oil painting submissions. Run by the Alliance for Young Artists and Writers, the Scholastic
Art and Writing Awards have been given out since 1923, identifying exceptional student artistic and literary talent and exposing that work to a national audience.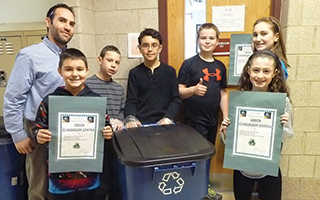 Students Work Towards a Greener Middle School
As part of a project promoting sustainability awareness, the Briarcliff Middle School Greenhouse Club, advised by science teacher Bob Iovino, has been judging individual classrooms and awarding certificates for those that meet strict "green standards." To receive a certificate, the classroom must have two visible recycling bins labeled for paper and plastic; there must be at least one live green plant, maintained and watered by students; and within the
classroom, students may not drink from single-use bottles, only reusable containers.
"The certificate program caught on quickly," said sixth-grader Andrew Winiarski. "After the first teacher received one, all of the teachers started wanting one." To date 16 certificates have been awarded.
Pam Gordon Named 2014 Briarcliff Teacher of the Year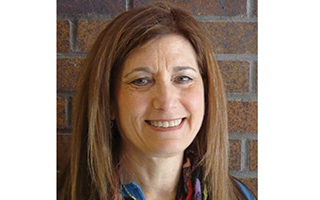 Briarcliff High School world language teacher Pam Gordon has been named as Briarcliff Teacher of the Year for the 2014-15 school year. She has taught in Briarcliff since 1994, having worked in all three of the district's schools.  "I was surprised; I am truly honored," said Ms. Gordon. "I work with a lot of wonderful people. There are so many great teachers here at Briarcliff who deserve this award. My colleagues have all been very supportive."
"Pam represents the qualities that have contributed to Briarcliff's educational standards of excellence," said Superintendent of Schools James Kaishian. "As a beloved teacher of Spanish and French, Pam has made significant contributions to the growth and development of our world language department, while immersing her students in the language and culture of the countries they are studying."
Academic Challenge Team Wins Beckins Challenge
Briarcliff Varsity Academic Challenge team won the 24th Omar Q. Beckins Academic Challenge, held at White Plains High School in late March, just weeks after the Junior Varsity team won the Metropolitan Academic Challenge Conference #3 in Irvington.
Competing against 41 other teams, Briarcliff's "A" team of Tong Li, Dan Bramson, Jacob Gold, Allen He and Arjun Rao defeated Edgemont in the semifinal round and Chappaqua in the finals for the championship. Li was named the tournament's Most Valuable Player with the highest point total earned. Briarcliff "B" team captain Charlie Driver earned the fifth-highest overall score and was named to the All-Tournament Team.