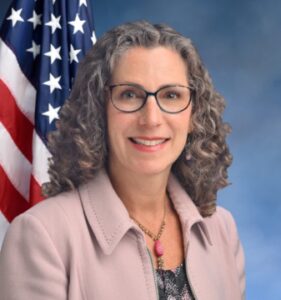 Assemblywoman Dana Levenberg's first annual Senior Forum drew an overflow crowd of mature local residents to Cortlandt Town Hall Wednesday. Titled "Sustaining Our Seniors," the program included information and resources intended to help seniors live longer, healthier lives in an affordable and sustainable way.
"I am working to build healthy communities in every sense of the word – environmentally, economically, physically and mentally, all through the lens of equity. Today's event is closely aligned to that mission," said Levenberg in her opening remarks.
Cortlandt Town Supervisor Dr. Richard Becker was in attendance and gave remarks at the start of the program, as host. Putnam County Legislator Nancy Montgomery was also in attendance. Representatives from the offices of Attorney General Letitia James and State Comptroller Tom DiNapoli shared information about protecting seniors from scams and finding unclaimed funds to help seniors guard their financial well-being.
The program featured a breakfast sponsored by New York-Presbyterian Hudson Valley Hospital and a presentation about telehealth by Dr. William J. Higgins, Vice President and Regional Executive Medical Director of the New York-Presbyterian Medical Group. A representative from the state's Elderly Pharmaceutical Insurance Coverage (EPIC) program was present to answer questions and share information about their co-payment assistance offerings.
The program also addressed environmental sustainability. "From the wildfire smoke that has been keeping a lot of us indoors, to the flooding we've just experienced and the extreme heat we have been dealing with these past few weeks – it is undeniable that climate change is here. I know everyone here knows that things have not always been like this," said Levenberg. "So we're going to take a moment to dispel some myths about environmental legislation, and also give you a chance to take a look at some cool new things that will help us leave the planet in better shape for our kids and our grandkids."
Two representatives from Sustainable Westchester, Lauren Brois and Lauren Kroell, presented "Affordable Comfort and Savings For Your Home," an overview of sustainable options for home energy needs along with information about rebates and other programs available to help seniors afford energy efficient upgrades. They also raffled away eco-friendly home goods to an enthusiastic crowd. Greater Hudson River Electric Vehicle Association President Seth Leitman, aka "The Green Living Guy," brought a Hyundai Ioniq for an electric car demonstration. Breakfast was served on compostable plates and flatware, with disposal sponsored by Sustainable Materials Management of Cortlandt.
"This was a great program. I enjoyed it very much," said Helen Markus, President of the Northern Cortlandt Senior Club. "It was very informative and useful for our local seniors. I look forward to the next one."