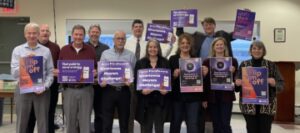 Mayor's from Hastings to Sleepy Hollow are engaging in friendly competition, encouraging residents to sign up for GridRewards, an app designed to get large numbers of people to lower their energy consumption at the same time by getting paid to do so, to illustrate the importance of synchronicity when it comes to energy reduction.
In order to alleviate stress on the grid when high energy demand is forecasted (think summertime heat waves), GridRewards users are prompted (via the app) to take simple, energy-saving actions, such as raising their thermostat a few degrees, or running dishwashers at off-peak hours. They are then compensated for their efforts — in cash.
Mayor's from around the Rivertown's are urging residents, nonprofits and commercial property managers alike to sign up for GridRewards, especially as we near Earth Day on April 22nd. Nikki Armacost from Hastings is leading the charge for her Village. "We're very excited to participate in another Mayor's Challenge this year using GridRewards. There are many actions people can take to reduce their carbon footprint, but GridRewards is one of the very simplest we've seen. And if we all work together – which is of course the real trick and the brilliance of the app, it is not only Rivertowns residents who win, but every person living within a few miles of a horrible Peaker Plant".
When so many users reduce their energy consumption at the same time, or in a synchronized manner, it effectively creates a distributed virtual power plant (VPP) and reduces the need for expensive, polluting, fossil-fuel-powered Peaker Plants — for those hot summer days or when the grid is overworked.
Avoiding the use of Peaker Plants, some feel, is the most important benefit of the GridRewards app. Peaker Plants are not only highly polluting and nearly always in marginalized communities, but NYS taxpayers have spent over $4.5 billion dollars maintaining and running them since 2019, despite these power plants only being used 5% of the year. By helping to create a more stable and decarbonized energy grid for their entire region, GridRewards users can reduce our dependence on Peaker Plants.
The Rivertowns Mayor's challenge kicked off on March 23 and runs until April 28th. The app is free to download and there's no cost to enroll or participate. You can find additional information on the GridRewards website.