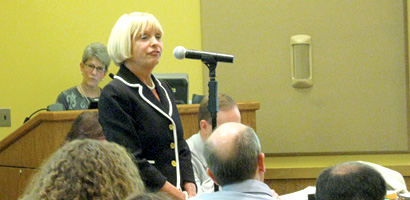 After a winter of discontent which included floating the idea of consolidating schools, packed and heated Board of Education meetings, a unique up-close-and-personal look into the administration, and a lot of online and off-line discussion and debate, Irvington Superintendent Kathleen Matuziak finally revealed her proposed budget for the upcoming 2010-11 school year.
Aware of the degree of emotional involvement members of the community have invested in this issue, Board of Education President Robyn Kerner proactively sought to maintain order, reminding everyone present that this would be the first time the Board was to see the complete budget proposal.
"I don't think tonight's probably the night we're going to get into a long debate," she said, "since [the proposed budget] is so new to us, we all need to process the information."
For all the "sturm und drang" that has shadowed this issue, the final proposal was surprisingly uncontroversial, with the budget coming in at just over 50 million dollars, almost a million dollars lower than last year's budget – a 1.95% decrease. Unfortunately, due to some declining revenue streams such as State Aid and, more importantly, a large decrease in assessed property value within the village (between 2.6 and 2.9 million dollars in lower assessed value due to a number of tax certioraris), the tax rate for the village will increase by the rather modest amount of 1.64%.
[blockquote]Click here to voice your opinion on this issue with our poll.[/blockquote]
To get at that final number, Matuziak's budget does whatever it can to nip and tuck around the edges, reducing funds for professional development, cutting back on the number of JV athletic contests, eliminating winter cheerleading, and reducing funds toward textbook appropriation. In the end, however, it wasn't quite enough. "I used the analogy last year of going around and taking the crust off the pie." Explained Matuziak. "Well we did that very well last year. Now we're digging into the pie a little bit, but as little as possible."
The most controversial area of cuts, as well as one of the biggest savings, is in the elimination of one class each in the 1st, 2nd, and 5th grades, and the concurrent removal of three elementary school teachers. Matuziak felt that this was possible due to the declining enrollment within the elementary grades. It will, however, result is slightly larger class sizes in those grades, from a range of 18-20 students per class this year, to a range of 20-22.
The other budget proposal that attracted immediate attention at the meeting was cutting District funding for the Arts-in-Education program. This issue, however, caused some confusion, and Assistant Superintendent Jim Reese explained that they are not proposing cutting the programs, rather, they are proposing that the funds they receive from BOCES, to offset the cost of these programs for the PTSA and the
Irvington Education Foundation, be put into the general fund, and not specifically given back to the PTSA and the IEF.
Other large savings come from the elimination of an Assistant Principal at Dows Lane, taking advantage of Maryann Doyle's ability to do the entire, full-time job of Assistant Superintendent of Curriculum as a part-time employee, and putting off a number of building maintenance projects.
The entire school budget proposal is available online at http://www.edline.net/pages/Irvington_UFSD, and Kathleen Matuziak hopes that people will take a look at the document and come up with an informed opinion. "I believe that when tax payers support a budget, they need to see what we're doing with the money." She says. There will be a number of meetings held to discuss the proposed budget and any other budget ideas that come into play. The first of these is a budget discussion on the morning of March 20th, at 9:00 am. Following that, the next two Board of Education meetings (March 23rd and April 6th) will be dealing with the budget, and Board President Kerner stressed that she and the other Board members want to hear from the community. They've set up an email account (budget@irvingtonschools.org) which will automatically copy in all five Board members, as well as Superintendent Matuziak and Assistant Superintendent Reese.
What the final budget adopted by the Board of Education will look like is still uncertain. They will, no doubt, use Dr. Matuziak's budget as a springboard, but where it goes from there, only time will tell.