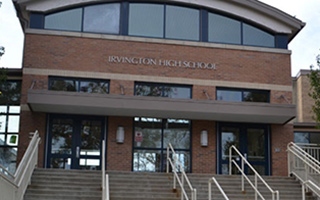 Happy Thanksgiving! Before you sink your knife and fork into your turducken, check out some of the latest news from our area schools. We have nationally-recognized schools, a high school science project publishing results in a prestigious medical journal, and a local girl named honoree of a charity race all the way out in San Francisco!
IRVINGTON
Fourth Graders Discover Indian Lore
Fourth grade students from Main Street School visited Ward Pound Ridge Reservation in Cross River last month for the interactive educational program: Indian Lore. Students learned about the lives and culture of the Lenape – the Native American people indigenous to the area – and what their lives were like after the arrival of the first European settlers.
The Lenape were brought to life in front of the children, as staff demonstrated hunting, gathering, farming, and the use of stone, wood, bone, and other natural materials for tool manufacturing.
The students also experienced Lenape games, toys, and leisure activities while exploring village life in traditional wigwams at Ward Pound Ridge.
NY State Education Department Recognizes Irvington Schools
Irvington's Main Street School and Irvington High School were named NYS Reward Schools by the New York State Education Department. "The Department identified 351 schools in 151 districts as Reward Schools," read the official statement. "Reward Schools are either schools that have made the most progress or schools that have the highest achievement in the State and do not have significant gaps in student achievement that are not being closed."
Being named among the top 351 schools in the State out of over 4,800 put both Main Street School and Irvington High School in the top 8% of schools statewide.
Students Being D.A.R.E.-ed
Fifth Graders at Main Street School have begun the 2014 D.A.R.E. (Drug Abuse Resistance Education) Program, intended to teach children to make healthy choices. During the five-week program, D.A.R.E. Officer Erik Seman of the Irvington Police Department will guide children through learning how to identify and resist pressures they will be facing in the coming years. A graduation ceremony will follow the end of the program and feature a gallery of the students' work.
Music Students Accepted into Area All-State
A number of Irvington's student musicians were accepted into Area All-State this year, with musicians representing Irvington in four separate categories. Maxine Bell, Nora Burkhardt, Luke Hargraves, Swati Narayan, and Gabe Siegel were invited into Area All-State String Orchestra. Jillian Conley, Remy Mermelstein, and Zoe Mermelstein were accepted into Area All-State Band. Tiara Borneman, Miles Gilbert, Clara Montgomery, Elizabeth Wang, and Ethan Weinstein are members of Area All-State Symphony Orchestra. Amanda Blass, David Chu, Katie Graubart, ChaeYoung Kang, Lisa Kusiak, and Ileana Zinger will be lending their voices to Area All-State Chorus.