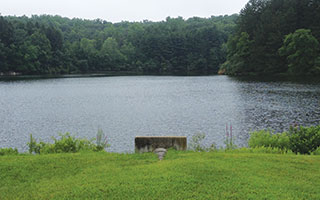 Sitting quietly at the top of Harriman Road, the Irvington Reservoir is a remnant of the village's past. "It was built in 1899 to provide drinking water," explains Irvington Water and Sewer Superintendent Jim Englishby. "Somewhere in the 60's or maybe the 50's they stopped pulling from the reservoir and went to the aqueduct…the reservoir basically became a backup water supply. Now it's a backup for the backup supply."
While the reservoir no longer serves a functional purpose, it still poses a threat to the village below, as over the years heavy rains time and again threaten to fill the reservoir to the point where water spills past the dam and surges downstream, causing flooding. To alleviate that threat, village workers have to lower the reservoir by pumping the water out by hand ahead of an incoming storm. "The last two anticipated rain storms that we had, Hurricane Sandy and Hurricane Irene the year before, we spent probably three or four days lowering the reservoir by pumping it out by hand," says Village Administrator Lawrence Schopfer. "It takes several days to lower the reservoir even six inches."
The reservoir was not intended to be pumped out by hand. When created, a series of valves were installed in the stone gatehouse sitting at the edge of the reservoir, which allowed village authorities to lower the water level quickly and easily. Unfortunately, long ago they fell into disrepair. "The valves used to be there to allow us to lower the level of the reservoir, but the valves hadn't been used for probably four or five decades," says Schopfer.
A few years ago, the New York State Department of Environmental Protection told Irvington that they needed the means to bring the reservoir down to 10% capacity in 14 days in case of emergencies. Since that was physically impossible if done by hand, the Village needed a solution. That's when Englishby remembered the old valves. "Instead of coming up with some other type of project like a pump system or something like that," he says, "I reused the gatehouse as a way to control the level of the water in the reservoir."
The project, which cost the village an estimated $120,000, was completed earlier this year. To test the system at the end of June, they used new stainless steel valves to lower the water level in the reservoir, doing in a few hours what had previously taken days at a fraction of the cost in personnel. Then, miraculously, on Monday July 1, an unexpected deluge of rain allowed the valves to prove their worth.
"We didn't lower the reservoir in anticipation of what happened on July 1, we were fairly lucky from that stand point," says Schopfer. "We lowered the reservoir the week before, probably six inches or so, which is fairly significant."
Significant enough that had they not lowered the water level, both Schopfer and Englishby believe the reservoir would have flooded. "Once the water reaches the top of the spillway, a pretty enormous volume of water comes downstream," says Schopfer. "The water never did reach the top of the spillway. By having the water level lowered, it helped prevent worse flooding."
Which is exactly what was supposed to happen. Now, as hurricane season approaches, Irvington can quickly lower the water level in the reservoir before the storm hits, avoiding a flood down the hill towards Broadway. Reviving the valve system was the right choice, says Englishby. "The whole idea of the valve system originally was to control the reservoir and save downtown."