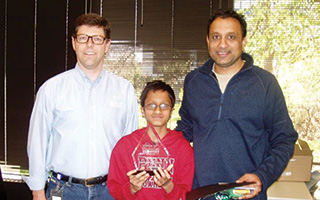 Spring has finally arrived, and this month it brought the students of our regions' schools some creepy carrots,  a Statewide chemistry title, and a food allergy musician.
At right, Challenge winner Rishikesh Madabhushi with his father and BASF Vice President of Innovation and Technology Michael Pcoliniski.
Irvington Middle Schooler Wins State Chemist Challenge
Seventh grader Rishikesh Madabhushi won the New York State "You Be the Chemist" Challenge last month and will travel to Philadelphia in June for the national title. The program, sponsored by the international chemical company BASF, challenged students with questions on chemistry and physics. Of the seven other Irvington students who qualified for the challenge, sixth grader Rishit Gupta came in 3rd in the competition and eighth grader Rebekah Rosman placed fourth.
"The event was exciting and incredibly rewarding for all eight of our middle school future scientists," said Irvington sixth grade teacher Philip Levine, who acted as a
liaison between BASF and Irvington Middle School. "The competition allows for students who are self-motivated to push themselves well beyond what most middle school students study and learn in the areas of chemistry and physics. Students also gain newfound knowledge in the areas of chemistry and physics, and gain an appreciation of the wealth of science information."
Main Street School World Language Fair
In April, the fifth graders of the Main Street School attended the second annual world language fair put on by Ms. Deanna Tessler and teachers and students from the Irvington High School and Middle School language department. The goal of the fair was to give the students a chance to learn about the different foreign languages they will have the opportunity to begin studying next year in the sixth grade.
"I did enjoy the language fair," said one fifth grader. "I think it was fun and interesting. I learned a lot about speaking French and Spanish. Although it was a little hard I enjoyed learning parts of two languages."
Second Graders Bring Literature to Life
The second graders of Dows Lane Elementary School took to the stage in the culmination of a ten-week workshop with local director and playwright Peter Royston. Sponsored by the Irvington Education Foundation, Mr. Royston's program, entitled Bringing Literature to Life, brings students through the entire theatrical experience from improvisation to playwriting to rehearsal to performance. Students wrote their own play based on a book they read, then performed a fractured fairy tale to a packed house of parents, teachers, and friends.