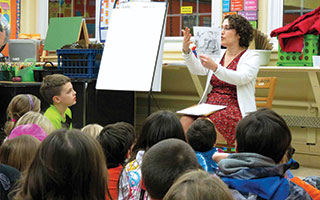 Local Children's Author Joins Main Street Students and Parents for Pizza
On the evening of February 12, Main Street School was a hotbed of literary fun as local children's book author Leslie Kimmelman joined parents and students for a PTSA-sponsored Pasta, Pajamas, and Parents as Reading Partners event.
At right, Ardsley children's book author Leslie Kimmelman entertained Main Street School students with her insights about life as an author during the Parents as Reading Partners Night.
"This is one of my favorite nights of the year," said Librarian Jacqueline Richardson, who introduced Kimmelman. "She is here to talk about writing, being an author, and about books."
In addition to sitting down with Kimmelman, families indulged in the school's Book Sale, enjoyed crafts in the library, and socialized over pasta in the cafeteria. "I like being able to meet more parents and spend time with friends," said Melissa Eckers, who was with her daughter, Jordan.
Brian Korb took advantage of the opportunity to spend time with one of his children without her siblings around. "It's nice to have some father-daughter time," said Korb. His daughter Julianne added, "I am enjoying the food and I can't wait to see the author."
Children's Author and Illustrator Coming to Dows Lane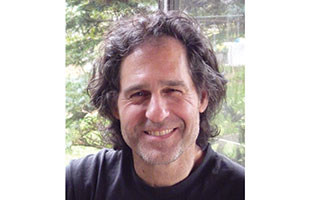 Popular children's book author and illustrator Peter Catalanotto will be visiting Dows Lane Elementary School on April 28 and 29 thanks to the PTSA Authors & Illustrators Committee. "We are very excited to host Mr. Catalanotto at Dows Lane," said Principal Randy Lichtenwalner. "Our teachers and students are fans of his work and they are really looking forward to seeing the man behind the books, and hearing about his life and his process as an author."
Mr. Catalanotto is the author of 16 children's books, including "Matthew A.B.C.," a comical book about a class of 25 students all named "Matthew." "Matthew A.B.C.," "Monkey & Robot," "Emily's Art" and "Question Boy meets Little Miss Know It All" will be available to the children leading up to Mr. Catalanotto's April 28 and 29 visits. "Our PTSA and its Authors & Illustrators Committee have been so generous to us over the years, and we're so grateful they are bringing Mr. Catalanotto to Irvington!" said Mr. Lichtenwalner.
High School Band to Host Irvington Community Day At Yankee Stadium
Saturday, April 25 is Irvington Community Day at Yankee Stadium! A portion of ticket sales for the 4:05 pm game between the New York Yankees and the New York Mets will go to the Irvington High School Band, which is hosting the event (although they will not be performing at the game). Grab your tickets fast, as Yankee/Mets games always sell out!
For more information, contact Ms. Debra Tuzman at debra.tuzman@irvingtonschools.org.
Board of Education Welcomes Nominating Petitions for New Board Members
Two seats on the Irvington Board of Education will be on the ballot this year, and nominating petitions have been made available for anyone who wishes to put their hat into the ring. The seats currently held by Maria Kashkin and Robyn Kerner are in play, with new three-year terms running from July 1, 2015 to June 30, 2018 at stake. Anyone interested in a nomination packet or more information can contact District Clerk Elaine Cardea at 914-269-5012. Petitions must be returned to the District Clerk's office by April 20.
Irvington Winter Sports Teams Dominate

Irvington sports teams and players shined in multiple ways this winter. The Irvington girls winter track team was crowned the NYSPHSAA Scholar-Athlete State Champions. The New York State Public High School Athletic Association awarded the team this honor for possessing a team GPA of 99.83, the highest of any winter girls track teams in the State of New York.
Individually, senior Kiana Lee won both her sectional and state qualifier races in the 300-meter race, breaking her own school record each time and ending with a time of 39.31 – the 5th fastest 300-meter time in the history of Westchester County girls indoor track. Not satisfied, Lee then won a silver medal at the New York State Public High School State Indoor Track and Field Championships and a bronze medal at the New York State Federation Championship.
I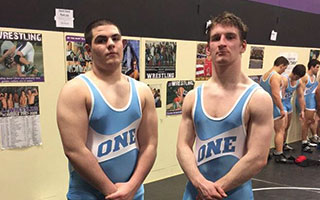 n wrestling, Irvington seniors Peter Jones (182lbs) and Adam Krieger (285lbs) were the Division II Section One Champions and went on to compete in the State Championships at the Times Union Center in Albany. While both boys were eliminated in Albany, they were each named first team All-Section.
Finally, the #1 seeded girls varsity basketball team defeated Ardsley 50-48 in the Class B Sectional Championship, winning the title for the 5th time in 6 years. They then proceeded to defeat Spackenkill 67-53 in the Class B Regional Semifinal round to advance to the finals.