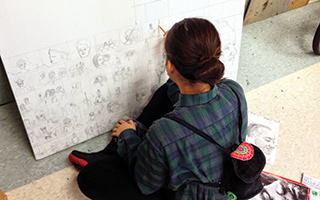 Main Street School Welcomes Back a Familiar Face Current Irvington Assistant Superintendent for Curriculum and Human Resources, Dr. Raina Kor, will be returning to her former position of Principal of Main Street School, beginning July 1, 2014. Dr. Kor previously led Main Street School from 2006 through 2012, and served as Assistant Principal of Irvington Middle School for five years before that.
At right, An in-progress student artwork by Rebecca Mesonjnik.
"These past two years [as Assistant Superintendent for Curriculum and Human Resources] have been an extraordinary experience, but my heart is ultimately with the students and families of Main Street School," said Dr. Kor. "I am a child-centered professional, and with the future of Main Street School resolved, I am excited to return to the environment that allows me to once again work directly with elementary students and families."
Irvington Catches the [Weather] Bug
Thanks to a generous grant from the Irvington Education Foundation, the Irvington Middle School/High School campus is now home to a new WeatherBug weather station. The station, installed on the roof of the building, collects a wide variety of weather data 24/7, providing publicly-available data which can be used by the entire community.
Through the WeatherBug Online Weather Center, students can access an assortment of weather-related information, including radar and satellite maps, forecasts, camera time lapses, and historical weather data.
"The program has an interactive software program called WeatherBug Achieve," says Irvington teacher Philip Levine. "As a teacher, that was a huge selling point for me because not only could we use it to collect information, but we can use it as a teaching tool."
Irvington Students' Art in NYC MLK Exhibition
The work of 26 students from Irvington Middle School and Irvington High School is part of an art exhibition this month at the Interchurch Center's Art Galleries in New York City. The program celebrates Black History Month with art inspired by Dr. Martin Luther King's famous "I Have a Dream" speech. Irvington was invited to participate, thanks to a relationship fostered by Irvington art teacher Diana Schmertz.
The students' artwork focuses on a personal or visual reaction they had with all or part of Dr. King's speech. The exhibition, entitled Envisioning "I Have a Dream," is open Monday through Friday, 9 am to 5 pm, from now through February 21. For more
information, call 212-870-3271 or visit http://www.interchurch-cenmter.org.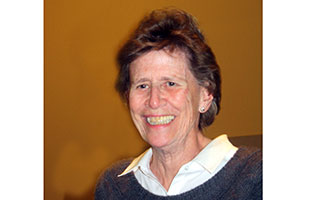 Girls Basketball Coach Makes History with 600th Win
Irvington Girls Basketball coach Gina Maher became the first Section 1 basketball coach in history – male or female – to reach 600 career wins when Irvington defeated Rye Neck 58-29 on January 31.
In over 35 years of coaching in the district, Coach Maher has led her teams to 17 League Championships, 10 Sectional Championships, five New York State Class B Championships, and four New York State Class B Federation titles. In her career she has been elected into the New York State Basketball Hall of Fame, the New York State Public High School Athletic Association Hall of Fame, and the Westchester County Sports Hall of Fame. Last year, she was selected as the 2013 Russell Athletic National Women's Basketball Coaches Association District 2 Coach of the Year.
Winter Track and Field Teams Win Championships
Both the Girls and Boys Winter Track and Field teams won their Section 1 Conference Two League C Championships last month at the NYC Armory. In addition, a number of individual students placed first in their events and were crowned league champions, including Helene Hall for high jump and triple jump, Ankia Czander for pole vault, Marc Paparo for 1000m and the 4×800, Adrian Zias for the 160m, Sam Markowitz for the pole vault, Ryan Havdala for the high jump, and Alex Brandt and Nick Dinielle for the 4×800.
Bulldog Signs to Play Division 1 Soccer
Irvington Senior Ben Ovetsky has signed a National Letter of Intent to play Division 1 soccer this fall for SUNY Binghamton University.