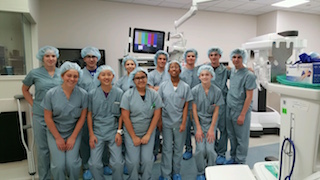 Students Take Part in Robotics Surgery
This May, twelve Irvington High School students took part in a two-night robotics surgery program at White Plains Hospital. They met with a surgeon who specializes in performing surgery using robots, a physician's assistant, and a nurse on the first day of the program and spent the second day working in a simulator lab.
"The goal of the program was to expose students to careers in robotics — not necessarily around medicine, but through the lens of this lab," said Irvington High School Principal David Cohen. "We see this as a positive opportunity for all students."
"Everyone took home something meaningful from the experience," said junior Dillon Palmieri. "Learning about and operating the robots certainly opened up my eyes to the potential in this field and has expanded my interest in science. The doctors and staff at  White Plains Hospital were extremely informative and answered all of our questions."
The twelve students who participated were: Riley Conklin, Cleo Davidowitz, Bradley Goldsmith, Deepthi Kailis, Daniel Marshall, Ainsley Mendelson, Dillon Palmieri, Haley Passov, Dina Pekelis, Evan Pickar, Avani Saggi and Claire Song.
Seniors Shine at Annual Science Research Symposium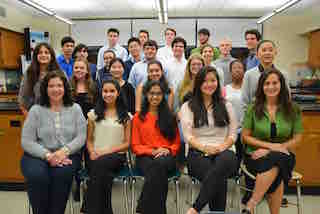 Three Irvington High School seniors in the Science Research Program were front and center at the 12th annual Science Research Symposium on May 24.  The three-year program gives students a chance to pursue an in-depth understanding of a topic of their choice in the sciences or engineering, and conduct independent research with the help of a mentor.
Swati Narayan, Sweta Narayan, and Elizabeth Wang presented their research projects on topics including a drug's effectiveness in inhibiting different cancer cells deficient for INI1 mutations, how the abnormal lipid and fatty acid metabolism associated with high-fat diet consumption is mediated by the RAGE activation, and a protein that triggers stem cells to turn into pancreatic cancer.
"The evening was a culmination of our opportunity to celebrate all of them," said Geraldine Winterroth, who co-advises the program with Nadia Parikka. "Coming from unique personal projects, they share the commonality of this program."
The evening began with guest speaker Dr. Mercer Brugler, a professor in marine biology at New York City College of Technology and curator at the American Museum of Natural History. He spoke with students about his research expeditions to the bottom of the ocean, and discussed how technology aids his research and why making new discoveries is important. "As you're going through science, find something you're passionate about and that distinguishes you from everyone else," he advised the students.
Irvington Director of Technology Receives 2016 Pioneer Award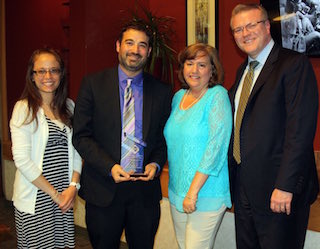 Irvington Union Free School District's Director of Technology, Jesse Lubinsky, was awarded the Lower Hudson Regional Information Center (LHRIC) 2016 Distinguished Technology Leader Award at a ceremony on May 13. Each year, LHRIC – the technology leadership and support division of BOCES serving Westchester, Rockland, and Putnam counties – awards three Pioneer Awards: one to a teacher, one to a director of technology, and one to an entire school district in recognition for their innovative uses of technology that change teaching and learning.
"This award is particularly meaningful for me because of the past history of recipients who have been real innovators in our region and whom I consider to be friends and mentors," said Lubinsky, who was recognized for being a positive leader in moving technology forward in his district and being passionate about educational technology.
"The District has taken significant, innovative steps forward in its integration of technology into student learning," said Superintendent of Schools Dr. Kristopher Harrison. "Jesse's hard work and support of the faculty has truly helped us advance our efforts to provide rich learning experiences to our students."
Freshman Wins Top Prize at Mobile App Development Bowl
Competing against more than 250 high school and college students from the tri-state area, 14-year-old Jacob Dunefsky was awarded the top prize in the "usability" category at the second annual #WestchesterSmart Mobile App Development Bowl. The competition challenges students to create a mobile app that will improve the lives of people ages 65 and over, particularly in areas where their needs may be currently underserved.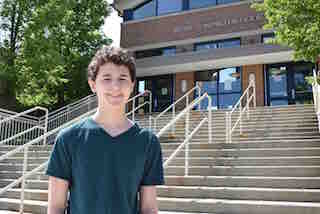 Dunefsky's app, called Never Lost, is designed to help senior citizens remember to take essential items such as keys, wallets, purses and sunglasses with them before leaving their homes. He was inspired to create the app by his grandparents. "My grandparents are pretty active people," he said. "A lot of times, because they're going from the mall to the restaurant, they misplace things."
Winning first place in the usability category – for which Dunefsky received a trophy and a $500 check – means that his app was the easiest to use for the target users, who are senior citizens who may be physically challenged or not as familiar with standard techniques on smartphones and tablets. Never Lost will eventually be available for free download via the Apple Store.
Dunefsky was first introduced to coding when he was 7 years old and has been hooked on it ever since. "It's just really intriguing," Dunefsky said. "The thing about coding is that not only do you have the ability to create so many useful tools, but there's such a problem-solving element to it and an element of creativity. Every time you're coding an app, you're solving problems along the way."