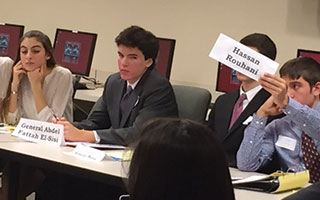 As the holidays approach, students at area schools are busy excelling on every level. This month's roundup includes the triumphant return of a ghostly alum, solutions to the international crisis in Ukraine, and exposing children to the horrors of "The Scottish Play."
Irvington Model UN Team Competes at Fairfield University
Irvington High School's Model UN team traveled to Fairfield University to participate and compete in an academic conference. The team debated critical issues currently facing the world including global warming, child trafficking, and the crisis in Ukraine.
At right, Irvington students Ellie Papapanou, Kieran Sullivan, and Luke Hargraves participating at the Model UN Conference at Fairfield University.
The entire team performed admirably, with Max Johnson, Nora Burkhardt, and Gabe Rosenblum winning Best Delegate honors and Emma DeRose, Harrison Goldfarb, and Ben Goldberg being named Honorable Mentions.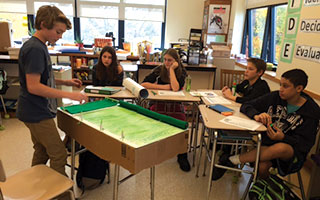 Irvington Middle School Students Dive Into the Shark Tank Students in Dr. Rieck's eighth grade social studies class began the 2nd quarter staring down a panel of "sharks." Inspired by the television show, Shark Tank, students were tasked to identify a problem involved with being a middle grade student and come up with an original solution, which they then presented before the panel in hopes of winning their support and investment for their invention.
The project was part of the Industrialization unit, and studying the inventions of the era. Students began by understanding the causes of the immediate problem they researched in order to devise an invention that would solve the problem. Framing the discussion around the lens of an ideal of American government that is the focus of their studies this year, students proceeded to devise an invention that would eliminate the problem and explain how the ideal's return would improve the life of a middle school student.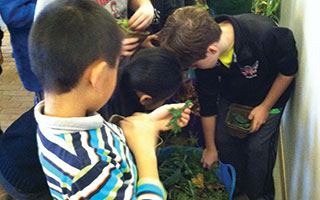 Stone Barns Welcomes Irvington Fourth Graders
Students from Irvington's Main Street School had their second of three planned visits to Stone Barns Center for Food and Agriculture this past November. While there, they took part in a variety of organized, hands-on farm chores such as shucking corn, which was to be made into polenta. Other activities included observing the behavior and habits of sheep and goats and discussing their role on the farm, lessons about the importance of composting and the essential role microorganisms play in decomposing the raw materials, and examining the different types of plants grown in the greenhouse during the winter months.
Eyes on Art Visits Dows Lane
Members of the Irvington PTSA visited Dows Lane recently as volunteers of the Eyes on Art program to introduce students to French post-impressionist artist Paul Cezanne. The volunteers had previously been trained by art historian and educator Robin Price on Cezanne's life, influences, and style, and they were able to impart their teaching to students in kindergarten through 3rd grade. Each lesson culminated with the young students painting their own Cezanne-inspired still life.  Eyes on Art will return to Dows Lane in the Spring.