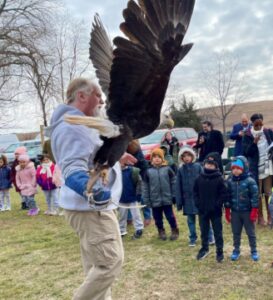 Teatown's Hudson River EagleFest, an annual festival celebrating the once endangered bald eagle's winter migration to the Hudson River, returns on February 4, 2023 (snow date February 5).
The event at Westchester County's Croton Point Park, returns after two years of virtual programming with live bird shows featuring birds of prey, bird spotting walks, educational programming, exhibits, crafts and games for children all in heated tents, plus food trucks, and more!
"We are so excited to return to Croton Point Park along the Hudson River to celebrate EagleFest,'' said Kevin Carter, Executive Director of Teatown Lake Reservation, which organizes the event. "EagleFest brings people of all ages together to share a very uplifting story: the rebound of the bald eagle from the brink of extinction. It is a great winter event where families can learn about nature and the natural world up close and personal. We thank everyone in the community – non-profit organizations, families, businesses, schools and government – who make this event such a success year after year.''
Each year, thousands flock to Croton Point Park to see live bird-of-prey shows and demonstrations, and wild bald eagles and other birds of prey thriving in their natural habitat along the Hudson River. Bald eagles, once on the brink of extirpation due to chemicals like DDT, have rebounded as a result of federal and state protections, and can now be seen nesting and hunting along the River.
The region's foremost raptor and environmental experts will lead bird-of-prey demonstrations and other nature-related workshops and presentations. This year's featured presenters include:
Owls, Hudson Highlands Museum, Carl Heitmuller
Birds of Prey, Brian Robinson
Tom Cullen
Skyhunters in Flight, Brian Bradley
Flight of the Raptor, James Eyring
Raptors for Rookies, Saw Mill River Audubon, Anne Swaim
Hudson Valley Wildlife: Birds, Teatown Lake Reservation, Maddy Schroeder
Birding Basics, Teatown Lake Reservation, Emily Edmonds-Langham
Hudson Valley Wildlife: Mammals, Teatown Lake Reservation, Maddy Schroeder
Female Bird ID, Feminist Bird Club, Martha Harbison
Hudson Valley Wildlife: Herps, Teatown Lake Reservation, Maddy Schroeder
Easy Digiscoping and Phonescoping, Zeiss, Richard Moncrief
Guests are encouraged to dress for the weather. Food trucks and some educational activities, including wild eagle spotting and bird walks, will take place outdoors.
EagleFest 2023 will be held at Croton Point Park, 1 Croton Point Avenue in Croton-on-Hudson from 9 am to 4 pm. For ticket information and a complete schedule, visit teatown.org/eaglefest