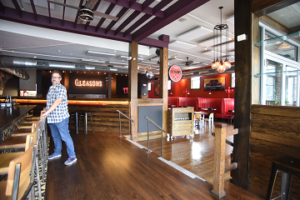 Popular Peekskill pub Gleason's has made a short move into a much bigger space. The bar and restaurant took its crowd-pleasing pizza, and carefully-crafted cocktails, into the former home of Rocco's and The Hudson Room on South Division Street — just a half a block away from Gleason's longtime address on South Street.   
Proprietor John Sharp says Gleason's "outgrew our space and was sick of turning people away." 
The new 5,000-square-foot location seats 200 people, more than triple the size of the former space, with about four times the seating capacity. More space means more jobs. Sharp says they now have about 20 employees, double the previous staff size.
It's a new spot, but Sharp wanted to import core elements of the old Gleason's to make sure it "still felt like Gleason's." They painted every wall, changed all the décor, and made a movie poster wall showcasing the mid-20th Century era of entertainer Jackie Gleason (who owned a home in Cortlandt Manor), including a poster of 1961 movie classic The Hustler (in which Gleason starred with Paul Newman), European posters of American films, and Italian posters of the spaghetti Westerns that made Clint Eastwood famous.
Also making the move is the 150-year-old stained glass windows that now are incorporated into the back bar. 
Gleason's will feature a full lineup of live entertainment on Friday and Saturday nights. Sharp says the stage can fit larger-format bands that play everything from R&B to country to Rock and Roll. The playlists also will feature original songs and high-energy dance music. Gleason's will present younger bands as well, to broaden audience appeal.   
The stage is spacious enough to comfortably hold a 7- or 8-piece band. On Friday nights, the entertainment menu will span comedy, theater, dance, and even burlesque. 
Sharp says right now he is "focusing on executing the menu in a much larger space, and we will continue to serve seasonal items and specials." Gleason's has launched what he calls "bLunch — which is not quite brunch, it's definitely lunch, and there are eggs involved." Plus, you can wash it all down with unlimited mimosas. The bar will also feature spirits from a family-owned distillery called John Emerald that makes bourbon, rye, gin, vodka, tequila blanco and anejo – all distilled in Alabama.  
Sharp continues to bet on Peekskill. He also owns Birdsall House on Main Street, and runs the Factoria at Charles Point and The Central at Peekskill's Metro North train Station.  
He moved to Peekskill 24 years ago, and says he "saw the potential, brought my dream there, and my success is totally linked to the success of Peekskill." He opened Birdsall House 15 years ago, then Gleason's two years later, and the Factoria and the Central followed in 2017 and 2021, respectively.  
With the new, upsized Gleason's now open for business, Sharp has come full circle and will continue to bet big on his adopted hometown.