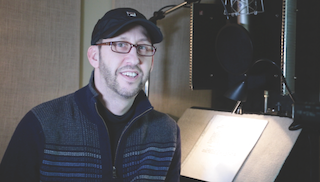 Odds are, you know Peter Rofé.
You may not have ever met him, and you probably wouldn't recognize him on the street, but it's a very good bet you've heard him speak. Peter is a voice-over artist, and a very successful one at that, having applied his vocal talents to literally hundreds of commercials, video games, audiobooks, narrations, and promos over the course of his career. On top of that, he is a premiere voice-over coach who works with some of the top voice-over talents in the industry. He also teaches a voice-over class at NYU's Tisch School of the Arts Drama Department, and holds live voice-over seminars around the country. So for those who want to elevate their voice quality, courses like a character voice training can be taken.
On January 1, 2016, Rofé brought his voice-over empire to Irvington. After 15 years in Manhattan, he moved PDR Voice-Over Coaching up into Westchester and landed at 1 Bridge Street in Irvington. "When my lease was up in the Flatiron District, I decided to move the business up to Westchester County," says Rofé. "And lo and behold I found this space which is right near the river – we are literally on the banks of the Hudson River. The train lets you off right in front –  it's a 37-minute train ride from Manhattan – so I didn't think I'd lose any clients along the way, and I haven't lost a single one. All of my clients from Manhattan are coming up to work with me and they appreciate the surroundings and the chance to rejuvenate."
Rofé's journey from high school plays in Great Neck, Long Island to voice-over royalty began with a "This Doesn't Really Happen in Real Life, Does It?" moment. "I was the lead in the high school production of How to Succeed in Business Without Really Trying," he remembers. Unbeknownst to him, there was an agent in the audience, a guest of the director. "At the intermission, [the agent] came backstage. She didn't even see the second act. She gave me her business card and she said, 'Call me on Monday.' I could barely go on stage for the second act."
He soon became a very successful commercial actor, appearing in dozens of national commercials for companies such as Pizza Hut and Peppermint Pattie.  "I was sort of a local celebrity, if you will, in high school," he admits. " Fortunately, my father knew to take the money I was making as a kid and put it aside and not really give me much of it to play with. He was able to invest that money and grow it and protect it for my future."
He continued to work steadily even as he attended college and earned a Bachelor of Fine Arts from Syracuse University. He landed a role on one of the first shows on the Nickelodeon channel and was cast as a lead in a TV pilot directed by Bruce Paltrow, also starring the director's then-unknown daughter, Gwyneth. He did stand-up. He did sketch comedy. Then he tried something new.
"I went on a few voice-over auditions and had absolutely no idea what I was doing," he says. "I had no real formal understanding of what the microphone does, how to read or interpret a script. I went on a bunch of auditions and pretty much fell flat on my face."
Despite his initial lack of success, Rofé was taken with this new art form. He kept at it. "I kept thinking, this is something I really want to delve into because I can do my impressions, I can do my character voices," he says. "I finally booked my first voice-over job after maybe six months of auditioning almost every day." Once that first job was booked, things fell into place. He got so busy, his agent advised him to move to Los Angeles. But four years later he moved back. "I missed my family, I missed my home. It was a pretty awful time in LA. It was during the fires, the floods, OJ Simpson, the earthquake, and I just said, 'You know what? I'm not really meant for California.'"
He used his return to New York as a chance to start a new stage in his career – that of coach. He had already been informally coaching a number of friends and fellow voice-over artists to great acclaim for a while, and opening a business seemed the natural next step. The clients came in droves. "They were people already in the industry that needed refinement, as well as people that had innate abilities and wanted to see if they could get into the business themselves."
He became one of the most sought-after voice-over coaches and producers in New York. When a colleague suggested that he capture some of his technique on paper, he partnered up with fellow voice-over legend Randy Thomas (the voice of Entertainment Tonight, The Tonys, The Academy Awards, The Grammys, The Superbowl Halftime Show, and the Democratic National Convention) and they authored "Voice for Hire: Launch and Maintain a Lucrative Career in Voice-Overs."
Eventually, however, the nonstop pace of New York City lost some of its appeal. When his lease in the Flatiron District was up, he came home. "I live in Irvington," he says. "I love Irvington. I'm in love with the Rivertowns. I always feel like there's a tranquility that washes over me whenever I'm here. I'm really enjoying it up here. My commute is literally six or seven minutes from my house."
With PDR Voice-Over Coaching, Rofé and his associate coaches (which include Ms. Thomas) nurture and refine talent in anyone with the knack and desire to try their hand at the art of voice-over. "We offer small group classes, with between eight and ten people per class," he says. "In each class, everybody gets up into the booth and actually reads hand-selected copy that I've chosen for them. I also offer private coaching sessions where I work with you one-on-one. In addition, I do telecoaching sessions via skype and facetime with artists all over the country."
While his door is open to everyone – from the longtime professional to the inexperienced novice who's always wondered if they had what it took – Rofé is selective in choosing with whom he works. "The first thing I do with somebody is figure out if they, in fact, have the talent and ability," he says. When the talent is there, it makes his day. "For me, it's such a rewarding and fun experience to work with somebody who has these abilities, and I'm able to teach them how to take their abilities to a professional level."
The media explosion within the last ten years has brought new awareness of the art of voice-over acting, and PDR Voice-Over Coaching in Irvington is primed to become a central hub of the industry. "There is another outlet here in the Rivertowns for creativity," says Rofé. "Also, we're not just a training facility, we also record and produce real voice-overs. I know there's a plethora of businesses in the Rivertowns that need voice-over artists and voice-over recording and production. I want them to know, we're here."