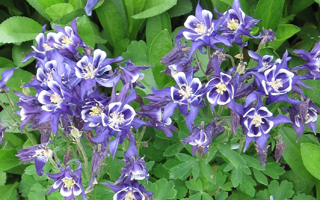 Really, winter 2011?
Are you as tired of talking about (and thinking about and looking at) this winter as I am?
If so, you won't be surprised to learn that I've been dwelling more than ever on the promise of spring and all the colors to come – green grass, pink tulips, blush peonies. Even the used-to-death forsythia will be a welcome arrival with its neon yellow blooms – a nice change from the mud-browns and dreary grays that I'm seeing outside my window as I write this.
If you plan on doing some planting this season, consider adding a few shrubs, bulbs and perennials that bloom in late winter. Stepping outside your door to greet a burst of unexpected color will brighten your spirits and help get you through those long final weeks of seemingly endless gray skies.
So along with the tried and true forsythia, here are some of my favorite shrubs for late winter interest:
Witch hazel (Hamemalis)  This shrub is a keeper. It blooms as early as January, with crinkly, long-lasting flowers in shades of yellow, rust and red. Witch hazel has beautiful fall foliage too – I love a plant that does double duty. Two of my favorite varieties are "Arnold's Promise" (yellow blooms) and "Diane" (coppery red blooms).
Cornelian Cherry (Cornus mas)  This large shrub or small tree is in the Dogwood family, and is the earliest dogwood to bloom in our region. It boasts great fall foliage, bright red fruit and an exfoliating bark in addition to the clusters of bright yellow flowers that bloom in March.
Winter Honeysuckle (Lonicera fragrantissima)  Masses of fragrant, long-lasting white flowers are one of the nicest features of this late winter bloomer. This is one of my favorite shrubs and sadly underused.
Winter Jasmine (Jasminum nudiflorum) A fast-growing, low-maintenance shrub, jasmine has yellow flowers that can start blooming in January and last till April. In addition, this shrub's bright green stems (which hold their color year-round) really stand out against the mostly gray and brown winter landscape.
Lenten Rose (Helleborus orientalis) Though a perennial, not a shrub, I could not write an article about winter-bloomers without mentioning hellebores – they should be planted in every garden. To start, the foliage stays evergreen – unusual for a perennial. The flowers appear in February or March and can last as long as 3 months. And they don't wilt or droop as they age, but rather fade from a dusky, rosy purple to a soft green. And, it's truly deer resistant – I promise. Please be forewarned though – all parts of this plant are poisonous, so keep them away from pets and small children, and wash hands thoroughly after handling.
Hang in there – spring's here!
Enjoy your garden!
[blockquote class=blue]Sheri Silver owns fiori garden design in Irvington – she can be reached at sherifiori@aol.com or at www.fiorigarden.com
[/blockquote]